This article was originally written by Richard Rattenbury and featured in a 1982 newsletter.
Theodore Roosevelt, America's "cowboy in the White House," was not simply the energetic and strong-willed president who thrust his nation into the world arena. His pursuits extended into the realms of statecraft, social reform, military leadership, natural studies, authorship, ranching, and conservation. He was also an inveterate outdoorsman, an ardent hunter and a knowledgeable collector of fine firearms.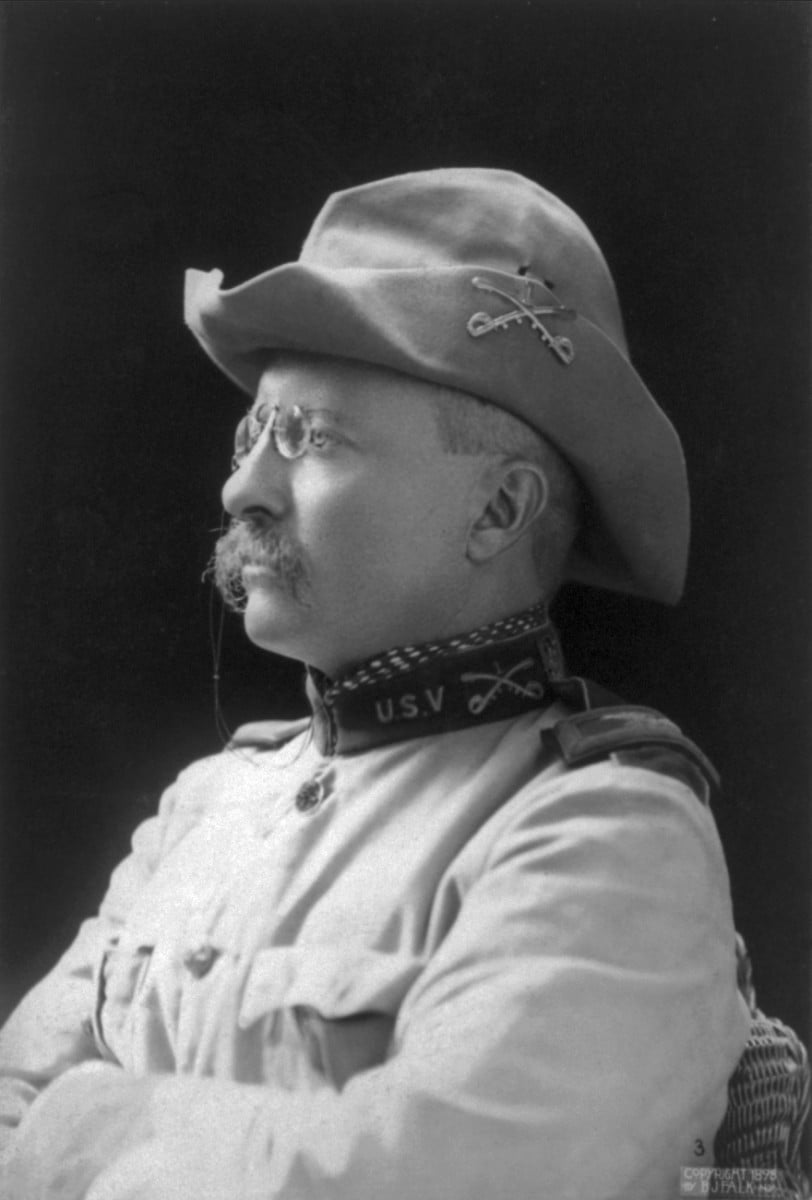 In his many years of arms collecting, TR evinced a penchant for high quality and custom enhancements. His taste was strongly influenced by the two common denominators of late nineteenth century domestic arms manufacturers—Colt and Winchester. Of the latter, TR purchased more than twenty lever action rifles of all models from the 1873 to the 1895, nearly all of which were ordered with special features. Roosevelt customarily preferred his Winchesters mounted with special sights and deluxe grade stocks featuring a pistol grip, cheekpiece, and shotgun buttplate.
It was not until Roosevelt visited the Badlands of Dakota Territory in 1883 that he began to assiduously accumulate a variety of hunting arms. During his initial excursion west, he carried a Sharps Model 1874 sporting rifle in caliber .45/120, but found it cumbersome and heavy in recoil. Upon his return to the Dakotas in the summer 1884, TR presided over the Maltese Cross and Elkhorn ranches, and felt himself the true western ranchman and hunter. He wrote, "I now look like a regular cowboy dandy, with all my equipments finished in the most expensive style." Among these expensive "equipments" was his first large caliber, lever action Winchester repeater, the deluxe Model 1876 rifle.
This rifle, in caliber .45/75, is among the finest Model 1876 Winchesters known and, with its additional biographical association, certainly ranks as one of the rarest. The piece amply reflects Roosevelt's discriminating proclivity for special enhancements, as it features half-octagon/half-round barrel, half magazine, custom Freund sights, deluxe checkered stocking, pistol grip, crescent cheeckpiece, shotgun buttplate, gold oval stock plaque engraved with a grizzly bear motif and a profusely engraved receiver. Rendered by master engraver John Ulrich, the receiver work incorporates four game panels artfully laid out among fine scroll and border patterns.
The rifle was forwarded to Roosevelt in the Badlands in July of 1884—in time for his seven week hunting expedition to the Big Horn Mountains. TR was well satisfied with its performance, and it figured prominently in his first outdoor book, Hunting Trips of a Ranchman, published in 1885. Of this rifle he wrote:
"The Winchester, stocked and sighted to suit myself, is by all odds the best weapon I ever had, and I now use it almost exclusively, having killed every kind of game with it, from a grizzly bear to a big-horn…[It] is the best gun for any kind of game to be found in the United States, for it is deadly, accurate, and handy as any, stands very rough usage, and is unapproachable for the rapidity of its fire and the facility with which it is loaded."
Roosevelt was so pleased with the arm that he ordered two more similarly embellished Model 1876 repeaters the following year. It was the beginning of a trend that would continue into his great African safari of 1909–1910.
Now the property of Boone and Crockett Club, of which TR was a founder, this Model 1876 rifle remains a remarkable artifact documenting Roosevelt's taste in firearms, Winchester's craftsmanship in manufacture, and Ulrich's artistry in steel.