Our Cody Firearms Museum is undergoing a full renovation!
Please note: our Cody Firearms Museum is in the final stages of its complete renovation. Join us for the Grand Opening July 6 at 3 p.m. In the meantime, two of the galleries are complete and open! We continue to open areas throughout June as they are completed.
Are you a veteran or active military? Click here to learn more about and participate in our CFM Veteran VIP Experience on July 5.

Join us for the GRAND OPENING on July 6.
While the Cody Firearms Museum of course houses most of the firearms in the Center of the West's collection, each of the other museums of the Center also include firearms. While the museum undergoes renovation, we invite visitors to journey throughout the entire facility to see both permanent as well as additional temporary installations of guns.
Visitors will also want to take advantage of touch screens that allow you to view the entire collection online, and even digitally curate your own exhibit!
So, if you are traveling to the Center sometime this spring and were planning to visit the firearms museum as part of your visit, please be patient. We are excited to complete the renovation and share the completely new Cody Firearms Museum when it reopens in this summer!
Finding guide for firearms from our Cody Firearms Museum Collection
To help you locate the firearms displayed in our other museums, our Firearms Museum staff has published this finding guide. Use it here to plan your visit ahead of time, and pick up a printed copy upon your arrival at the Center.
Keep up with renovation on the Cody Firearms Museum's Facebook page
Curator Ashley Hlebinsky and Assistant Curator Danny Michael are keeping everyone informed of the plans, progress, trials, and triumphs of the renovation process on their Facebook page. Stay up-to-date on the happenings as they share the hard work that is going into the renovation through social media!
---
Take a sneak peek at the new museum through the design drawings below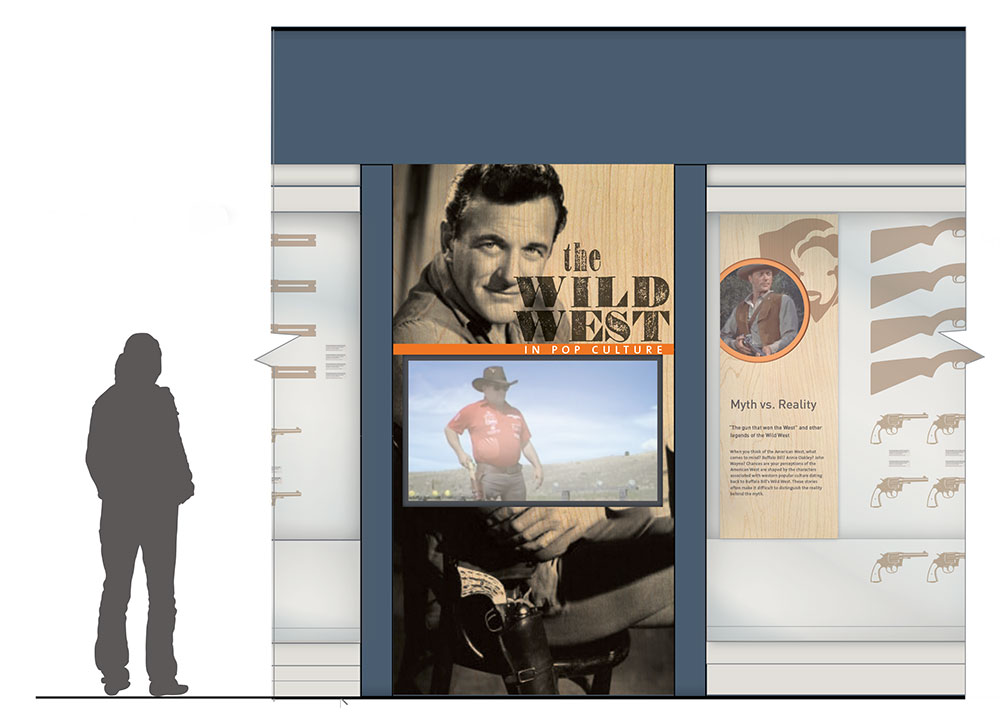 All design images courtesy Gallagher & Associates.