A specific western furniture style was born in Cody in the 1930s. And for the past 30 years, its biggest fans have tried to spread it beyond the West by holding annual furniture expositions around the northwest Wyoming city. The style in question is an old-west, rustic look you might relate to the 1800s. Only when the community lost the exposition 15 years ago did locals realize what impact it had on the local economy.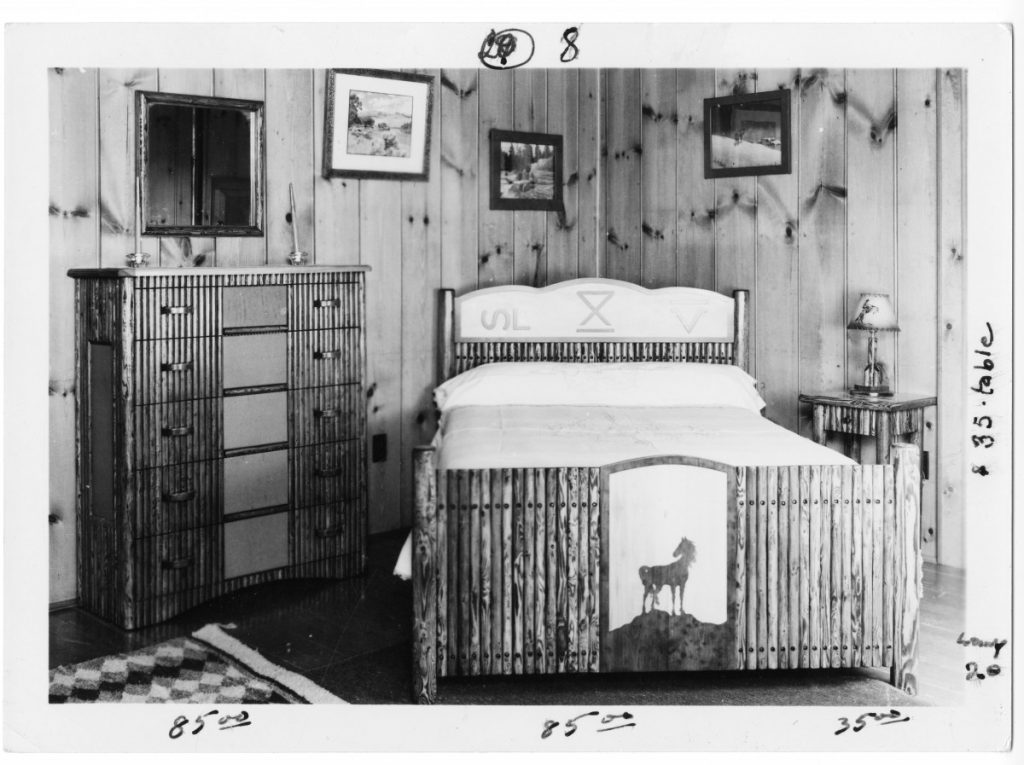 Most in Cody, like Jimmy Covert, attribute this style to Thomas Molesworth who lived and worked in Cody in the 1930s.
"A typical Molesworth chair," explained Covert. "It'll have pole legs, fur legs, a routed arrow on the front, a wooden chair," he said.
Covert is a furniture maker. He says Molesworth had a long-history in Cody working on western furniture. In fact, it made some consider Cody to be the Western furniture style capital of the world. Off of this momentum, a group of local furniture makers started the Western Design Conference in 1991.
"We knew if we didn't start a show somebody else would," recalled Covert. "And it was to draw people in Cody."
It did draw people to Cody. The city became known as a hub for the unique style. It started with local furniture makers and eventually included artisans from around the country. It was a success story, though with little profit.
"The shows never would make money," said Covert. "That show was never able to do more… I think one year we made 2,000 bucks."
Because of this, in 2003, the conference was sold to Western Interiors and Design and moved to Jackson.
Wally Reber, the former associate director of the Buffalo Bill Center of the West, said they felt the loss quickly.
"We lost what we felt a principal ingredient of what makes Cody: Cody, the Western Design Conference," said Reber. "And Cody had an empty spot for western design that the center stepped up and filled…the community and the center."
Reber said community leaders decided to try again.
"It was just a time for us to really move forward so we gathered a group together of local supporters, local builders and put on our response to the loss of the Western Design Conference," he said.
Since then, there has been a new iteration of the Western Design Conference in Cody. The current one is called "By Western Hands" which started in 2015. To be more successful, they went beyond just a furniture show.
Jeanne Majusiak is participating in a woodworking workshop at this year's event. She's from Red Lodge, Montana and said the impact is felt throughout the region.
"They fly into Billings, drive through Red Lodge, fly into Cody and make a trip to Red Lodge for the day," Majusiak said. "So, something like this is great for the economy of the whole area."
She's glad that Cody changed its mind.
"When the Western Design Conference went away from Cody to Jackson, it was a huge loss for Cody," she said. "I really feel like bringing a lot of this back here and just keeping and having it grow is really important for Cody."
By Western Hands organizers are trying to do even more than just a conference. They are building a permanent facility where there will be a gallery, museum and workshop area open year-round. It's all part of the effort to make Cody the western furniture capital of the world once again.
This story originally aired on Wyoming Public Media and is part of a collaboration between Wyoming Public Media and the Buffalo Bill Center of the West.