NOTE: On June 16 Grand Entry is moved to 10 a.m. (instead of noon) due to forecasted rain for the afternoon. We apologize for any inconvenience.
The Plains Indian Museum's 38th annual Powwow takes place Saturday and Sunday, June 15–16, 2019, in the Robbie Powwow Garden at the southeast corner of the Center of the West's grounds.
The festivities kick off with a grand entry at noon and 6 p.m. Saturday, and at noon Sunday. Dancers range in age from Tiny Tots (children 6 and younger) to Golden Age (55 and older). Competitive dance categories include traditional, grass, and fancy for men and boys; and traditional, fancy shawl, and jingle for women and girls. Additional special dances this year will feature team dancing, tiny tots, women's jingle dress special winner takes all, women's fancy shawl winner takes all, and men's traditional winner takes all.
Join Jen Runs Close To Lodge in the Learning Tipi where you can explore Powwow songs, dances, and other traditions.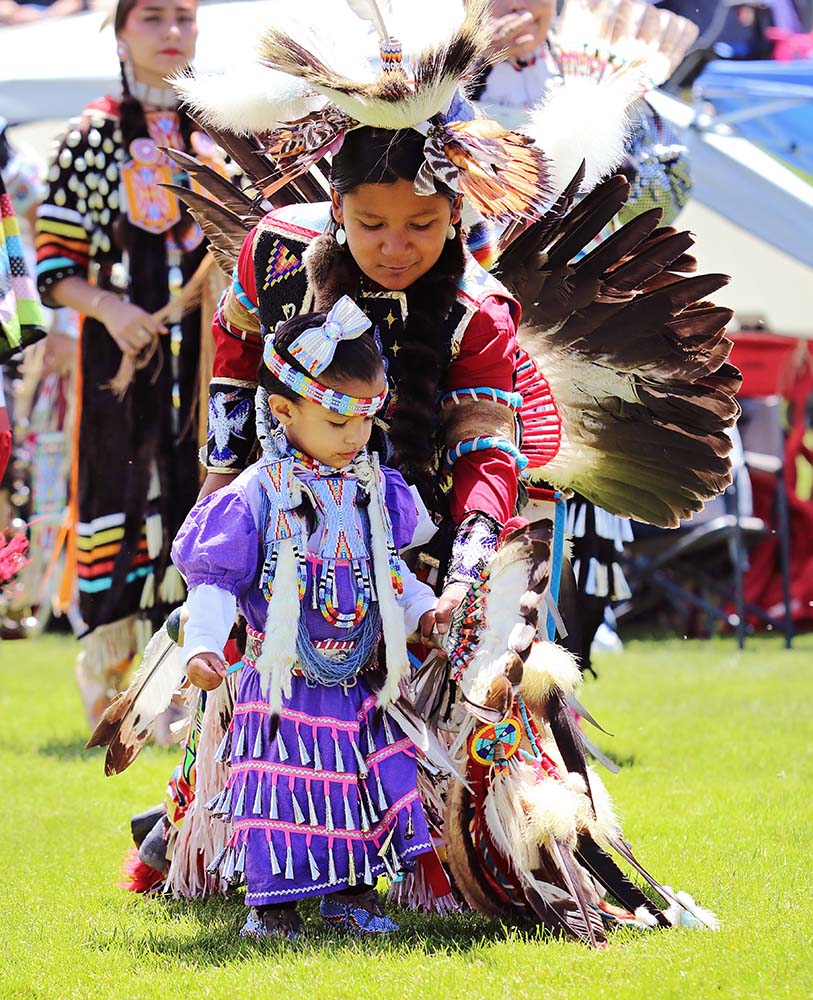 Powwow tickets are available at the gate the days of the event (good for one day only), or in advance at the Center's admission desks during the week leading up to Powwow. Gates open at 9:30 a.m. each day. Tickets: $10 adults 18 and older; $6 for youths 7 to 17; free for children 6 and younger. Center of the West members receive a $1 discount with a valid membership card. Ticket prices are separate from Center of the West general admission. Participating dancers, drums, and their family members are admitted free to the Powwow and the Center for the weekend.
Visitors are awed each year by the competitive dancing and exquisite dance regalia, but also enjoy unique shopping opportunities at the booths of the more than 40 vendors set up outside the dance arena. The authentic Native-made art, jewelry, beadwork, pottery, and much more, available for purchase add to the atmosphere of cultural celebration at powwow.
Vendor spaces are still available for additional, qualified vendors who wish to apply to participate. Interested vendors who are enrolled members of North American Indian tribes and nations are invited to contact Hunter Old Elk, Plains Indian Museum Curatorial Assistant and Powwow Vendor Coordinator, at 307-578-4012 or [email protected] to reserve a space.
Potential vendors may also visit our Plains Indian Museum Powwow event page for more information, and to view a diagram of vendor space locations around the powwow grounds. Download the vendor registration form directly here.
This year's Plains Indian Museum Powwow is generously sponsored in part by Choice Aviation, the Local, and Whole Foods Trading Company.