Originally featured in Points West magazine in Fall/Winter 2018
Thomas Moran's "Zoroaster Peak"
The trajectory of Thomas Moran's career would change dramatically in 1871. That year, the painter traveled to Wyoming Territory on a government-sponsored survey expedition led by Ferdinand V. Hayden. Moran was invited to visually record the geological wonders of the region. He thus became the first professional artist to depict the area's breathtaking sites, and his jewel-toned paintings helped inspire Congress to preserve Yellowstone as the world's first national park.
Moran was so moved by his experience that he adopted "Yellowstone" into his signature. He began signing paintings "TYM" for Thomas "Yellowstone" Moran, laying claim to the region as his artistic domain. For further verification, Moran sometimes added his own thumbprint in paint. In Zoroaster Peak, the artist incorporates the "TYM" monogram and a slender thumbprint at lower right.
Moran's early expedition to Yellowstone inspired subsequent trips to the American West, including a visit to the Grand Canyon with John Wesley Powell. Moran once remarked that the Grand Canyon "was by far the most awfully grand and impressive scene that I have ever yet seen." Paintings like Zoroaster Peak evidence Moran's lifelong affection for the dramatic gorge; at age eighty-one, he crafted this small yet stunning canvas nearly forty-five years after his first visit!
Zoroaster Peak is now known as Zoroaster Temple. From Moran's vantage point, its pyramidal summit rises higher than its surroundings, and the Colorado River in the foreground reflects the canyon walls' kaleidoscopic
colors.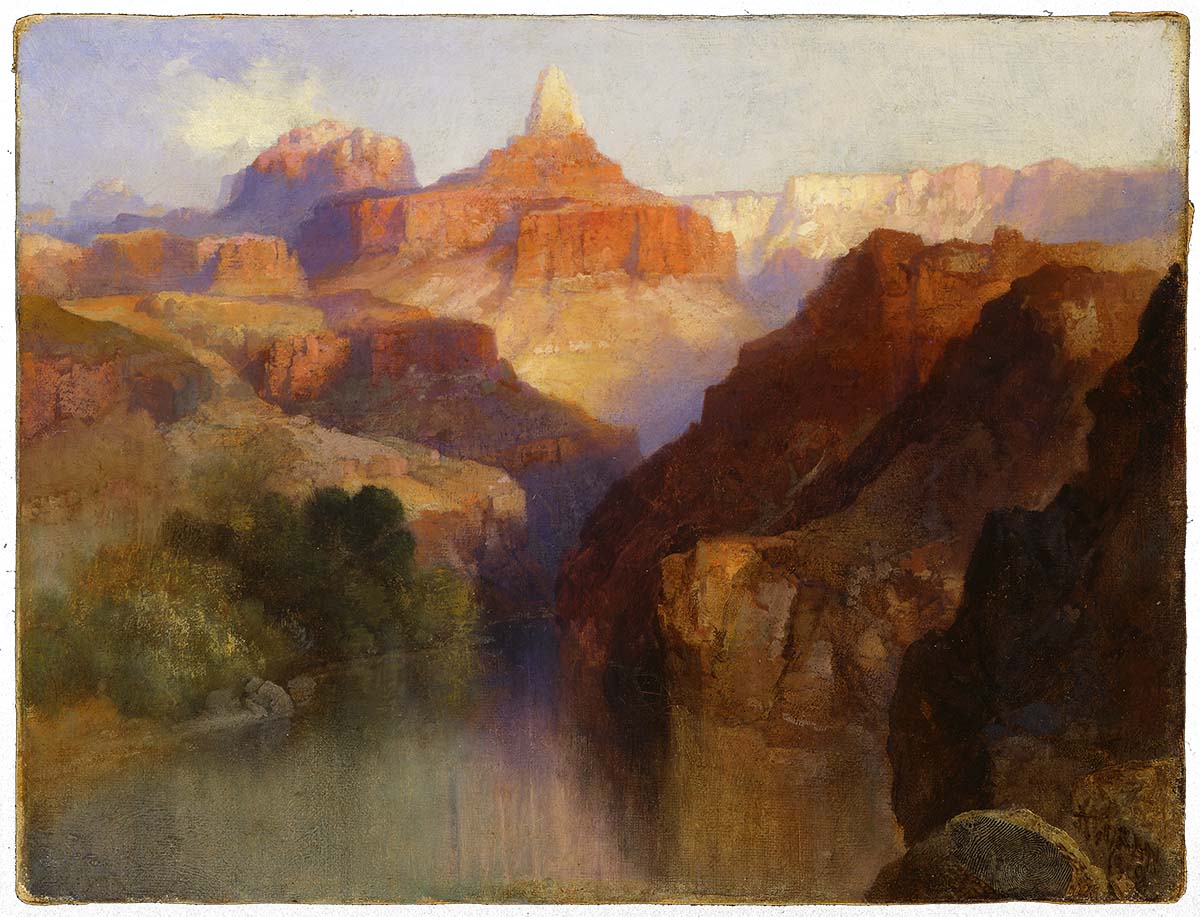 ---
Thomas Moran (1837–1926). Zoroaster Peak (Grand Canyon, Arizona), 1918. Oil on canvas, 9 x 12 inches. Purchased by the Board of Trustees in honor of Peter H. Hassrick. 11.96
Post 209