Congratulations! You are probably considering a Yellowstone vacation. With breathtaking views and wildlife abound, a trip to the world's first national park is almost a no-brainer. Except, occasionally for the pocketbook. Fret not, gathered here are some of the best experiences to include in a Yellowstone vacation that will not break the bank.
What entrance to Yellowstone do I take?
That is Cody, WY – of course! Described by Trivago Magazine as, "Likely the most economical choice for a trip to Yellowstone," Cody, Wyoming, is about an hour from the East Entrance of Yellowstone, and this entrance offers many scenic opportunities for adventure.
Cody is not a wayside town and yearly the summer schedule swells with opportunities for fun and to soak up the spirit of the Old West. For free live music, attend Concerts in the Park each Thursday between July 8th and August 12th from 6:30 – 8:30 p.m. Watch as the Cody Gunfight unfolds next to the Irma Hotel at 6 p.m. Monday – Saturday; attendance is free, but seats can be reserved for $3. Another free option is to visit the Buffalo Bill Dam & Visitor Center. Exhibits in the visitor center tells the story of the dam, and you can walk across the 300-foot-tall dam which separates the Shoshone River and Buffalo Bill Reservoir. For $5 visitors can take their turn on an 18-hole miniature golf course located in Cody's City Park. The course is open June – August daily from 11 a.m. – 10 p.m.
When consulted, Bruce Sauers, Director of Revenue for Buffalo Bill Center of the West, advocated to get active as an inexpensive way to infuse fun into a trip. Walk downtown Cody to experience the sights and sounds of the town where history dots almost every corner or visit one of Cody's parks and trails. Or take a hike a little farther outside of the city in the Shoshone National Forest for a more challenging experience.
Experience the History
No vacation can be complete without learning a little something. There are plenty of sites in Cody to share the history of the West, the Smithsonian affiliated Buffalo Bill Center of the West offers a comprehensive value to engage visitors young and the young at heart.
| | |
| --- | --- |
| Age | Ticket Cost |
| Adults | $21 |
| Seniors (65 and older) | $20 |
| Students (18 and older with valid student ID) | $19 |
| Youth (6-17) | $14 |
| Children (5 and younger) | Free |
| Active-duty military personnel and family | Free |
Further pricing, purchasing options and event information can be found on the Center's website.
The value of the ticket far surpasses price of admission. Housing five museums spanning subjects of the West, like Native American history, Yellowstone wildlife, firearms, western American art and Buffalo Bill, the cost of admission to Buffalo Bill Center of the West pales in the value of a visit.
Yellowstone, Yellowstone, Yellowstone
And now to the priciest point of the journey, Yellowstone National Park (YNP). Entrance to this sprawling landscape of beauty unfortunately is not free, as fees help to maintain the property.
| | |
| --- | --- |
| Yellowstone Park Passes | Cost |
| Seven-day pass to YNP for private, non-commercial vehicles | $35 |
| Seven-day pass for motorcycle or snowmobile | $30 |
| Seven-day pass per person on foot | $20 |
| Annual Pass to YNP | $70 |
If parks are your common destination, consider springing for a version of the America the Beautiful – The National Parks and Federal Recreational Lands Pass Series. The most widely applicable annual pass costs $80 and covers entrance fees to all the National Parks and many other U.S. sights.
Another avenue is planning your visit during a free entrance day. The free entrance dates can be found at www.nps.gov.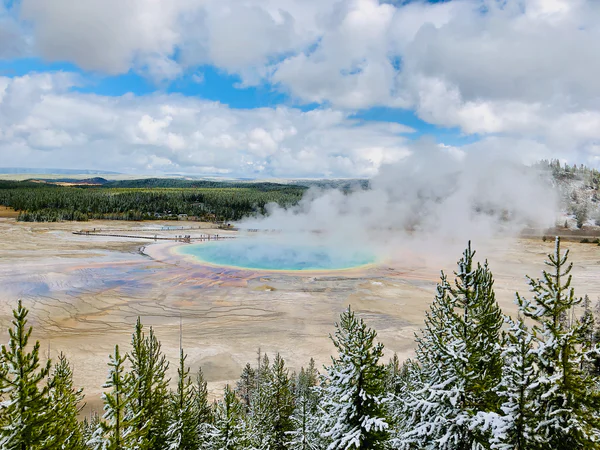 A big cost for any great western adventure is lodging. Many visitors to YNP book their lodging months in advance. If there is still lodging available come summer, it will likely be campsites or pricey hotels. Utilizing a campground, whether that is in YNP or the surrounding areas, will be the cheapest option. If a hotel is more your speed, Cody offers several hotels with amenities that the YNP hotels do not at a fraction of the price.
Our park fanatic intern advocates to fuel your car and grab a bite to eat before visiting the park as things are pricier once in the park. Stocking a cooler and filling your tank before entering the park will save some peace of mind when enjoying the expanse of wilderness.
Spending thousands of dollars is not necessary to make your Yellowstone trip a success. Hopefully these tips help to find the balance between value and adventure.