One-of-a-kind hand-engraved Henry rifle for auction pays tribute to Louis Daniel Nimschke, proceeds benefit the internationally-acclaimed Cody Firearms Museum in Cody, Wyoming.
Together with Baron Engraving and Davidson's Inc., Henry Repeating Arms is proud to announce the auction of the first gun in the third edition of the Cody Firearms Museum Collectors Series. This custom one-of-a-kind New Original Henry Rifle, inspired by one of America's most famous 19th-century firearms engravers, Louis D. Nimschke, is currently being auctioned on GunBroker Item #932921142 through Flag Day, Tuesday, June 14, 2022, at 10 p.m. Mountain Daylight Time. A true work of art, Baron's master hand engraver, Robert Bunting, has adorned the brass receiver with Nimschke's signature American scrollwork, fine European detailing, with a polished, silver-plated receiver, fitted with complementing nitre blued screws, and an exhibition grade American Walnut stock capped with a hand-engraved, silver-plated crescent buttplate. True to the 1860 patent, the New Original Henry Rifle features a blued one-piece octagonal barrel and magazine, a classic folding ladder rear sight, and a blade front sight. The rifle is chambered for .44-40 WCF with a 13-round capacity.
Along with the rifle, the winner of the auction will receive some offerings and indulgences, including a hand-tooled custom heavy weight leather scabbard that features flower and leaf accents that have been painstakingly embossed into the leather, as well as the option to display the rifle at the Cody Firearms Museum for up to one year following the sale, and be personally recognized during that time for the loan of the rifle.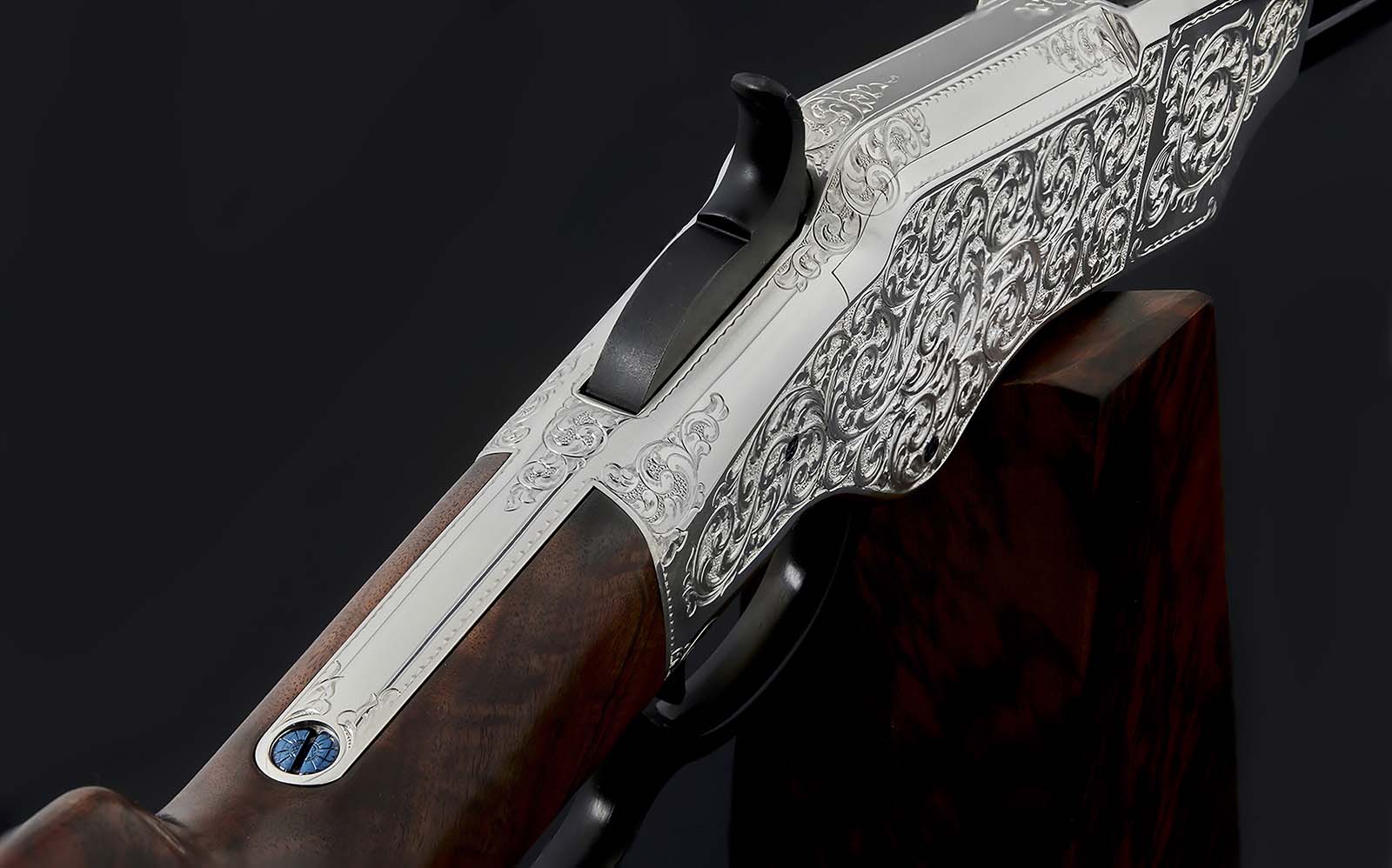 Please note that one hundred percent of the proceeds of this auction will benefit the Cody Firearms Museum and help ensure that future generations are provided an immersive opportunity to learn about the important role firearms have played in shaping human history and existence.
The Cody Firearms Museum is one of five museums at the Buffalo Bill Center of the West in Cody, Wyoming, and a Smithsonian Affiliate. The Museum is the most comprehensive collection of firearms in the country, housing more than 10,000 firearms and related artifacts that span from 1400 to the present. Located just 50 miles from the East Gate of Yellowstone National Park, the Buffalo Bill Center of the West is also home to the Plains Indian Museum, Draper Natural History Museum, Buffalo Bill Museum, and Whitney Western Art Museum, as well as the McCracken Research Library.