Clouds and Rain Galore
Happy June! It was rainy pretty much this entire week (May 30th to June 3rd). There were maybe a few days where it was just cloudy, but it was basically pouring non-stop. I'm sure the raptors enjoyed the cooler weather, especially the owls. Isham, our Red-tailed Hawk, takes a bath every time it rains outside. It's interesting to think about how our birds handled various weather conditions while they were surviving in the wild. They couldn't exactly go shelter inside a warm house—they had to use their instincts and feathers to stay safe and warm.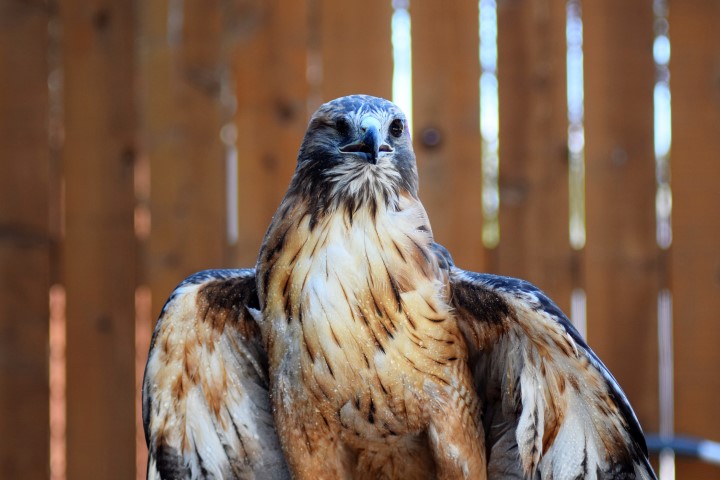 More New (To Me) Birds!
On Monday, I got to hold Amelia, our Short-eared Owl. She is missing about half of her left wing, so she has trouble balancing sometimes. I learned that you must move very steadily with her and make sure she isn't super wobbly on your glove. Amelia is such a pretty owl! Short-eared Owls live in grassland regions, so their feathers are perfectly fit for camouflage in tall grass. Amelia has some beautiful vertical coloration on her belly. I also love the small details near her face. She has all sorts of little dots and patterns everywhere.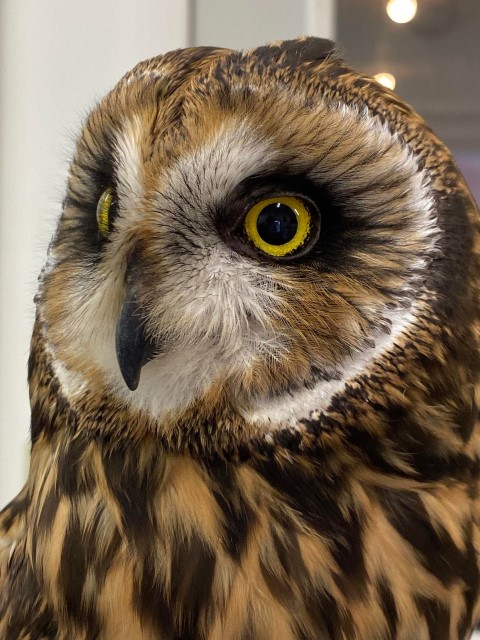 The Gross Stuff
While cleaning the birds' scraps in the morning, I found that Kateri, our Golden Eagle, had skinned the rat she had for dinner the previous night and made a "scarf" out of it. This was gruesomely hilarious to me. Of course, I had to try on this "scarf." It looked ridiculous! It's funny what creative things these birds come up with.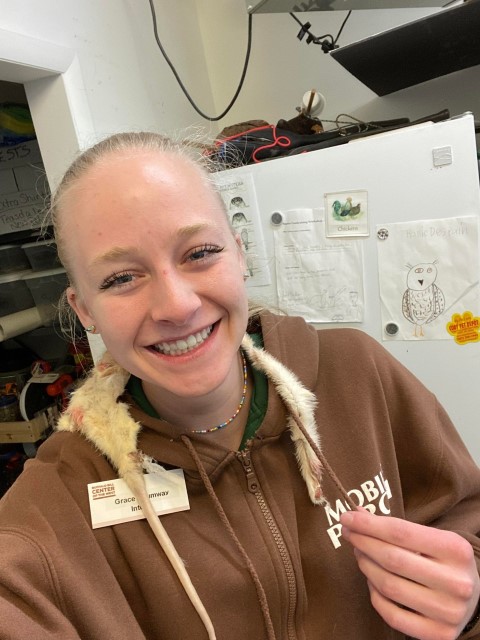 Since I'm on the topic of "gross" things, I'll talk about my experience working in the Draper Lab de-meating some dead owls. The Draper Lab is a working lab where salvaged specimens are processed into collection pieces – mainly injured birds that did not survive rehabilitation so we are permitted to prepare their remains as study skins, taxidermy mounts, or skeletal specimens for scientific study. There were several Great Horned Owls that needed to have their bones preserved, so we had to make sure they had as little meat on them as possible before we put their bones in with the flesh-eating beetles. It was interesting seeing the "inner workings" of an owl and all their muscles. I think most people don't even think about how remarkable it is that organisms are actually able to move and live like us. It really gives you a new perspective on living things when you work with dead things. Although I wasn't super grossed out by the meaty owls while I was working in the lab, I had chicken for lunch right after, so my lunch looked a bit weird…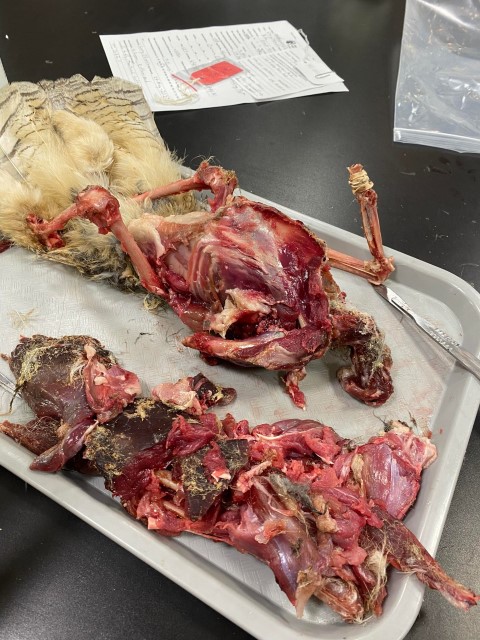 Time for Play!
Anyways, back to LIVE birds! Raptors in captivity need mental stimulation. One of the best ways to provide that for them is through enrichment. Enrichment is a creation for the birds to rip apart or look inside for food, and this gives them a cure for boredom. Basically, get some cardboard, masking tape, scissors, sharpies, and any rippable material, then throw it all together into something that looks weird. It doesn't even have to look like anything specific. The best thing to think about is "if I were a raptor, would I rip this creation to shreds?" If the answer to that question is "TOTALLY" then you've made the enrichment correctly. I made Kateri a lion, Teasdale a toilet, and Jade a goose. Kateri went to town immediately, and after about five minutes, her lion was completely shredded. Teasdale usually shreds his enrichment at night, so he didn't do much right away. Jade shredded his after we had left. These raptors love to rip things!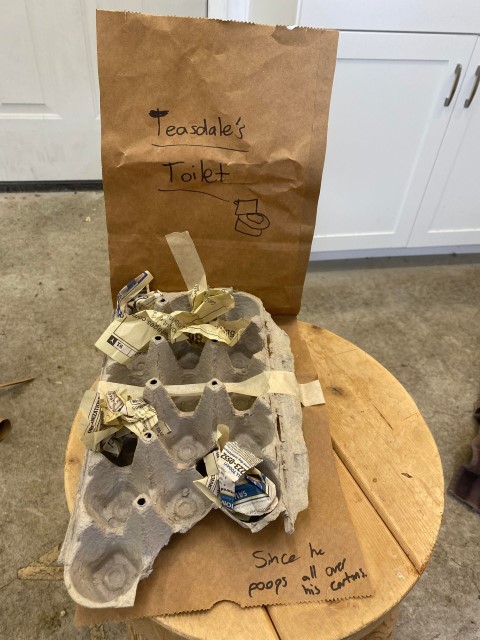 Holding "The Big Girl"
Later in the week, I had the opportunity to hold Kateri, the Golden Eagle. She was heavier than I expected! Although she only weighs about 12.5 pounds, she is a big bird! Looks like I'll have to work out my arm more. It was so awesome to be close to one of the apex predators of the Rockies. I also love Kateri's golden feathers on the back of her neck. Those golden feathers are what give golden eagles their name. Kateri's talons are massive—her rear talon (hallux) is longer than my middle finger. She was very impressive overall, but also super chill and relaxed.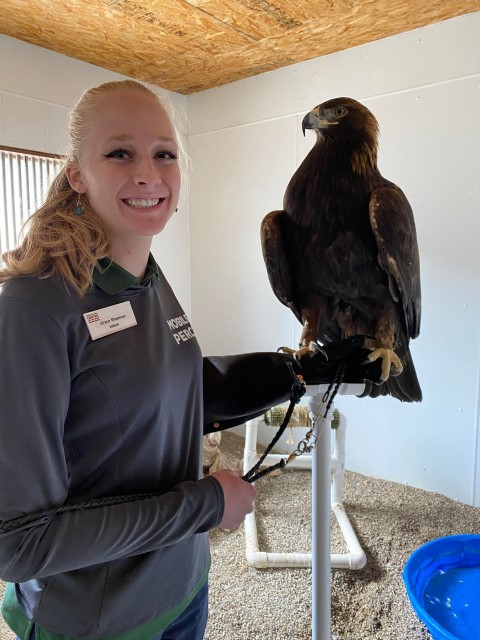 Passing Along the Knowledge
Towards the end of the week, I gave my first full program on my own. I talked about peregrine falcons and why they're amazing birds. Hayabusa had lots of fun showing off to the audience and seemed to be very comfortable. I had some anxiety (especially for my introduction and conclusion), but the audience was understanding, and I managed to get some good facts in. For my first solo program, it left me some good room for improvement that I look forward to achieving in the future. My favorite part is answering questions after a program because I can really see what I know or don't know, and I can tell people things more in depth about what they're interested in. I'm interested in impacting people in the same way I fell in love with raptors when I was 11, so I am happy to share these fun tidbits of information to those who read these blog posts. Hopefully it can inspire them to learn more and share with others how amazing raptors really are.
Grace is the 2022 Raptor Caretaker and Presenter Intern for the Buffalo Bill Center of the West. She is currently enrolled at Northwest College studying Biology before she transfers to the University of Wyoming to earn a BS in Zoology. Although Grace isn't sure what her dream job would be, she knows it will be working hands-on with wildlife in some way.