Cody Culture Club

As a friend, resident, or native of Cody, you know that there's just something special about this town. You've felt it, but what is it exactly? The Cody Culture Club, founded by members of the community, joins with the Buffalo Bill Center of the West to celebrate the unique culture of Cody, Wyoming, by offering insightful programs inspired by the Center's world-class collections.
Each program is from 5:30–7:30 p.m. and includes heavy hors d'ouevres, a cash bar, and great conversation. Anyone with an interest in the Cody community or the Buffalo Bill Center of the West is welcome to join us!
Join us select Thursdays in 2019!
January 10 – Yellowstone: Stories of Survival
It's not all sunshine, family picnics, and wildlife sightings from afar in this picturesque national park. We'll explore Yellowstone's hidden dangers through some of the life-threatening encounters experienced by historic park visitors.
February 7 – By Western Hands
See what's behind the beautiful front doors at By Western Hands Center for Functional Art. Join member craftsmen and the board of directors for a Sneak-Preview of the new facility. Learn how they are preserving iconic designs for future generations in partnership with Northwest College.
March 14 – Celebrities in Cody, Part 1
The allure of Cody, Wyoming, attracted the likes of Owen Wister, Gary Cooper, Amelia Earhart, and Major League Baseball stars. Gain archival and anecdotal insight into these celebrities' connections to the Cody area.
April 11 – 100th Anniversary of the Cody Stampede
In celebration of the Cody Stampede's centennial in 2019, join us for a multi-faceted presentation on its history including the perspectives of a rodeo contestant, coach and judge, and a colorful look at the art of bullfighting.
Tickets are $20 per person at the door unless you take advantage of the ticket package options below!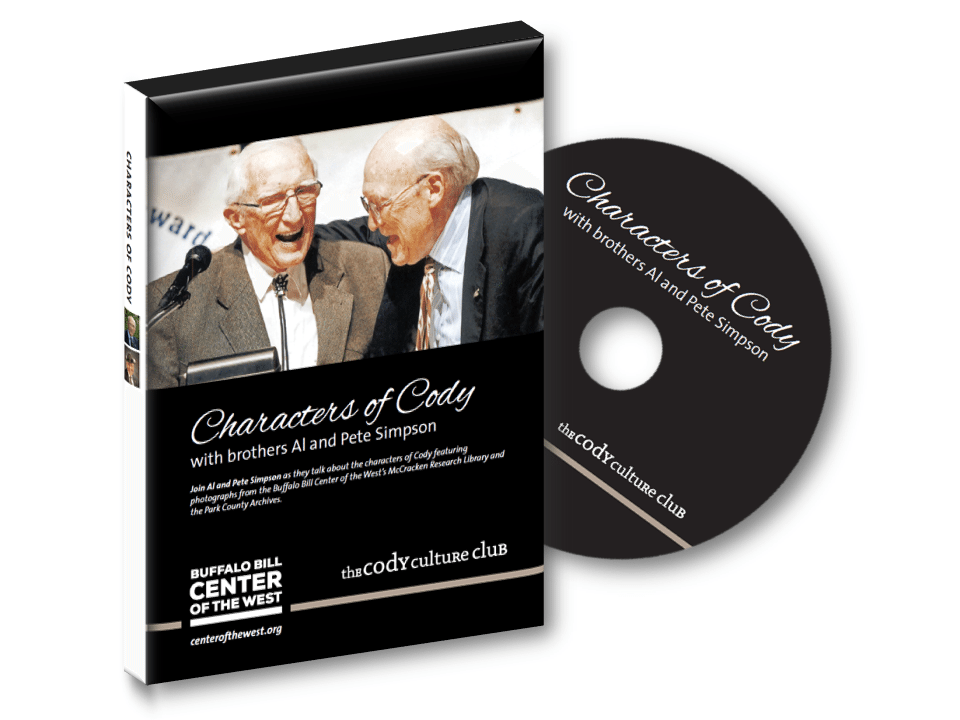 Characters of Cody DVD is now available!
Recorded on February 19, 2015, brothers Al and Pete Simpson recount their experiences growing up in Cody, Wyoming.
You can own this piece of history for $20!