Buffalo Bill Museum exhibits
In the pantheon of iconic figures of the American West, Buffalo Bill stands front and center. In his heyday more than a century ago, he was the most recognized and celebrated person in the world—the first truly international "superstar." Even today, he is still immediately recognizable by his trademark moustache and goatee, flowing white hair, Stetson hat, buckskin jacket, and leather boots.
In his lifetime, Buffalo Bill introduced millions of people worldwide to the American West. And, because of him, untold numbers came to the West to experience it firsthand—or, at the very least, imagined themselves doing so.
The Buffalo Bill Museum offers authentic objects, state-of-the-art exhibits, engaging interactive displays, and a compelling story about one of the most important historical figures of the nineteenth century—a figure whose legacy continues to shape and define how we think about the West, America, the American Spirit, and ourselves.
The museum invites visitors to explore the many facets of a unique individual that was William F. Cody—his childhood and family life, the persona of Buffalo Bill, the entertainment that brought the West to the world and Cody's return from the world to the West. It was through the persona of "Buffalo Bill"—and his traveling show, Buffalo Bill's Wild West—that Cody brought the West to the world and the world to the West.
To begin your exploration of the Buffalo Bill Museum "meet" Buffalo Bill at the entrance of the museum… through video and in the form of actor and great friend to the Buffalo Bill Center of the West Pete Simpson.
Bison and the West
An up-close encounter with a familiar icon of the American West transports visitors back to the mid-nineteenth century, offering an up-close, immersive encounter with bison that roamed the plains of the West where William F. Cody spent his formative years. A wide array of objects and learning stations will surround the Bison and the West exhibit.
Becoming Buffalo Bill
Artifacts and stories illustrate the varied occupations William F. Cody pursued from boyhood to adulthood, explaining how he became "Buffalo Bill," and tracing how his subsequent experiences helped shape and enhance that persona.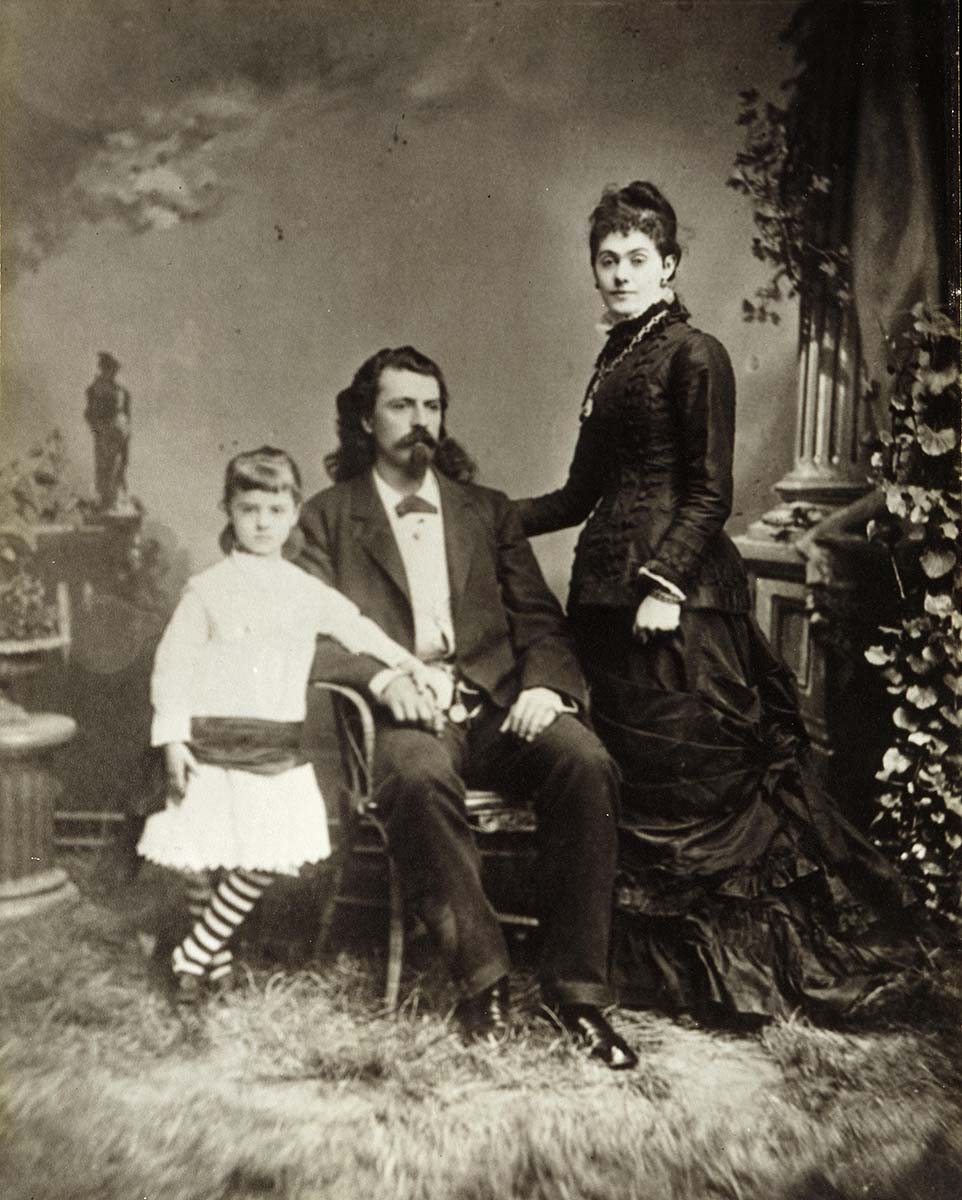 The Family Man
Personal possessions and intimate stories reveal how the self-assured public persona of "Buffalo Bill" masked the turbulence and tragedies of William F. Cody's domestic life as a husband and father.
Taken around 1872 when they were living in Ft. McPherson, Nebraska, this earliest-known photograph of the Cody family shows William F. Cody and his wife, Louisa Frederici Cody, and their daughter, Arta. P.69.188 (detail)
The Rising Star
Interactive exhibits show how dime novels and theatrical stage plays helped make "Buffalo Bill" a nationally-prominent figure and increased public interest in romanticized tales of his exploits in the American West.
The Deadwood Stagecoach
Dramatically displayed and accompanied by compelling eyewitness stories, this iconic artifact vividly expresses how Buffalo Bill's Wild West captivated audiences because of its authenticity, energy, and immediacy.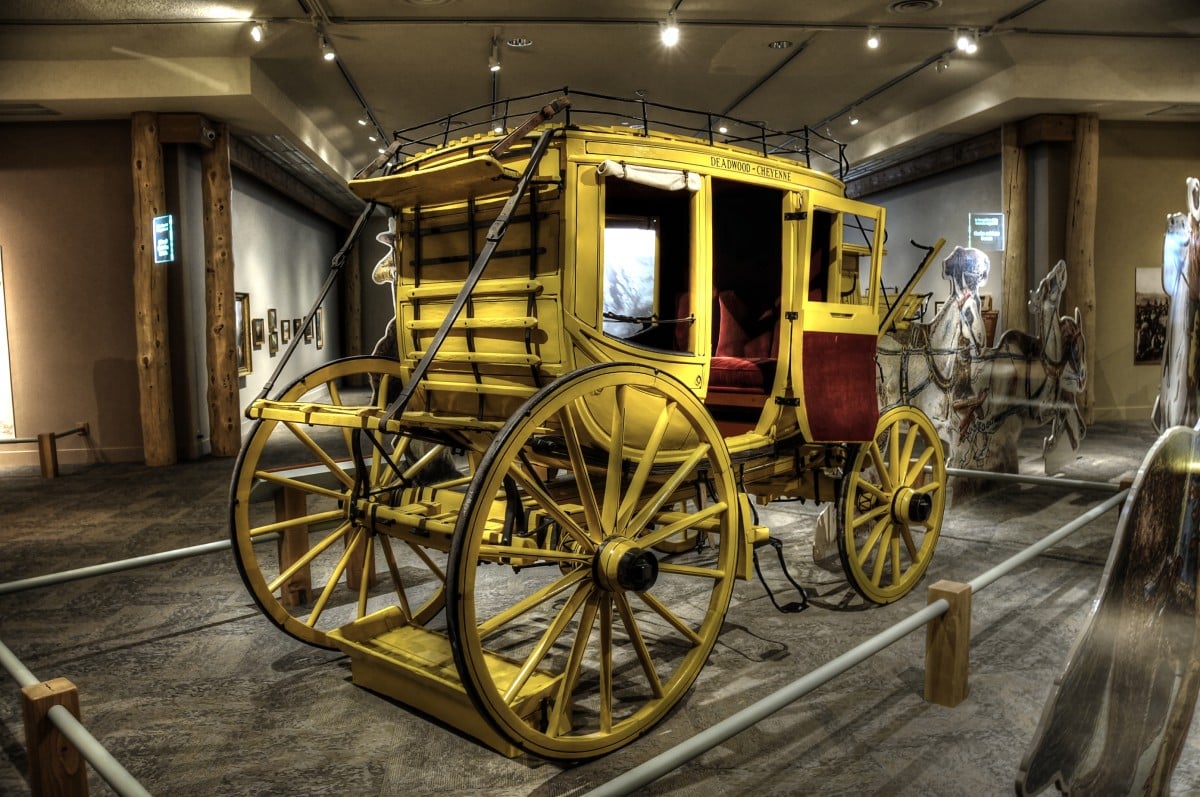 Buffalo Bill's Wild West
A scale model of Buffalo Bill's Wild West, colorful anecdotes, personal artifacts, and archival film footage help reveal how this innovative outdoor entertainment affected those involved and those in the audience.
Window on the West
A wall-sized video screen plays an uplifting and inspirational multimedia presentation offering visitors glimpses of wilderness areas that William F. Cody knew and loved, and giving insights into his relationship with nature.
Cody the Entrepreneur
William F. Cody epitomized the timeless American tale of opportunity and success. As a westerner, he celebrated—and embodied—the values of energy, individualism, honor, and perseverance. As an entrepreneur, he pursued myriad ventures in his effort to climb the ladder of fortune making and losing millions in the process. Despite many setbacks, Cody never lost his optimism nor his idealism.
TE Chuck Wagon
Along with buffalo, and Buffalo Bill himself, few icons better represent the Spirit of the American West than the chuck wagon. It epitomizes the essence of life and work on a cattle ranch—in this instance, Cody's "TE Ranch." The wagon, original artifacts, vintage photographs, and first-person stories—along with never- before-seen archival film footage of work and play—will work together to bring Cody's TE Ranch to life.
Big-Game Hunting
A re-creation of one of William F. Cody's hunting camps will promote discussion about his lifelong passion for big-game hunting and how it spurred him to become a leader in promoting wildlife conservation. In one of his last, and most famous hunting outings, William F. Cody served as guide and host for His Serene Highness, Prince Albert I of Monaco, on a visit to Wyoming in September 1913.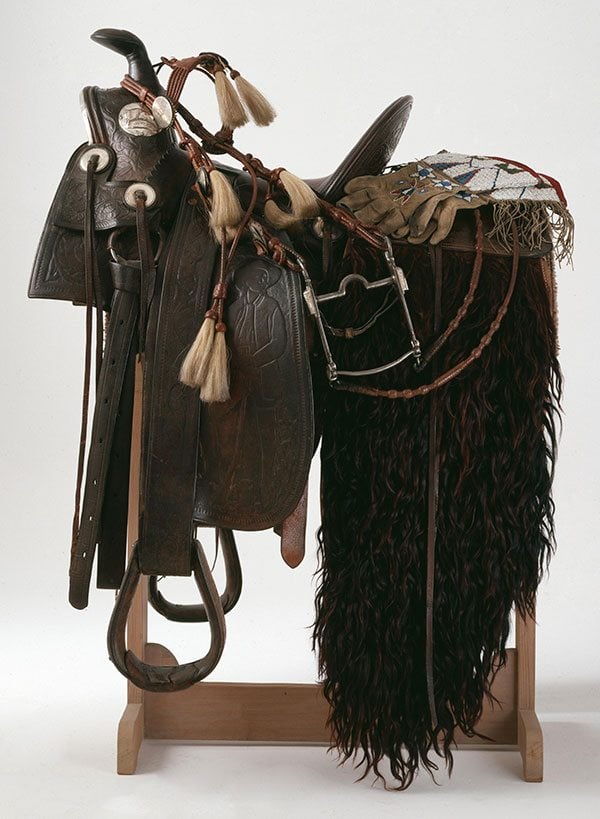 At Home in the Saddle
Cody's saddles and tack, together with first-hand accounts, trace his equestrian experiences and shed light on the diverse roles that horses played in the settlement and development of the American West.
Envisioning the New West
This exhibit brings to life Cody's expansive vision of how irrigation, hydroelectric power, manufacturing, agriculture, transportation, towns, and tourism could create a "new Eden" in northwest Wyoming.
---
Take a look at the reinstallation process: Queen Victoria poster