Revisiting the Mythic Old West: Dude Ranching in America
"Welcome to my West!"
It's strawberry-drenched flapjacks and homemade sourdough bread, horse packing into wilderness areas, a swim in a clear blue mountain lake, songs around a crackling campfire, the ever-present aroma of sun-cured pine needles. For many, the western dude ranch can be as exotic a vacation destination as the Amazon. Travelers find respite from the workaday world, isolation and peace, recreation and pure leisure, a change of pace, the romance of it all, a chance to do real ranch work, home-cooked food aplenty, and the dissolution of social hierarchy. These have been, and still are, the drawing cards that have kept the dude ranching industry alive for over a hundred years.
During the nineteenth century, the western frontier slowly developed a mystique and a national reputation, centered around ranching and the lawless nature of independent, unfettered western life. Images of cowboys, Indians, horses, range cattle, wide-open spaces with blue skies and star-filled nights spun in the heads of city-bound easterners. Longing for a taste of the "wild and woolly" West, they embraced Buffalo Bill's Wild West when the show came to the East beginning in the 1880s. The West, and the cattle culture, began to take on new dimensions—the myth was born.
Railroads Spur Western Tourism
Before the western railroads were built, travel to the western United States was grueling, and unattractive to the faint of heart. However, after gold was discovered in California in 1849, the nation turned its attention to the Far West. Travelers needed a simpler means of conveyance—more comfortable, safer, faster than a Conestoga or a covered wagon, horse, watercraft, or stagecoach. Despite the ongoing Civil War, Abraham Lincoln signed the Pacific Railroad Act in 1862, giving federal permission for companies to begin construction on the first transcontinental railroad. On May 10, 1869, the Central Pacific and Union Pacific railroads joined at Promontory Point, Utah, connecting the East and West coasts.
The West opened up. It not only embraced gold seekers, homesteaders, immigrants, and adventurers, but tourists. The Burlington Northern Railroad actively promoted dude ranching. Now, people could travel by train in relative comfort, penetrating the interior of once-inaccessible western reaches. In time, more "dudes" came west, and early dude ranching, as a business enterprise, took form. At first, those traveling through cattle country would stay with ranch families, free of charge, as a courtesy to the few-and-far-between weary, dusty travelers. However, as more people arrived, the burden and expense of "putting up" and feeding these visitors increased. This, combined with a few disastrous winters and fluctuations in livestock markets, elevated the dude as an even more important source of ranch income.
Eatons' Ranch
The story goes that in 1882, a friend and guest of the Eaton family, from Buffalo, New York, was vacationing at their Custer Trail Ranch near Medora, North Dakota. He insisted on paying for the privilege of staying at the ranch and sparked the idea of a guest ranch with a paying clientele. When, in 1879, Howard Eaton and his brothers Alden and Willis bought the property, they had no intention of establishing anything but a working cattle ranch. However, this incident inspired them to encourage other paying guests. (One eastern guest—Theodore Roosevelt—established his own ranch nearby.) The Eatons later moved to Wolf, Wyoming, near Sheridan. Located on the pine-covered eastern slopes of the Big Horn Mountains in northeastern Wyoming, eighteen miles west of Sheridan, the ranch consists of 7,000 acres of open country with rolling hills, grassy meadows, and hidden valleys. Twisting processions of cottonwood and pine trees mark the course of tumbling streams, which roll out of the mountains. Eatons' Ranch, generally considered to be the first true dude ranch, still operates today as a dude and cattle ranch and is one of the most successful.
Holm Lodge
In time, other dude ranches emerged. The first to operate entirely as a dude resort, with no working cattle ranch attached, was Holm Lodge in Park County, Wyoming. Built by Aron "Tex" Holm in 1907, this lodge was an overnight stopping place for visitors enroute to Yellowstone National Park. It burned in 1914. James William "Billy" Howell, a Cody pioneer and homesteader, bought the charred remains of Holm Lodge that same year, rebuilt it, and began his 35-year career as a dude rancher. Howell customized cabins for families that returned year after year. One eastern couple spent thirty summers at Holm Lodge. Howell and his business partner, Mary Shawver, sold the property in 1947 and retired. The new owners renamed the ranch Crossed Sabres, after Howell's brand. It still operates today as a guest ranch. The old, main lodge at Crossed Sabres was destroyed by fire on Friday, March 19, 2004. The rest of the buildings were spared.
Valley Ranch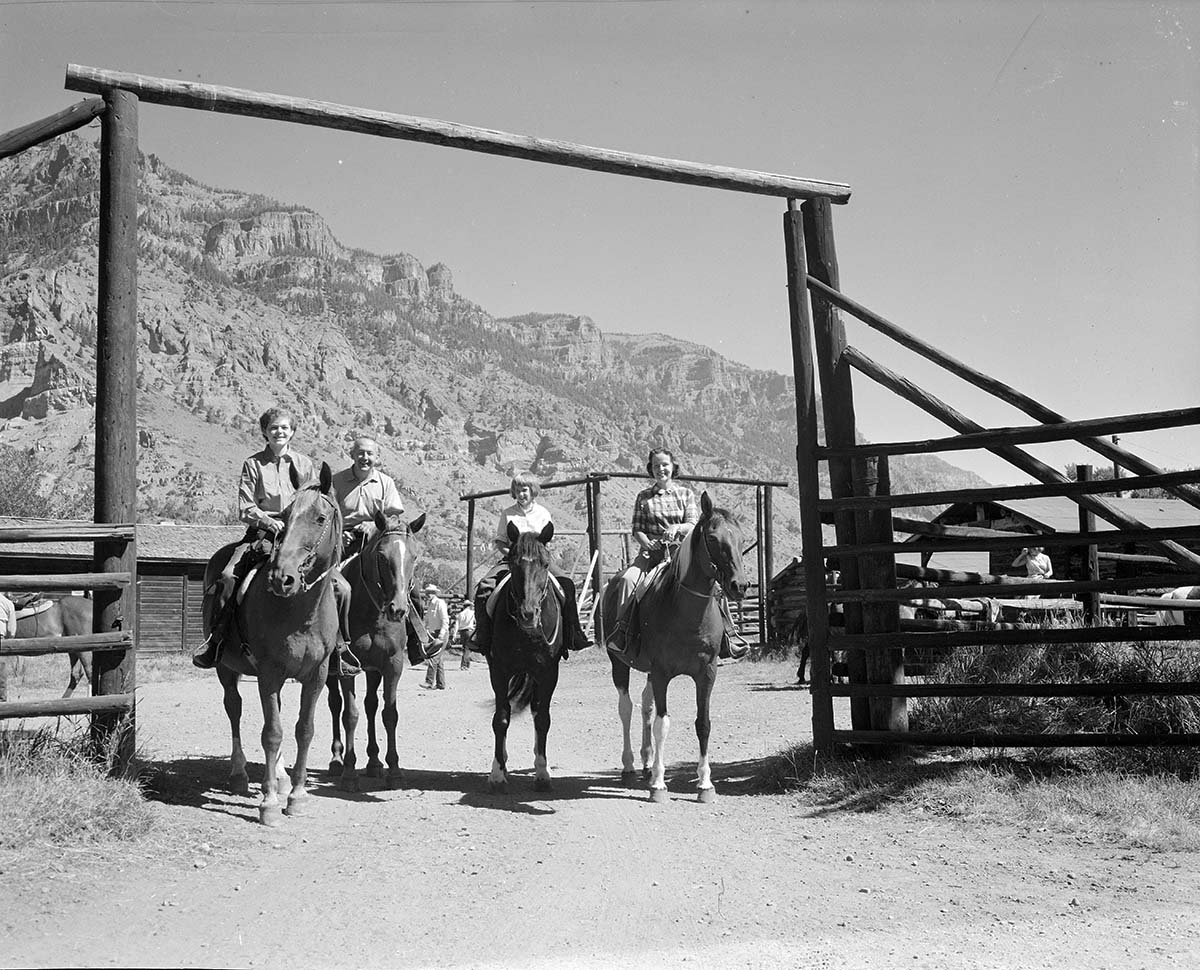 Winthrop Brooks, of Brooks Brothers, purchased the Valley Ranch, on the South Fork of the Shoshone River in 1915 in partnership with his Princeton classmate I.H. "Larry" Larom of New York. Larom and his wife Irma were pioneers in various ways. They started a successful college preparatory school at the ranch, known as "Valley Ranch School for Boys," operational from 1922 to 1934. Larom became sole owner of the Valley Ranch in 1926. Joan Crawford and Tallulah Bankhead were two of its better-known guests. Larom sold the property in 1969, four years before his death. It is now in private hands.
OTO Ranch
J.N. "Dick" Randall worked for years in northern Yellowstone country as a cowboy, guide, and big game hunter before marrying Dora Roseborough in 1892. The couple ranched, with moderate success, until 1912, when they started the OTO Ranch near Livingston, Montana. One of their successes was in persuading the Postmaster General of the United States to call the post office located on the ranch "Dude Ranch, Montana." The Randalls sold the property in 1934.
Pahaska Tepee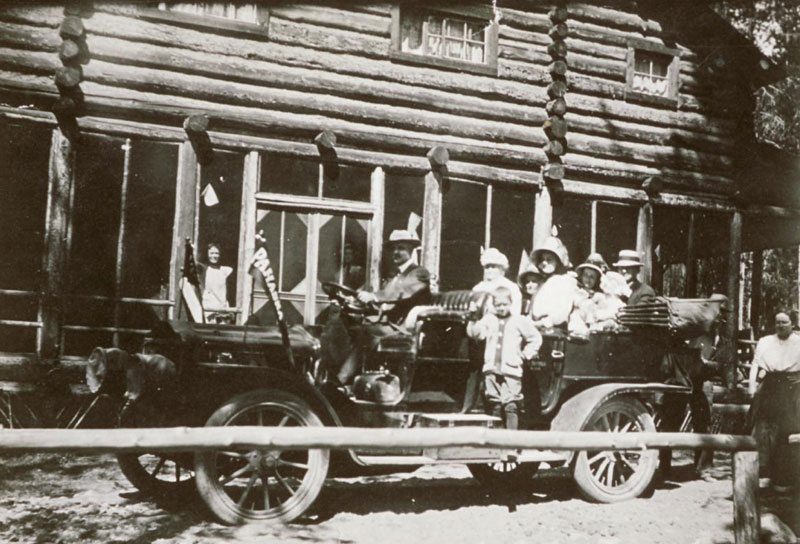 Built in 1904 by Buffalo Bill Cody, Pahaska Tepee was both a hotel—an investment in the growing tourism trade along the Northfork of the Shoshone River—and a private hunting lodge. Hidden away in the mountains fifty miles west of Cody, it served as a stopover for visitors traveling from Cody to Yellowstone National Park. However, after the summer tourism season waned, the hotel was transformed into a hunting lodge for Cody's friends and guests engaged in fall hunting trips into the Absaroka Mountains. For several years, Cody's family managed the property, along with the Irma Hotel and several ranches within the Cody area, after Buffalo Bill sold his Scout's Rest Ranch in North Platte, Nebraska, in 1913. After Buffalo Bill died in 1917, Pahaska Tepee had a succession of owners, until Henry H.R. Coe bought the old lodge in 1946. The business operates today under the care and management of the Coe family, with Bob Coe, H.R. Coe's son, managing the facility.
The Dude Ranchers' Association
The Dude Ranchers' Association was formed in 1925, with Larry Larom, then-owner of the Valley Ranch, as its first president. Larom served for nineteen years. Its membership now extends nationwide, with more than one hundred members. Membership is not automatic. Dude ranches applying for membership must go through a two-year inspection and approval process. True to its roots, the Dude Ranchers' Association is still a diverse group, composed of cattle ranches who accept paying guests and mountain-top lodges that offer a ranch atmosphere. All preserve the open warmth and hospitality of the first ranches and allow for the original western ranch experience by requiring an extended stay. For more information on the Dude Ranchers' Association, please visit their website.
Wyoming Dude Ranchers Association
By 1929, Wyoming dude ranches were hosting more than 10,000 guests each year, and, by 1947, more than one hundred dude ranches had been developed throughout Wyoming. If you are interested in obtaining more information about dude ranches in Wyoming or planning a visit to a Wyoming dude ranch, please visit the Wyoming Dude Ranchers Association website.
Sources
Adare, Sierra, "Celebrating Cody's Centennial: The Wyoming Town Named for William 'Buffalo Bill' Cody Marks its 100th Birthday in 1996," June '96 Wild West Feature, TheHistoryNet.com website, July 17, 2001.
Anon., "Romance, Rest & Recreation," Appeal of the Dude Ranch webpages xroads.virginia.edu, July 17, 2001.
Buffalo Bill Museum, "Dude Ranching" Exhibit, Buffalo Bill [Center of the West], Cody, Wyoming, July 2001.
Dude Ranchers' Association website, www.duderanch.org, July 17, 2001.
Family Travel Guides website, "Origins of Dude Ranch Association," July 17, 2001.
Flood, Elizabeth Clair, "Old-Time Dude Ranches Out West" (book review), website of the History Group of Cowles Enthusiast Media, www.thehistorynet.com, July 17, 2001.
Hicks, Lucille N. (ed.), The Park County Story, Dallas: Taylor Publishing Company, 1980.
Houze, Christine, Curatorial Assistant, Buffalo Bill Museum, "Dude Ranching" (typed), Buffalo Bill [Center of the West], Cody, Wyoming, n.d.
Houze, Lynn, Acting Curator, Buffalo Bill Museum, Buffalo Bill [Center of the West], Cody, Wyoming, Interview of July 20, 2001.
Kensel, W. Hudson, Pahaska Tepee: Buffalo Bill's Old Hunting Lodge and Hotel, a History, 1901 – 1946, Cody, Wyoming: Buffalo Bill [Center of the West], 1987.
Murray, Ester Johansson, A History of the Northfork of the Shoshone River (First Edition), Cody, Wyoming: Lone Eagle MultiMedia, 1996.
Roberts, Philip J., David L. Roberts, Steven L. Roberts, Wyoming Almanac (Second Edition), Seattle and Laramie, Wyoming: Skyline West Press, 1990.
Wyoming Dude Ranchers Association website, wyomingdra.com, July 17, 2001.