Greater Yellowstone Ecosystem: Draper Natural History Museum
Connecting You with Nature in Yellowstone Country
Begin your Yellowstone adventure at the Draper Natural History Museum in Cody, Wyoming. Since opening in June 2002, the Draper has garnered international acclaim for its immersive, informative, and inspiring exhibit experiences. We've now celebrating 20 years of educating the public about the natural world of the Greater Yellowstone ecosystem.
Beyond the walls of awe-inspiring galleries, the Draper Natural History Museum is your premier scientific resource for Greater Yellowstone ecology and natural history. Explore our web pages, our blogs from the Draper Museum itself, and its Draper Museum Raptor Experience, you can also follow us on Facebook or check out our Draper Natural History Museum Channel on YouTube for general wildlife information, updates on conservation issues in and around Yellowstone National Park, and videos. You can use our website to preview our extensive exhibits, programs, live raptors, scientific collections, and field research adventures!
You can even listen to a radio story on our Golden Eagle research program in Wyoming's sagebrush country. Curator Emeritus, Dr. Charles Preston discusses his golden eagle project on Wyoming Public Radio: Read the article and listen to the interview.
If you're coming to Yellowstone, we hope you will include us in your travel plans—you will understand the forces shaping Yellowstone ecology much better and be better prepared to get the most out of your Yellowstone adventure when you begin with a visit to the amazing Draper Natural History Museum!
Read more!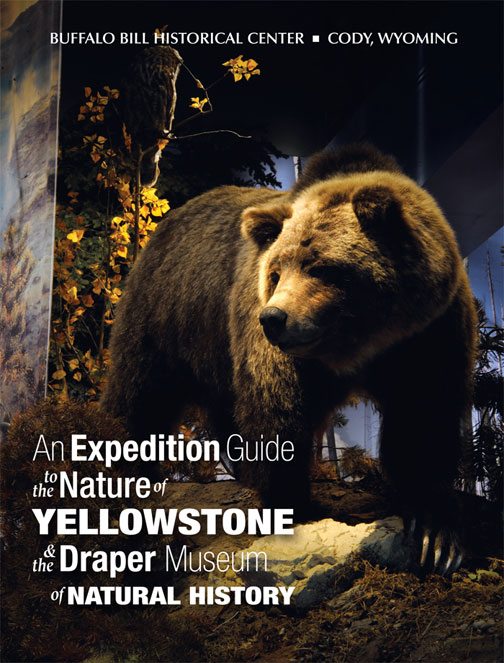 An Expedition Guide to the Nature of Yellowstone & the Draper Natural History Museum
By Dr. Charles R. Preston, curator emeritus
This book highlights Draper and the Greater Yellowstone region it interprets. Richly illustrated with beautiful, color photography.
Available here or call our Museum Store 1-800-533-3838.
Enjoy an overview of the Draper Natural History Museum narrated by Founding Curator Dr. Charles Preston. Stay tuned for update with additional footage.
Lunchtime Expeditions lectures on video
The Draper Natural History Museum hosts the Lunchtime Expeditions series. These are monthly, free public lectures on natural history subjects. Topics range from interesting and informative to controversial and "in the news." Visit the Natural History Lectures playlist on our YouTube channel to find programs from our archives.
Please enjoy the Draper Natural History Museum Greater Yellowstone Adventure video: