Draper Museum Raptor Experience
Monte: Eastern Screech-owl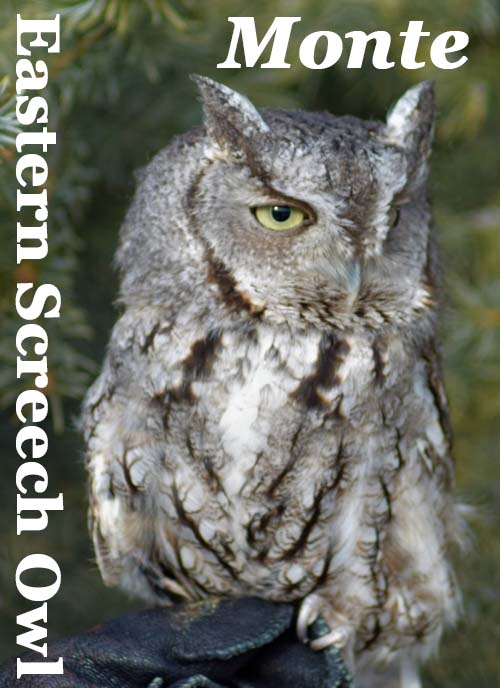 About the Bird:
Monte is a female Eastern Screech-owl who hatched in 2017. She was found near Roberts, Montana, with the tip of her right wing missing, most likely due to a vehicle collision. Her poor flight prevents her from surviving well in the wild.
General Species Info:
The Eastern Screech-owl is found throughout most of the eastern half of the United States, generally east of the Rocky Mountains into parts of southeastern Canada and northeastern Mexico.
Eastern Screech-owls prefer almost any habitat with abundant tree cover. Tree cavities or nest boxes are crucial, but Eastern Screech-owls have successfully existed in farmland, suburban landscapes, and city parks.
Eastern Screech-owls eat most kinds of small animals, including small birds and mammals as well as surprisingly large numbers of earthworms, insects, crayfish, tadpoles, frogs, and lizards. They eat many types of mammals, ranging from mice, rats, moles, squirrels, and rabbits. Some have even been documented catching small fish!
Notes from Staff:
Monte is a little firecracker of an owl. She is extra vigilant for possible predators during programs in the garden. Raptor program handlers always hold her closer than the other raptors so she feels less exposed.
Sign up for our Adopt-a-Raptor program