Draper Museum Raptor Experience
Hayden: Swainson's Hawk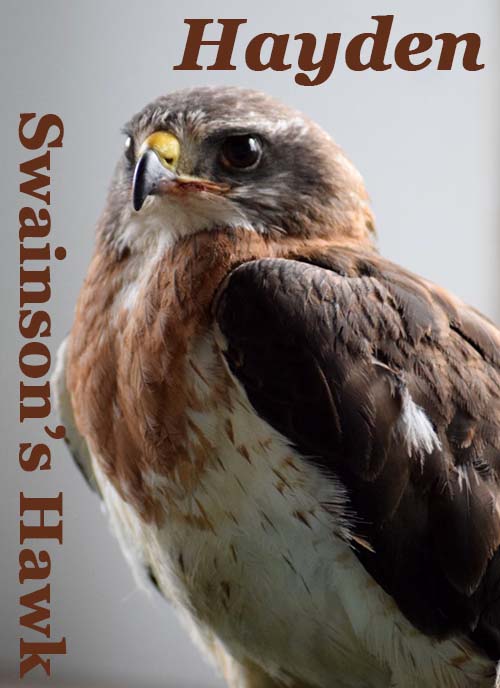 About the Bird:
Hayden is a male Swainson's Hawk that hatched an undetermined number of years ago. He was found on the side of the road in Idaho after a vehicle collision broke his pelvis and coracoid bones. It was also discovered that he had a mild case of lead poisoning due to the lead fragments found in his digestive tract. Nerve damage to his tail prevents stable flight.
General Species Info:
Swainson's Hawks are found throughout the Americas, seasonally shifting between northern and southern continents. They summer in North America and winter in eastern South America.
Swainson's Hawks favor open habitats for foraging like meadows, grasslands, and agricultural fields. They rely on scattered stands of trees for nesting locations.
Swainson's Hawks eat mainly mammals and insects. Mammals make up the majority of their diet during the breeding season. Adults prey upon ground squirrels, gophers, mice, voles, and rabbits. Occasionally, they can also eat bats, lizards, snakes, and smaller birds. Outside the breeding season, Swainson's Hawks rely almost exclusively on insect prey, especially crickets, grasshoppers, and dragonflies.
Notes from Staff:
Hayden likes to sit in the sun and watch everything. Raptor program handlers love exercising him with short flights across his yard. He loves his mice!
Sign up for our Adopt-a-Raptor program