MILES Grant Program for Schools
Please Note: The Center is currently only scheduling self-guided (teacher led) field trips. With health and safety precautions in mind, we have temporarily suspended our onsite guided tours. However, we can schedule you and your students for a virtual guided tour based on any of our onsite guided tours. We also offer a variety of other digital resources that we hope will enrich your classroom needs. We will update this page should this change. Links are provided below:
MILES assistance is still available for the 2020-2021 school year. However, we are currently not scheduling guided tours with these field trips. Educators can schedule virtual orientations and guided tours prior to your visit!!
Contact: Megan Smith at [email protected] or at 307-578-4028 for more information.
Sinclair Oil Companies generously provides funding for a grant program for schools in the Rocky Mountain West to travel to the Buffalo Bill Center of the West for a field trip. This is a traveling grant that helps defray the cost of transportation and lodging, in whole or part, for our MILES (Museum Interpretation, Learning, and Enrichment for Students) program.
New MILES Scholarships!
We now offer scholarships to schools throughout the region that cover the cost of admission for school field trips to the Center. Thank you to Sinclair Oil Companies for making these funds available. Contact the School Services office at 307-578-4028 to apply or complete this scholarship application.
If you are interested in learning more about our MILES grant program for your students, please e-mail Megan Smith or call her at 307-578-4028. Click on the links below to fill out a MILES application.
MILES Applications
For questions about the MILES program, please call 307-578-4028 or e-mail Megan.
---
Visiting MILES students share their thanks!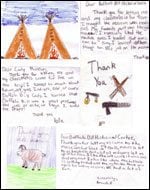 Click the image to see what they have to say!
"My class and I could try for a hundred years and could not thank you enough for giving us the grant to go to Cody. It was the best field trip ever and I will never forget you for allowing us to go on this amazing trip. We learned so much and almost none of it could have been taught in a classroom."
—6th Grader, Lincoln Elementary, Rock Springs, Wyoming
---
Thank you, Sinclair Oil Companies, for your support of this program!