Learn through Programs and Education
The Buffalo Bill Center of the West's educational programs help our visitors learn in an enjoyable and educational atmosphere and so acquire a deeper understanding of the American West.
Plains Indian Map Project
This Plains Indian Map—created with generous funding from The Brown Foundation, Inc., of Houston—is a fusion of scholarship and educational interpretation. The map represents 230 years of movement on the Plains amongst more than 45 different Indian cultures. Territorial, treaty, reservation, and state boundaries flow in an animated timeline.
The innovative scholarship and interpretation showcased in this map is recommended for a broad audience, including K–12 teachers and students. Viewers can pause the online animation at any point to study a particular map.
---
Center Highlights Map
Are you and your family visiting the Center of the West on your own, or do you have limited time? Check out our Highlights Map!
---
Indian Education for All K-12 Resources
Visit our new Indian Education for All Resources page to access all our onsite, outreach, and online offerings that meet Montana and Wyoming's Indian Education for All component in these state's Social Studies Standards.
---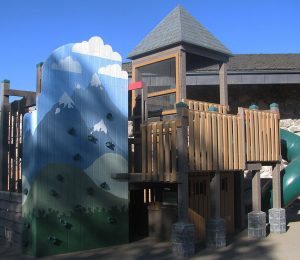 Play Area
If you're visiting the Center of the West with children, you'll find lots of interactive experiences in our museums, but when the kids need a break, visit our new outdoor, western-themed play area in the Cashman Greever Garden, near Buffalo Bill's Boyhood Home. Burn off some of that excess energy!
---
Draper Museum Raptor Experience
Don't miss the amazing birds of our Draper Museum Raptor Experience for their daily programs. Check the date, and then follow this schedule:
May 29–September 4, 10 a.m. and 3 p.m. daily
September 6–November 30, 1 p.m. daily
March 1–May 28, 1 p.m. daily
---
School Field Trips, Resources, and Outreach
Visit our School Programs to find out about field trips, museum adventures, Skype in the Classroom, and outreach trunks. You'll also find resources for students and teachers.
---
Virtual Field Trips
Do you have a class of students who would love to find out more about mountain men and fur trappers? About Plains Indian culture and tipis? About the adaptations of animals to their environment? Watch this video to learn more about our Virtual Field Trips program!
Click here to find out more about individual Virtual Field Trip lessons.