School Programs and Resources
The Buffalo Bill Center of the West provides a variety of educational opportunities, school programs, and resources for K-12 teachers and students. Refer to the list below to learn about our onsite, outreach, and online offerings.
As you plan your field trip this school year, please note that the Cody Firearms Museum is undergoing an exciting renovation that will be completed in summer 2019. But don't worry! We will always have firearms on display throughout the other museums, and in a temporary exhibit featuring hundreds of guns—the best in the collection.
To learn more and to register on-line, click on the following program links:
---
NEW TEACHER AND STUDENT RESOURCES! Explore Plains Indian Culture and History
Looking to enrich your curriculum with primary resources through photos, art, and oral histories? This rich content will help teachers and students, whether they have visited the Center or not. Visit the following links to explore Plains Indian culture and history.
Learn about village life from the historic era.
Explore the economic and spiritual importance of buffalo to the Native people of the Plains.
Discover the ceremonial aspects of Plains life.
Reflect on the changes and innovation that have taken place in the cultures of Plains people since being placed on reservations.
Want to learn more? Visit our Resources for Teachers and Students page.
---
Brand New Skype in the Classroom Lesson for Teacher Professional Development
Did you every think different kinds of shoes have a story? Or maybe, different hats? Together we'll work with teachers to uncover the hidden stories about objects centered around our Plains Indian collection at the Buffalo Bill Center of the West. Then teachers can take what they've learned back to their classroom. Click on the photo below to get a sneak peek into this new lesson.
For more information about this and all our other lessons, as well as the Center's partnership with Skype in the Classroom, click here.
---
BRAND NEW! Indian Education for All K-12 Resources
Visit our new Indian Education for All Resources page to access all our onsite, outreach, and online offerings that meet Montana and Wyoming's Indian Education for All component in these state's Social Studies Standards.
---
Working with Local Schools
The Buffalo Bill Center of the West helps local schools by providing free field trips to the Center for all Park County schools. This is made possible through the Stephen M. Seay Foundation, and the Bargain Box, an outreach of Christ the Episcopal Church, and other anonymous donors.
This summer the Center named  5th grade students from Westside Elementary in Powell, Wyoming, as winners of a project about their visit to Yellowstone. Visit the Draper Natural History Museum's Seasons of Discovery to view the museum exhibit winner. Click on the image below to view the virtual field trip winner's project on YouTube.
---
Educational Opportunities Guide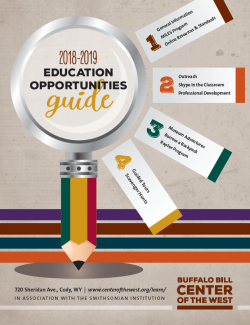 This convenient guide contains all the details on our school services, including outreach programs to the schools.
For questions regarding school services please e-mail K-12 Curriculum and Digital Learning Specialist, Megan Smith or call 307-578-4028.
---
How are We Doing?
After you have taken part in our school services, whether it be a guided tour, a Skype in the classroom lesson, or another offering, return here to evaluate us with a short survey on that particular service: