Draper Museum Raptor Experience
The Draper Museum Raptor Experience is a live raptor education program that allows us to share some of our area's most spectacular wild animals with visitors. Get an up-close-and-personal view of some of Wyoming's most recognized predators, the birds of prey.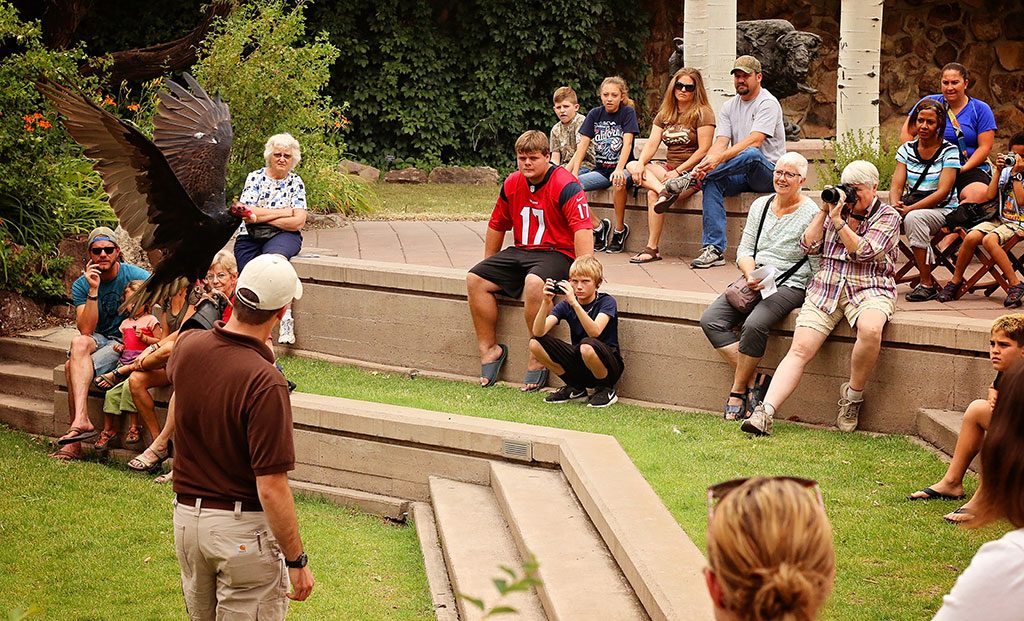 ---
Raptor program schedule
Program and Appearance Schedule:
The raptor program's regular schedule is as follows; we kindly ask visitors to practice social distancing while attending these garden programs. For the month of May, we present "Relaxing with Raptors" in our Braun Garden, weather permitting.
June 1–August 15: Four programs daily at 10 a.m. (Those Amazing Owls), noon (Superheroes of Nature), 2 p.m. (Adaptations for Flight), and 4 p.m. (Relaxing with Raptors).
August 16–September 15: Two programs daily at 10 a.m. and 3 p.m.
September 16–May 31: Relaxing with Raptors at 1 p.m. each day the Center is open. An informal question and answer session with a few of our birds and their handlers.
Our birds also do outreach programs. E-mail Melissa Hill or call 307-578-4111 for more information.
Interested in our Adopt-a-Raptor program? Click here.
This program is funded in part by the Nancy-Carroll Draper Foundation, the W.H. Donner Foundation, and the Donner Canadian Foundation—the latter in partnership with the University of Wyoming's Biodiversity Institute.
---
Meet the birds of the Draper Museum Raptor Experience
How did each of our birds come to live with us and help us educate our visitors about raptors? Click on each bird's name to learn more about them!
Our Adopt-a-Raptor Program
You can help us sustain the Draper Museum Raptor Experience through our Adopt-a-Raptor program. Donations feed and care for our amazing birds, allowing you to play a role in our commitment to keep our flock healthy with the highest quality food, vitamins, housing, and medical care—for the rest of their lives. Take a look at the Adoption Level Benefits chart below for the details of what you receive in return for your support at each of our adoption levels.

Use the form below to sign up for our Adopt-a-Raptor program and support our birds. You may also chose your favorite raptor!
Thank you for your support of our Draper Museum Raptor Experience!