Draper Museum Raptor Experience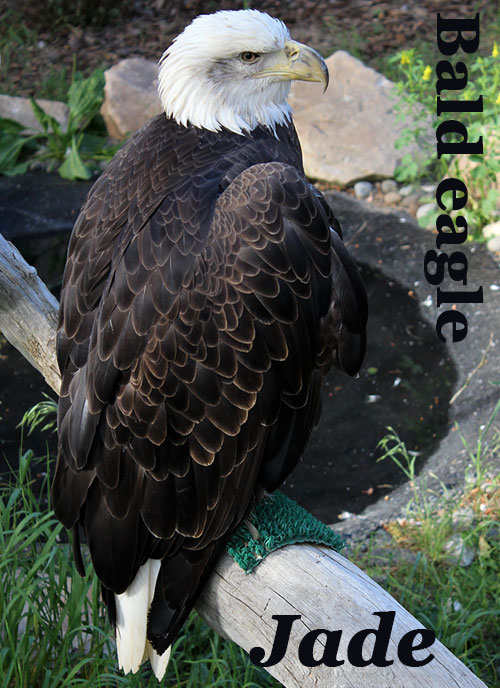 Jade: Bald eagle
Hatch year: 2014
Came to us from: Antigo, Wisconsin
A sub-adult bald eagle, Jade came to the Draper Museum Raptor Experience from the Raptor Education Group, Inc. (REGI) in Antigo, Wisconsin, which cared for him after the bird suffered a fractured wing, likely sustained in a collision with a vehicle. The wing never recovered well enough for Jade to regain sufficient flight to live in the wild. He arrived at the Center on May 11, 2016, and resides in an enclosure, visible to visitors, in the Center's Braun Garden most of the year, but please note that, in the winter, Jade is sometimes removed from his exhibit due to heavy icicle build-up that could injure him.
Although non-releasable, Jade can fly short distances, enough that when Live Raptor Program Manager Melissa Hill visited REGI to choose a bald eagle for the Raptor Experience, he had scaled perches of increasing height until coming to rest on one about 20 feet off the ground. At that distance, judging his size—and therefore the bird's sex (female eagles are typically 30–50 percent larger than males)—proved difficult, and, as the REGI staff had also referred to the bird as female, our staff initially did too. But in early July, Raptor Experience staff got an accurate weight on the eagle: barely eight pounds, too small to be a female!
In the meantime, a naming contest for the bald eagle resulted in the name "Jade," for Wyoming's state gemstone. We simply began referring to him as male, and although challenging for some staff and volunteers, few visitors noticed, and Jade is now well-established in the program as our male bald eagle. About three years old, Jade has not yet developed the white head and tail feathers, or the orange beak, of adult bald eagles; that transition will happen between the ages of about five and seven.
After getting to know Jade over the past several months, Melissa shares some thoughts on his characteristics and personality:
Jade is quite a personable eagle. In the wild, most raptors—bald eagles included—spend the majority of their day resting. Flying takes a lot of energy and is reserved for times it is truly needed, such as hunting, chasing other birds out of breeding territory, or migration. Raptors in captivity are usually relatively sedentary animals, typically seen perched in their favorite spots throughout the day. Jade, however, often moves from perch to perch and has even been observed drinking from his pool and "dancing" in a rain shower. He truly seems to enjoy watching the other birds in the garden as well as the many cottontail rabbits that can be found all over the Center's grounds. Jade has settled in to his new home very nicely and is often found at the front of his exhibit, where guests are thrilled to see his unique appearance.
Sign up for our Adopt-a-Raptor program