Past Exhibition
The Buffalo Bill Center of the West in Cody, Wyoming, an Affiliate of the Smithsonian Institution, was proud to announce the journey westward in 2013 of 64 unique firearms from the National Museum of American History's National Firearms Collection—including four national treasures. Among these artifacts were numerous patent models documenting innovations in the field, international imagination, and historic distinction. The Center was entrusted with the conservation of these firearms and was honored to display them at the Cody Firearms Museum. The extended exhibition ended in 2018.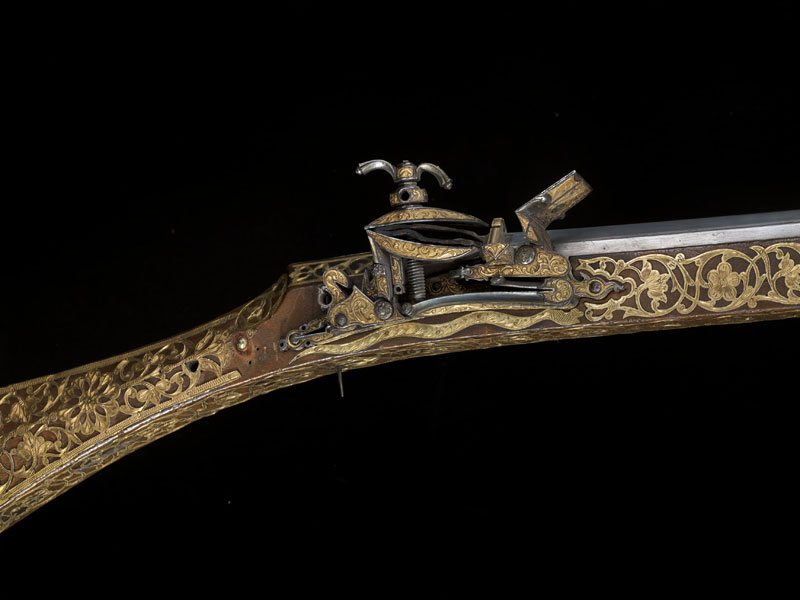 Included in this exhibition was a seven-foot-long gold Miquelet lock musket that was given to President Thomas Jefferson in 1805 by the Bey of Tunisia after the Tripolitan Wars. This extravagant firearm is often considered a national treasure. Another firearm so selected was a beautifully embellished Jaeger rifle that belonged to Catherine the Great of Russia (1729 – 1796). A velvet cheek piece added to this firearm ensured her imperial face would not touch the stock.
In the category of patent innovation was a western cinematic favorite, the Gatling gun. Before inventor Richard Gatling could make his invention a reality, he first created a miniature wooden prototype to submit to the U.S. Patent Office—on display with this collection. This patent was approved in 1862, allowing for the production of the full scale Gatling guns, examples of which can be seen throughout the Cody Firearms Museum.
The Buffalo Bill Historical Center and the Smithsonian Institution invited visitors to explore these firearms that have helped shape our nation and beyond. Both institutions hoped that individuals would allow this exhibition to mold their own experiences and conceptions of firearms from invention to production, and then to their roles in the development of our nation. This exhibition was on view in the Cody Firearms Museum's lower gallery from May 4, 2013 through fall 2015. It was moved to a revamped space in late 2015, where it remained on view into 2018 when the Cody Firearms Museum headed into a full renovation.
---