Today I thought I would showcase a feature in the upcoming online collections. Sorry, we don't have any working code right online now, but we hope to have it finished in the next few months.
For the images, we are planning on using Zoomify. I remember using this product several years back, so I was thrilled to see that they have since released an HTML5 version. I have noticed some canvas highlight issues on certain Android devices, but other than that it seems to work pretty well out of the box.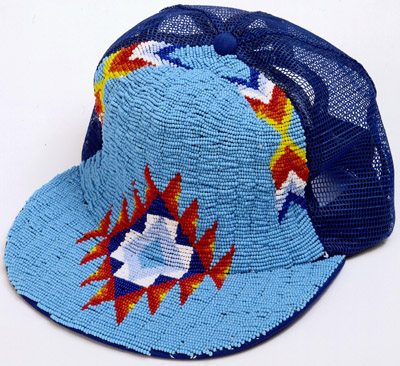 For my demo, I picked one of my favorite treasures we own: NA.202.394—or as I call it: The Beaded Trucker Hat. Aside from the cool beadwork, Trucker Hat aficionados will notice it is an 80s era, US-made Funkap. I have a couple of these in my personal collection and they really are great hats. Of course I would love to wear a beaded trucker hat like this, but it's our job to protect the objects, not try them on!
As of this writing, the cap is on display in the Adversity and Renewal gallery of the Plains Indian Museum.
If you have questions or comments about the new online collections we're building, feel free to ask in the comments.
Synopsis
cap – Sioux | Northern Plains – plastic | billed | Beads ~ seed | nylon – geometric | star | cross – Sioux | Northern Plains – Dress and Adornment: Daily And/or Festive Adornment. Woven plastic, adjustable, billed. Blue with beaded bill and front. Blue, white, orange, red and yellow geometric star and cross design beadwork on light blue ground. Arrow design trim in same colors at the top. Black cloth brow band, mfg. tag – Funkap, large, made in U.S.A.