Articles of clothing created by Native artists during the reservation era (circa 1870 – 1930s) were wearable, biographical garments emblematic of Native pride during a time when personal expressions were repressed. Dresses, especially heavily-beaded examples made for ceremonies and special occasions, are manifestations of pride and cultural identity.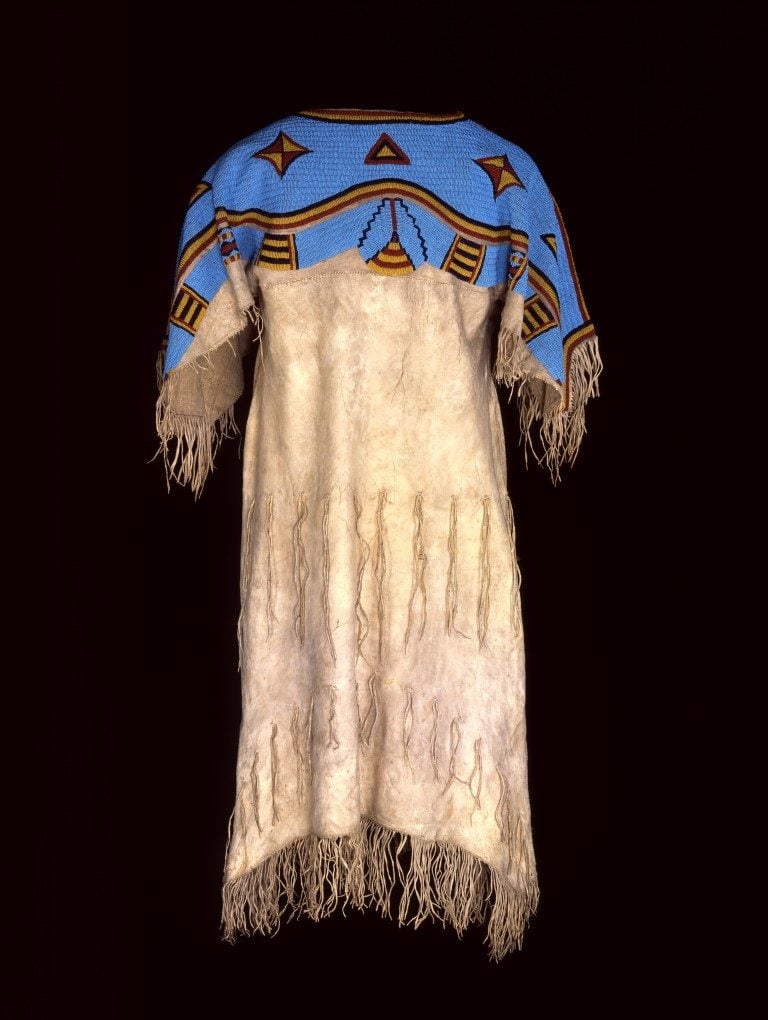 A Lakota dress with a fully-beaded yoke speaks much about the women who wore and made this splendid garment. The distinct symbols and patterns of beadwork, as well as the color of the beads, tell us that the woman was Lakota. The dazzling blue on the yoke became popular among Lakota bead workers around 1850 – 1870 and represented "a lake or body of water, in which the reflection of the blue sky can be seen… stars are sometimes represented by a beaded design that originally was four-pointed."[1] There are also explanations of the Lakota belief that the blue yoke symbolizes a "rebirth" as the woman's head emerges from the water [2]; a beautiful analogy for the act of putting on a garment, which allowed the wearer to express her identity as a Native woman. The volume and precision of beadwork indicate skill and determination to take an art form passed on through generations of women to the next generation, and beyond to another artistic level.
This dress was on exhibit at the High Museum in Atlanta, Georgia, as part of the exhibition Go West! Art of the American Frontier from the Buffalo Bill Center of the West  through April 13, 2014.
[1] Evan Maclyn Maurer. The Native American Heritage: A Survey of North American Indian Art (The Art Institute of Chicago, 1977), 45.
[2] Janet Catherine Berlo. "Creativity and Cosmopolitanism: Women's Enduring Traditions," Identity by Design, 98.