Englishman James Smithson (1765 – 1829) never traveled to the United States, but his legacy is American through and through. It was his bequest that created what we know today as the Smithsonian Institution in Washington, D.C.
Smithson's will was tricky: He had no children, so upon his death, his estate became his nephew's. But, if the nephew died without an heir, Smithson had other ideas. In that case, his estate would pass "to the United States of America, to found at Washington, under the name of the Smithsonian Institution, an establishment for the increase and diffusion of knowledge…" His nephew did indeed pass away without an heir, and Smithson's estate—$500,000, or 1/66 of the entire U.S. budget in 1836!—came to America.
Smithson hadn't shared his unusual idea with anyone while he was alive. So after his death, an eight-year debate began in Congress about what Smithson meant for this new "institution." Was he referring to a university? How about an observatory? A library? A research institute?
On August 10, 1846, Congress established the Smithsonian Institution as a trust administered by a Board of Regents and a Secretary of the Smithsonian. Today, it's the world's largest museum and research complex, with 137 million objects, nineteen museums, the National Zoo, and nine research facilities.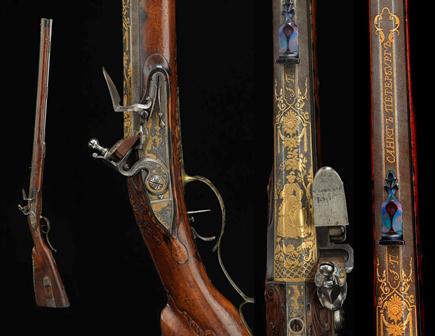 Oh, and did I mention the 180 or so Smithsonian Affiliates in forty states, Puerto Rico, and Panama–including the Buffalo Bill Center of the West?!
This outreach program brings the Smithsonian to thousands of folks like you through such collaborations as our own Journeying West: Distinctive Firearms from the Smithsonian, previously on view in the Cody Firearms Museum.
Can't make it to D.C.? A Smithsonian Affiliate is sure to be right around the corner—just like us!
Engraving of James Smithson is based on Henri Johns's portrait on May 11, 1816, at Aix la Chapelle, France. It was produced by the Heliotype Printing Company, Boston, c. 1881. The original portrait is located in the National Portrait Gallery.