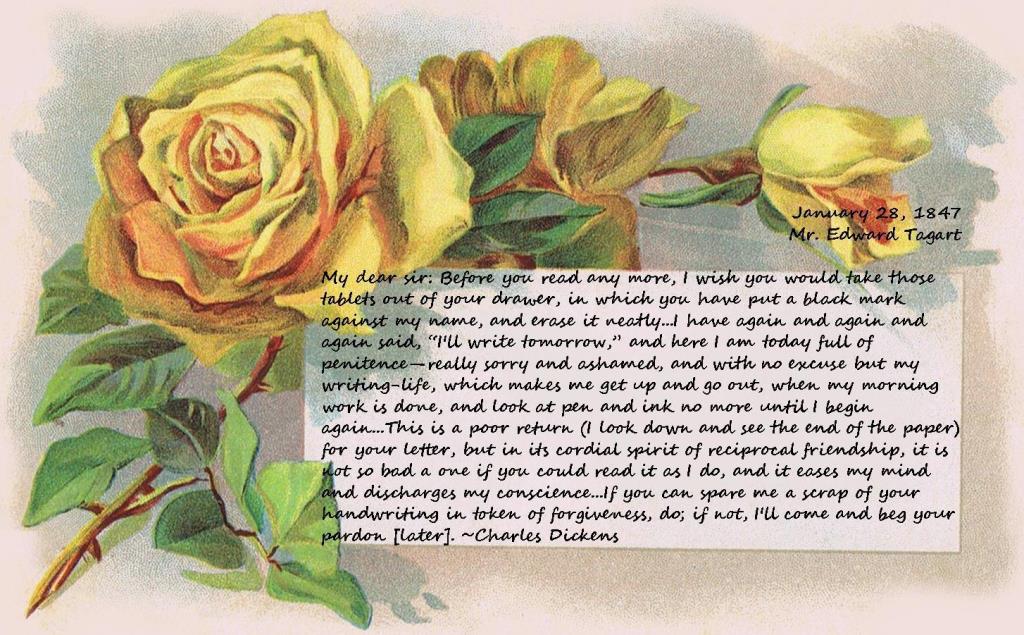 There was a time when Mr. Postman was a neighborhood celebrity, and letter writing was a big deal.
In the letter above, Charles Dickens (1812 – 1870) was downright distraught at not responding in a timely manner to a letter from a friend. Emily Dickinson (1830 – 1886) bemoaned the fact that she was short on stationery: "Susie, what shall I do – there is'nt room enough; not half enough, to hold what I was going to say. Wont you tell the man who makes sheets of paper, that I hav'nt the slightest respect for him!" And there were those cowboys who watched for Mr. Postman—and their mail order:
For 60-somethings, we remember how peeved the Marvelettes were with Mr. Postman in 1961 when they sang, "So many days you passed me by; you saw the tears standing in my eye. You wouldn't  stop to make me feel better by leaving me a card or a letter." Didn't I say that letters were a big deal?
While we might romanticize about those good ol' days with "the personal touch" of hand-written notes, let's face it: Mr. Postman was the only way to communicate at the time. For a businessman like William F. "Buffalo Bill" Cody, letter writing was an arduous necessity; read this letter from Buffalo Bill to one of this partners George W. Beck on April 19, 1897, in which he asks Beck about progress on the Shoshone Irrigation Company's "ditch" :
Dear George,

The monied men of our Co. want to know what you are doing & if you are going to get water to the town & below. They say they are tired of such management and if you can't do the work they want to know it and at once.

George you told me you would be at Cody to commence work by the 1st of April. God only know where you are and if you will ever get to Cody and if you will get to work when you do get there. If water aint down to town early we are ruined.

George if you don't try to do something this dam ditch will drive me crazy. Why won't you for once get down to work & see that the men and or you work. For Gods sake do something. I can't stand the company off with fairy tales any longer.   Cody
So, instead of using that smartphone, tablet, or desktop to text, e-mail, snapchat, or Facebook, use it to read more letters like this one from the Papers of William F. Cody at codyarchive.org.
 Slider images: All images from the collection of the Buffalo Bill Center of the West, Cody, Wyoming, USA. The following are from MS 003 Charles Belden Collection. Jack Rhodes Sr. kneels on the porch of the bunkhouse on Pitchfork Ranch to inspect his new boots that arrived by mail, 1927 – 1937. PN.67.080; Mailman Jack "Two Dog" Scott delivers a bag of mail to the Pitchfork Ranch, near Meeteetse, Wyoming, 1925 – 1935. PN.67.060; and Cowboy Oli Watts sits on a saddle next to the old log barn on Z – T Ranch while he reads a letter to his horse Jelousy (sic), 1972. PN.67.031. From MS 0089 Jack Richard Photograph Collection, is "reading to one's horse," September 11, 1963. PN.89.35.6048.51. The last image is a painting by Frederic Remington (1861 – 1909). A Post Office in the "Cow Country," ca. 1901. B/W oil on canvas. Museum purchase. 11.76. The image from "Mr. Postman" lyrics is from the Library of Congress Prints and Photographs Division, Washington, DC 20540 USA. LC-DIG-npcc-28018, dated between 1909-1940. Glass negative from the National Photo Company Collection.