Soon after most Greater Yellowstone grizzly bears emerge from their winter dens, cutthroat trout begin to spawn. Today, we recognize cutthroat trout spawning in relatively shallow streams and rivers as an important food source for many Greater Yellowstone Ecosystem grizzly bears, but that may not have always been the case.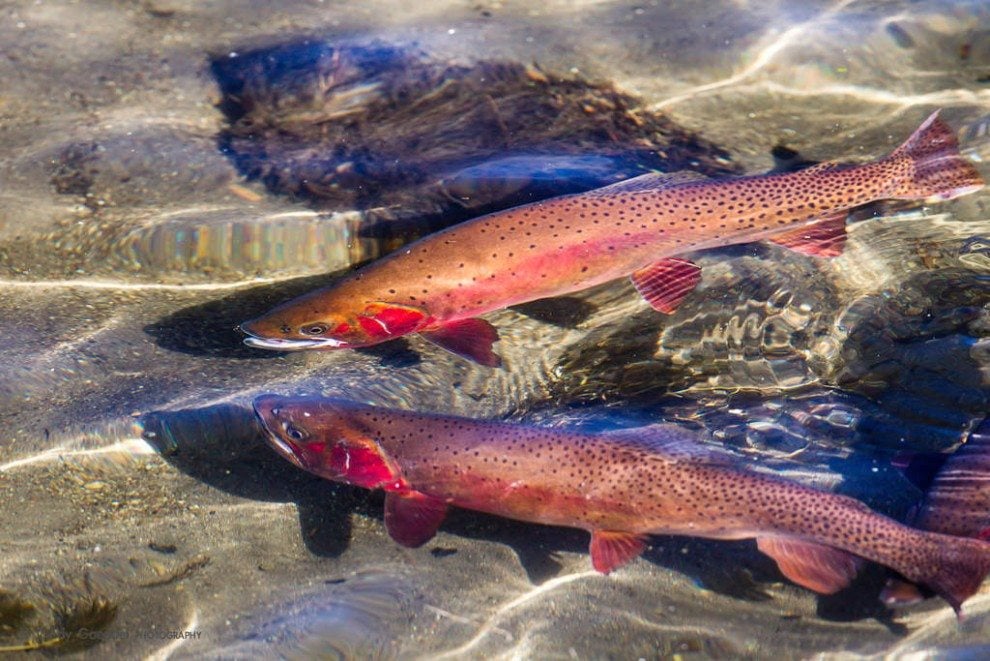 Cutthroat Trout Decline
Grizzly predation on cutthroat trout may have increased from the 1970s to the 1980s in response to increased trout abundance and possibly the closing of Yellowstone's garbage dumps. A large number of cutthroats migrate from Yellowstone Lake up small tributary streams in the spring, and thus become especially available to grizzly bears and several other predators. The spawning typically peaks in early to mid-June, but may begin as early as late April. Many scientists and conservationists are concerned because, the population of cutthroat trout spawning in Yellowstone Lake tributaries has declined in recent years by as much as 60 percent. Not surprisingly, grizzly use of spawning trout has also declined.
The decline of cutthroat trout is the result of several factors, including prolonged drought, whirling disease (caused by a non-native parasite), and indirect competition from non-native New Zealand mud snails that deprive native insects of food, thus depriving trout of native insects. But the introduction of lake trout to Yellowstone Lake is considered the greatest current threat to cutthroat trout in the Lake's tributaries. Lake trout were intentionally introduced to Heart and Lewis Lakes in Yellowstone National Park in the late 1800s, but were not discovered in Yellowstone Lake until 1994. No one knows for certain how lake trout were introduced to Yellowstone Lake, but many suspect that they were illegally introduced by people. Lake trout grow significantly larger than cutthroats and prey heavily on them. Smaller lake trout also compete with cutthroats for food. Proving how important it is to understand characteristics of individual species, lake trout spawn deep in lakes and are not nearly as available as cutthroat trout to predators like the grizzly bear.
Park Service Measures
The National Park Service, in partnership with many other agencies and organizations, has launched a monumental effort to suppress the lake trout population in Yellowstone Lake. They operate a massive gillnetting and trapping effort to remove lake trout and are experimenting with various methods to kill lake trout eggs on spawning beds. As lake trout have been removed from Yellowstone Lake, cutthroat trout numbers have begun to rebound. Despite these heroic efforts, the future of grizzly bears in the Greater Yellowstone Ecosystem may depend on their ability to adapt to the changing availability of food resources, like cutthroat trout. Arthur Middleton and his colleagues have reported that there is already some indication that grizzly bears are adapting to reduced numbers of cutthroat by preying more heavily on ungulate, especially elk, calves soon after their birth in late spring. Large mammals are a good source of needed protein in the spring, and the newborn calves of elk, moose, and other large ungulates are relatively easy prey.
To learn more watch Lisa Baril discuss her research at Yellowstone Lake on the decline of nesting osprey due to the lack of cutthroat trout.