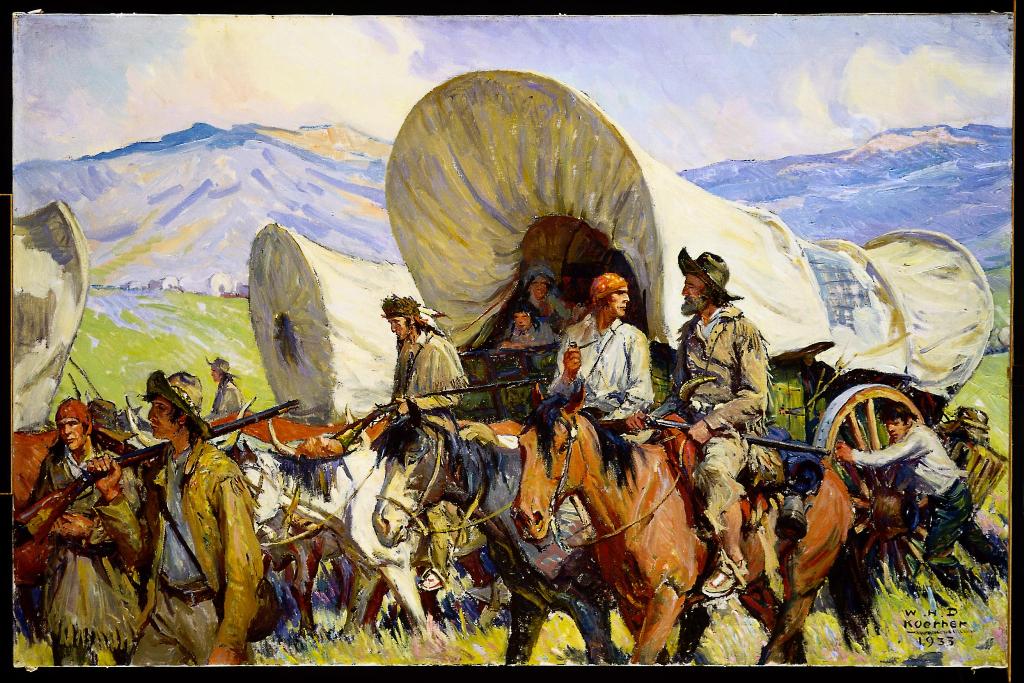 True or false? Pioneers like these portrayed in the Center's painting
The Road to Oregon (The Trail Through the South Pass Had Been Worn Deep With the Wheel Tracks of the Covered Wagons),
1933, by

W.H.D. Koerner,

made their way along the Oregon Trail in covered wagons called "Conestogas."
Wait a minute—is this a trick question? It is partly true…and partly, not so much. I just didn't realize when I saw that old TV western series Wagon Train, or the Jimmy Stewart movie Bend of the River, that not all were Conestogas.
The Conestoga is definitely a covered wagon, and Koerner's wagons do look like Conestogas, but the image of the Conestoga wagon traveling along the Oregon Trail is basically a myth.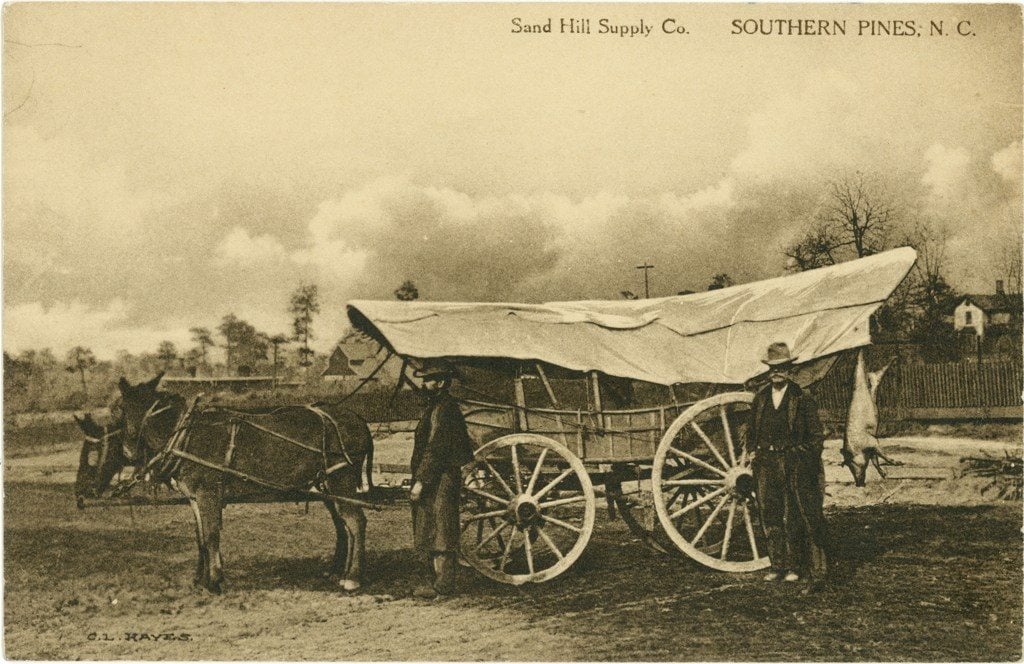 Historians Norman B. Wilkinson and George R. Beyer wrote about the Conestoga for the Pennsylvania Historical and Museum Commission in 1997. "Conestoga wagons, as long-distance haulers of heavy freight, had their peak of activity between about 1820 and 1840."
Consequently, the heyday of the Conestoga had passed by the time of the Oregon Trail. Plus, they were simply too big and cumbersome to make the trip.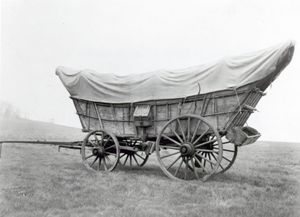 From a story produced by the History Channel, I learned that Conestoga wagons originated in the Conestoga region of Pennsylvania around 1725. Before the railroads, farmers used them to carry heavy loads of produce (up to eight tons!) to markets. Later, the wagons carried manufactured goods to faraway settlements, and then brought back the frontier produce on the return trip. Soon, transporting goods by way of wagons was big business, and Conestogas became the United Parcel Service of the 19th century!
The floor of the Conestoga wagon curved upwards at each end to prevent the wagon's contents from shifting or falling out, while gates at the end were held in place by a chain and could be dropped for loading and unloading. Over hoops, builders stretched the familiar white canvas top, often soaking it in linseed oil for waterproofing. And, even though the Conestoga looked like a boat, making the Conestoga watertight would have been impossible. "If anyone were to have been so foolhardy as to place the wagon in water, it would have leaked like a sieve," according to Wilkinson and Beyer.
So, the Conestoga wasn't the wagon of choice for the rigors of the Oregon Trail, but we so love "poetic license" or "artist prerogative" that places them in movies, television, literature, and of course, our wonderful art collection here at the Buffalo Bill Center of the West. Don't miss it: on site or online.