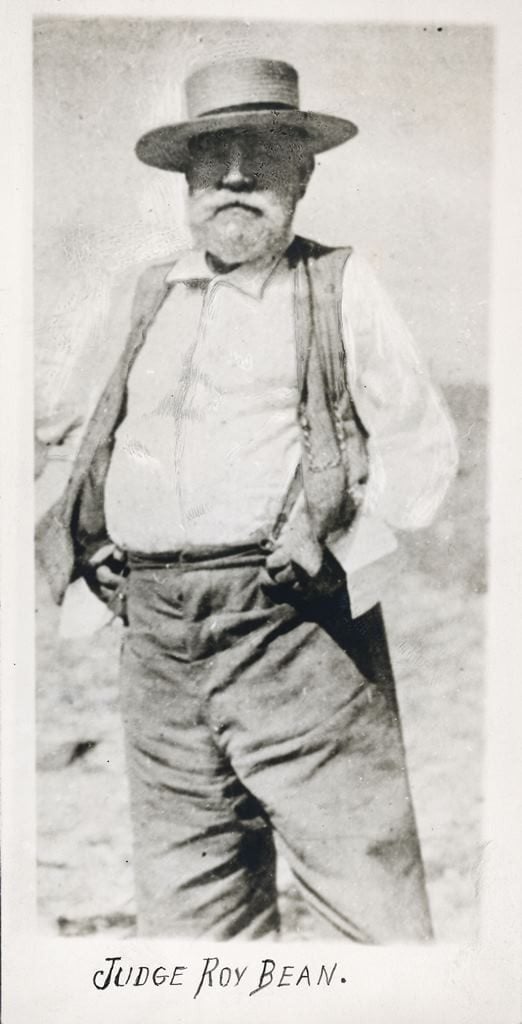 I hate to admit it, but I never believed that Judge Roy Bean was a real person. Old westerns are favorite TV fare at our house, so I've managed to see the judge portrayed by actors Walter Brennan, Edgar Buchanan, and Paul Newman. I decided it was time to "google" the judge, and sure enough, he really was a 19th-century personality…oh, and we have an image or two in the collection of the Buffalo Bill Center of the West.
"Doffing his saloon apron, the grizzled barkeep dons a dirty alpaca coat, sits himself down behind the bar, draws a pistol, and bangs for silence using the butt as a gavel. 'Order, by Gobs! This honorable court is now in session, and if any galoot wants a snort before we start, let him step up to the bar and name his pizen [sic],'" wrote Bruce Watson in the May 31, 1998, Smithsonian magazine. "The good judge [Roy Bean] had never seen the inside of a law school. His only law book was the 1879 Revised Statutes of Texas," and he "doled out drinks and his own brand of justice for more than 20 years."
I soon realized that I needed a cheat-sheet to follow Judge Roy Bean's antics. Wherever he went, trouble wasn't far behind:
Shot and killed two rivals for ladies he liked.

Stocked his firewood business by cutting down neighbor's trees.

Rustled cattle for his butcher business.

Watered down the milk he sold as a milkman.

Sold out to a fellow storekeeper who wanted Bean gone.

Had his whiskey supply sabotaged with kerosene.
Bean settled nearly all cases with fines (which he kept), and not surprisingly, for the exact amount the defendant had in his pocket. Horse thieves went free if they returned the horses. Divorces were $10, and Bean charged $5 fee for weddings, ending each ceremony with "and may God have mercy on your souls." When he was voted out in 1896, he wouldn't return his seal or that 1879 law book.
So, it was "The Life and Times of Judge Roy Bean," the Paul Newman-as-Bean movie, that started my historic traipse through Texas. My favorite story about Bean? Apparently, whenever updated copies of that Texas law book arrived, he used them as kindling…