The Buffalo Bill Center of the West, an Affiliate of the Smithsonian Institution, reopened its popular Journeying West: Distinctive Firearms from the Smithsonian exhibition in time for the Center's free Holiday Open House, Saturday, December 5, 2015. On view since May 4, 2013, in the lower gallery of the Center's Cody Firearms Museum, the exhibit moved to a new space in the center of the museum's main gallery. It closed in April 2018.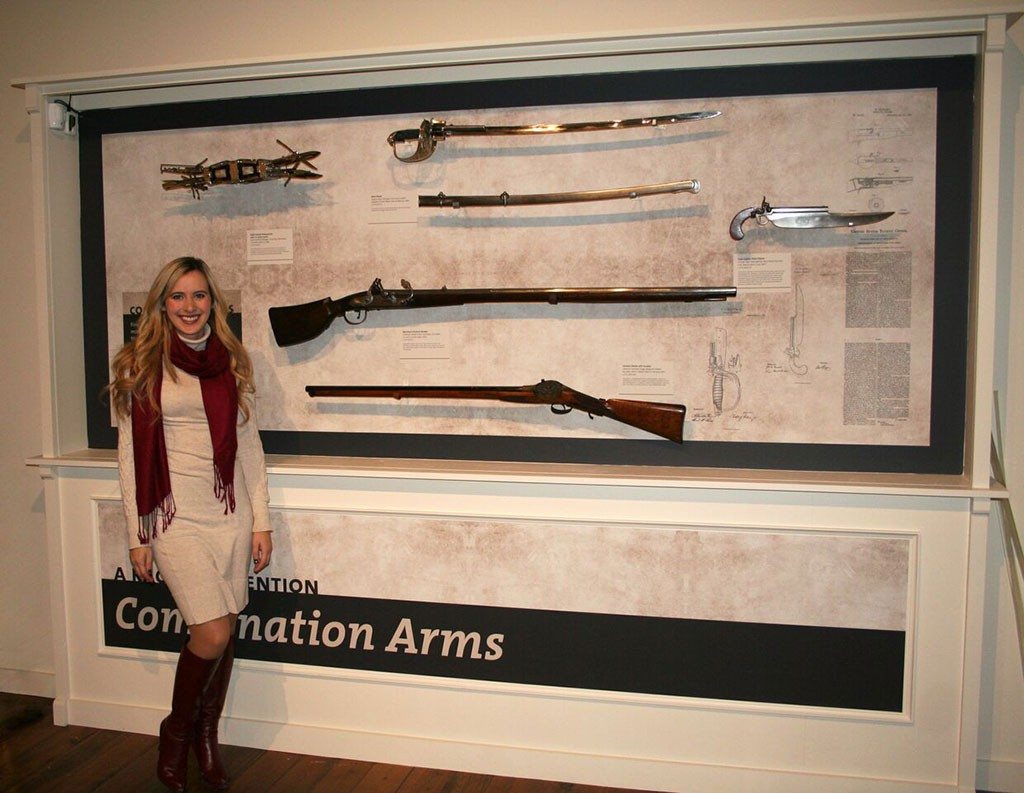 "Continuing our relationship with the Smithsonian, this is our second firearms loan from their National Firearms Collection," explained Cody Firearms Museum Curator Ashley Hlebinsky. "We originally opened the display with 64 firearms; with this new loan, we renewed 42 from the original loan and have added 8 new objects."
Themes in the reinterpreted exhibit included: A Race to Invention: Patent Timeline; Significant Arms of the American West; Combination Arms; Cutting Room Floor; and From Invention to Ownership: International and American.
"In 1876, the Smithsonian's National Museum of American History established the National Firearms Collection—now grown to nearly 7,000 objects—in honor of the American Centennial," Hlebinsky added. "From the Smithsonian Channel, this exhibit includes a video of the Smithsonian's actual gun vault, which visitors are sure to find fascinating. We are honored to display these treasures from this historic collection. In the new space, visitors will immediately notice that the exhibit has more interpretation than before, particularly with the history of particular firearms and their owners."
Favorites from the first exhibit on view included Jefferson's Musket, Catherine the Great's Jaeger Rifle, the Gatling gun patent model, and "the Mother of All Swiss Army Knives," a device with a hundred blades and a tiny, .22 caliber pistol." While the children's musket belonging to the Dauphin of France, Queen Marie Antoinette's son, was in the original loan, the story behind it is now more prominent than before.
"New items in the updated space include TV's Hawaii Five-0 main character Steve McGarrett's Colt Cobra and shoulder holster," Hlebinsky said, "along with a flintlock grenade launcher, and a sword revolver. What can I say? We are so excited to have this wonderful exhibit in a more prominent location in the museum."
The Smithsonian exhibit traded places with the Browning Firearms exhibit, which opened simultaneously with an updated display in the former Smithsonian space. The new space in the Firearms Museum's lower gallery gave the exhibit eight more feet of display area. The exhibit focused on Browning's prototypes with a graphic production timeline.
Hlebinsky was on hand at the Holiday Open House to give area residents a first look of the new exhibits.
---
Since 1917, the award-winning Buffalo Bill Center of the West in Cody, Wyoming, has devoted itself to sharing the story of the authentic American West. The Center is an affiliate of the Smithsonian Institution. For additional information, visit centerofthewest.org or the Center's Facebook page.