The Buffalo Bill Center of the West plans to begin the construction of a new outdoor, western-themed play area on July 11 to honor cherished community member, Theresa Ann "Tami" Collier. The play area provides an engaging learning experience for children, while simultaneously allowing them to expend energy.
The outdoor play area is located outside of the new Kuyper Dining Pavilion, so parents can enjoy a meal or snack on the patio while their children play. Gretchen Henrich, the Center's Director of the Interpretive Education Division, notes, "Our outdoor playground allows children to learn about the West not just by passively observing, but actually doing." She adds, "The playground allows local children, as well as those who have been traveling, to let off some steam."
The company, Playgrounds by Leathers—a nationally recognized organization with more than 40 years of experience building custom playgrounds, zoos, science centers, and community gathering places—oversees the creation of the playground. According to their company website, Playgrounds by Leathers has already opened some 3,000 community built playgrounds all around the world.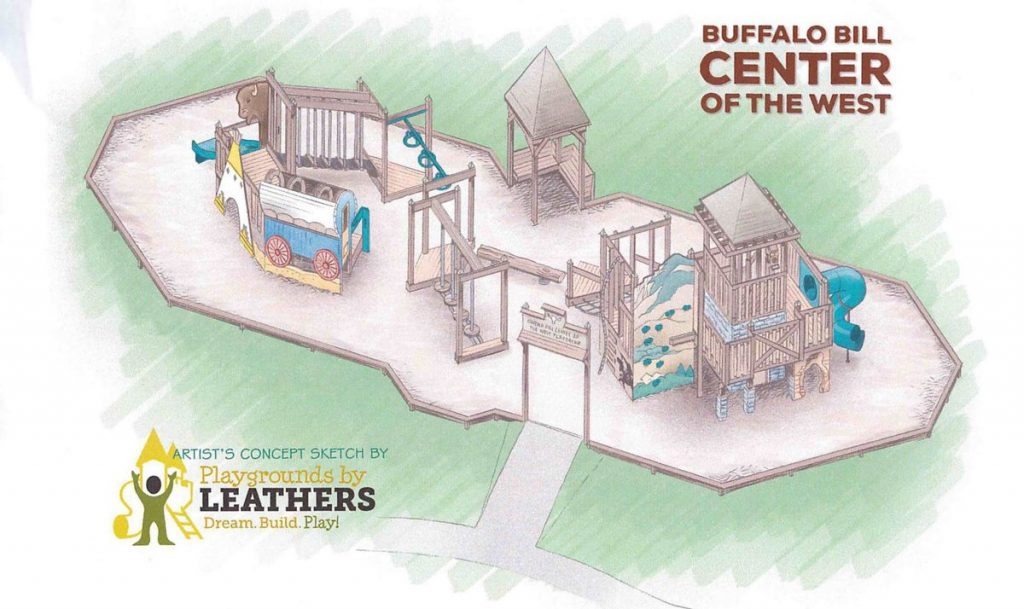 The Center called on Gail Construction to build the playground; however, interested community members can join in on the creation of the play area. Individuals who wish to assist with the project can volunteer July 13 − 15.
Volunteers assist with tasks such as placing screws in deck boards, painting, and staining. Henrich says, "If you enjoy being outdoors, and would like to help create a great experience for kids, please join us—and no construction experience is required!"
A majority of the playground construction is expected to be finished by July 16; however, the poured rubber surfacing and foundation may take a couple additional weeks to complete.
The playground honors Collier, who passed away last summer at the age of 56. Collier and her husband, Barron, are avid supporters of the Center of the West. In Collier's obituary, the community was asked to provide support for a new play area at the Center of the West.
"In addition to slides, a cargo net, overhead rings, and a wiggly bridge, there are some unique, western themed elements, including a sheep wagon, western landscape mural, and a mountain climbing feature," Henrich adds. The outdoor play area is expected to open at the beginning of August.
Individuals interested in helping with the playground are encouraged to contact Gretchen Henrich at [email protected] or call her at 307-578-4061 for more information.
Stay abreast of all the summer's activities at the Center of the West by visiting our calendar. centerofthewest.org/calendar.
---
Since 1917, the award-winning Buffalo Bill Center of the West in Cody, Wyoming, has devoted itself to sharing the story of the authentic American West. The Center is an affiliate of the Smithsonian Institution. For additional information, visit centerofthewest.org or the Center's Facebook page.