While the 100th Anniversary of the National Park Service (NPS) officially takes place August 25, 2016, the Buffalo Bill Center of the West in Cody, Wyoming, joined the yearlong NPS Centennial from the beginning. Indeed, as the Center daily celebrates the Spirit of the American West, the essence and adventurous spirit of the National Park Service is woven throughout each of its five museums. In fact, many travelers find that the Center, located only 50 miles from Yellowstone's East Gate, is the perfect place to begin their own expedition into Yellowstone.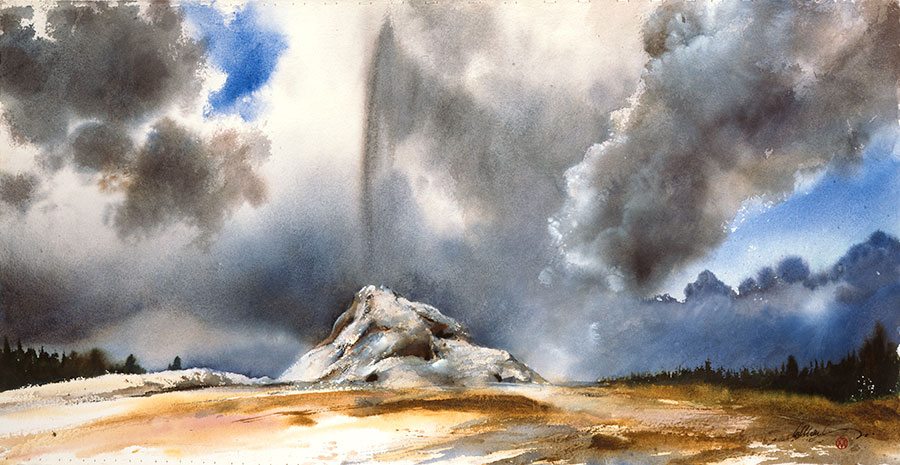 Bruce Eldredge, the Center's Executive Director and CEO, notes, "A visit to the Center of the West will have visitors celebrating the National Park's Centennial long before they reach the Park entrance."
To kick off their second century of stewardship, the National Park Service hosts numerous festivities and activities in national parks throughout the United States, and everyone is invited to join the celebration. Many of these events are scheduled to take place in the Center's own backyard at Yellowstone National Park.
For instance, Sing Across America, an event including performances by youth and children's choirs, takes place on August 25. Additionally, that same day, the event titled "An Evening at the Arch" hosts a special celebration that features a line-up of talented performers. As a bonus, the National Park Service is providing all travelers with free admission into all 412 national parks, from August 25−28.
Representations of Yellowstone's unmatched beauty can be viewed through four exhibitions currently on display at the Center. These exhibitions include Invisible Boundaries: Exploring Yellowstone's Great Animal Migrations, Inspiring Sights: Yellowstone through Artists' Eyes, Putting Yellowstone on the Map, and Yellowstone Discovered.
Karen McWhorter, the Center's Scarlett Curator of Western American Art, notes, "With the Inspiring Sights exhibition, we showcase the breadth and depth of Yellowstone art in the Whitney's collection and have complemented our own holdings with several important regional loans." She adds, "The exhibition is hung roughly chronologically, allowing visitors to explore artistic perspectives on the Park and its signature sights through time."
The Whitney Western Art Museum is one of the many galleries at the Center that illustrates the importance of the National Park Service's preservation of Yellowstone, so millions of visitors can witness its sensational sights each year.
The Center of the West celebrates its own 100th anniversary in 2017.
To keep up with all the events and activities at the Buffalo Bill Center of the West, visit our online calendar.
---
Since 1917, the award-winning Buffalo Bill Center of the West in Cody, Wyoming, has devoted itself to sharing the story of the authentic American West. The Center is an affiliate of the Smithsonian Institution. For additional information, visit centerofthewest.org or the Center's Facebook page.