By the time the auction gavel dropped for the final time on September 23, 2016, more than $930,000 in contemporary western art had been sold during the 35th annual Buffalo Bill Art Show & Sale, part of the popular Rendezvous Royale celebrating the arts in Cody, Wyoming.
The Show & Sale, produced by the Cody Country Chamber of Commerce in partnership with the Buffalo Bill Center of the West, generated more than $1 million in revenue as art sales, ticket sales, and sponsorships were totaled. All told, more than 800 total people braved the Seattle-like drizzle to attend the live auction and dinner Friday night, September 23, and the Quick Draw the next morning.
"I am truly thankful for all the artists, patrons, staff, and hundreds of volunteers who made this year's Show a success," Kathy Thompson, Art Show Director said. "It was great to see such positive energy from all our artists and patrons, and it is always a great reunion for guests and artists in our hospitable town in the West." According to Thompson, a few more sales will occur before the books are tallied for the last time.
"An art show like this takes a tremendous amount of manpower," Tina Hoebelheinrich, Chamber Director, added. "The value of the dedicated volunteers who work tirelessly to ensure the Show's success cannot be underestimated. The loyalty of the hundreds of patrons who attend every year ensures the Show's success and continued growth of the arts in Cody for generations to come."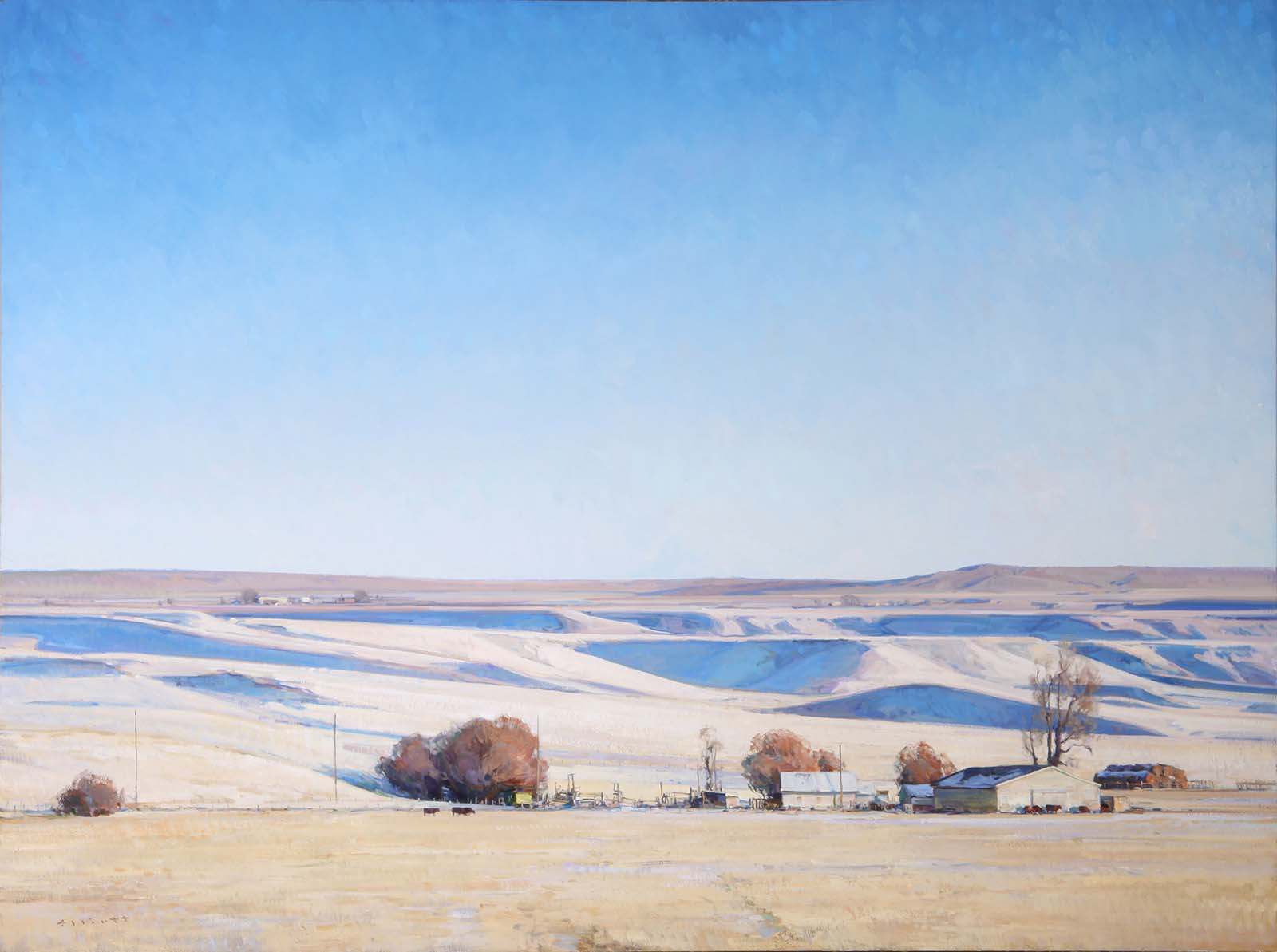 Top sellers were:
The Buffalo Bill Art Show & Sale is a fine art sale offering original works of western art relating to the land, people, and wildlife of the American West. Artists offer a broad range of stylistic interpretations of the West, in oil painting, watercolor, pastel, sculpture, ceramic, and mixed media. The Center of the West receives 60 percent of the net proceeds from the fundraiser, and the Cody Country Chamber of Commerce retains 40 percent, with artists' compensations ranging from 50–70 percent of the sale price.
* Josh Elliott, White as Snow, $19,000 (first appearance in show; pictured above)
* Max Werner, Deer Creek Pass, $17,000 (first appearance in show)
* Dennis Ziemienski, Lower Falls of the Yellowstone, $15,000
* Doug Hall, Unaware, $15,000
* Gary Lynn Roberts, The Horn Blower, $15,000
The fundraiser takes place in conjunction with the Center's Patrons Ball, the By Western Hands exhibition, and all the other facets of Cody's annual Rendezvous Royale.
---
Since 1917, the award-winning Buffalo Bill Center of the West in Cody, Wyoming, has devoted itself to sharing the story of the authentic American West. The Center is an affiliate of the Smithsonian Institution. For additional information, visit centerofthewest.org or the Center's Facebook page.