Whether you are a bird watcher or not, you have probably seen a larger bird being harassed by one or more smaller birds. This behavior is called "mobbing" and you may be wondering why the larger bird doesn't defend itself. You are not alone.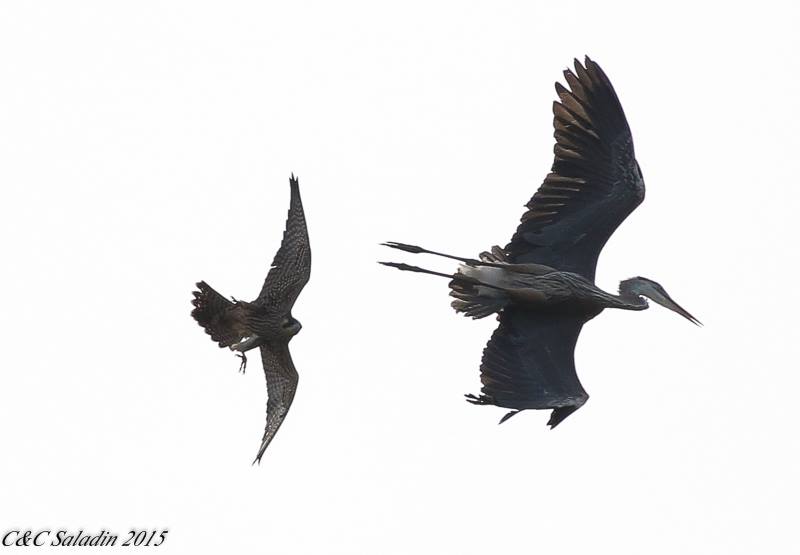 Many species will swoop and chase flying or perched birds larger than themselves, sometimes even striking them. Birds as small as sparrows, along with larger birds such as crows and ravens, may actively mob raptors. At times, even raptors may exhibit this behavior, as in the case of the Peregrine Falcon in the photo above. The attacking bird typically does this in an attempt to drive away birds, and sometimes mammals, that they perceive as dangerous. Mobbing can happen any time of the year, but is especially common in the spring and early summer – the breeding season. The "mobbing" birds will be actively defending themselves, their breeding territory, and any nest with eggs or chicks. At times, however, birds may even defend a non-breeding home range. This may be an effort to protect themselves, as well as their food source.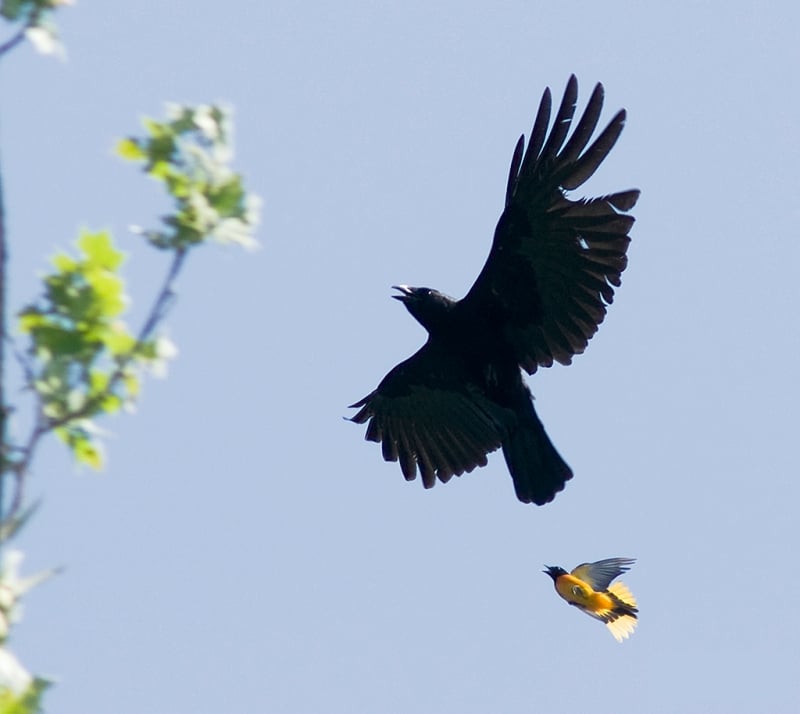 Though common targets are falcons, hawks, ravens, eagles, and owls, any larger bird (such as herons) may be mobbed. I have observed groups of small birds attacking Turkey Vultures, even though they are a bird that would not prey on eggs or chicks.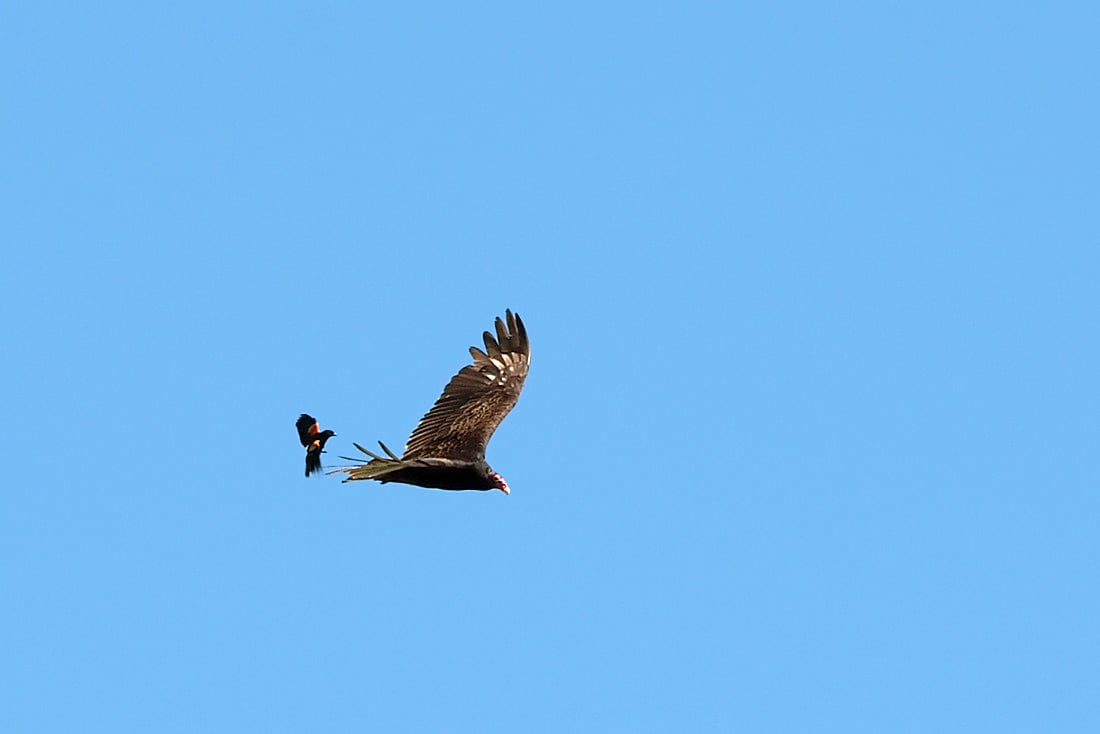 There are different types of mobbing. In some cases you may observe only one smaller bird trying to chase the offending bird out of their territory. Once the larger bird flees, the chase is over. Some birds, such as red-winged black birds will chase almost anything, including birds smaller than themselves and mammals. I myself was continually harassed by a male red-winged black bird whenever I passed by its spring territory. In some cases what has begun as one or two birds mobbing becomes a group of birds. Calling out a warning, the mobbing birds may attract other birds to join forces. These attacking birds may include birds from other species.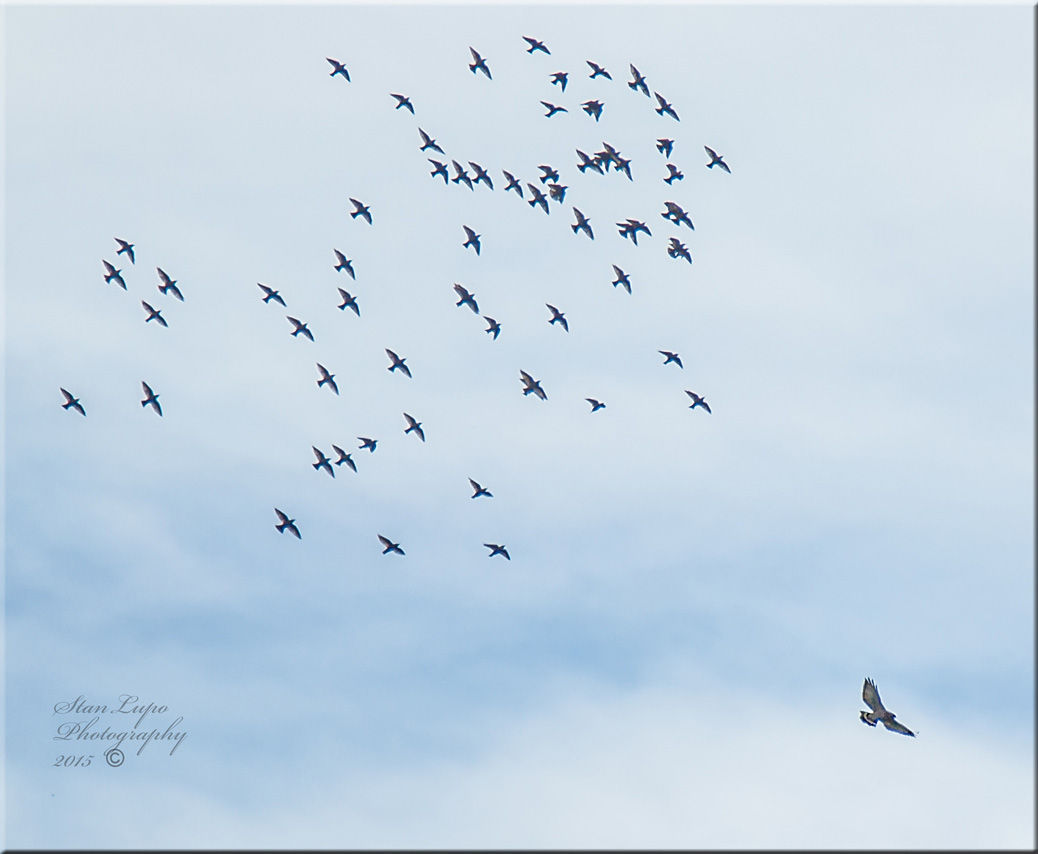 Owls are often a target bird during any season of the year. If the smaller birds are able to chase a resting owl away, the smaller birds will be safer at night. In fact, sometimes this is the best way for a birder to find an owl. Owls are so well camouflaged that it is easy to walk right past them without realizing they are within view range. If you hear a sudden ruckus of bird calls, mobbing birds may be harassing an owl in its resting location. Sometimes the target bird may sit and tolerate the attack for a short time, but if the attack continues it will fly away, usually without any retaliation.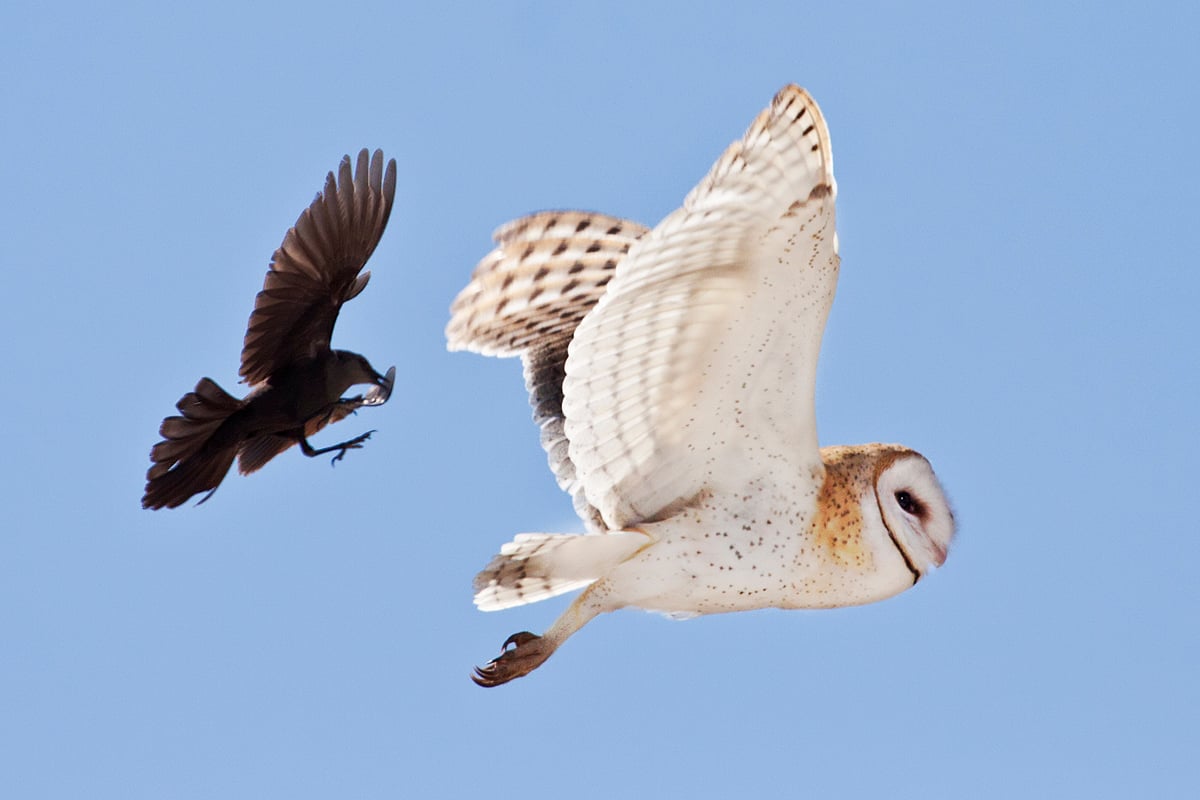 Mobbing rarely harms the larger bird, even though you may observe mobbing birds striking the larger bird as they drive it off. Though this seems like a dangerous, brave, or even foolhardy behavior on the part of the smaller birds, it is less dangerous than it appears. The smaller birds are usually quicker and more maneuverable than the larger bird, making it difficult for the mobbing bird to be captured. Defending themselves would not be worth the energy the target bird would have to expend in order to kill and possibly consume the smaller birds. Thus, if harassed, it is easier for the target bird to just leave the area. So you might ask, but what about crows? They aren't so small. A red-tailed hawk or eagle certainly has the talons and strength to reach out and grab a crow with its talons. A crow certainly would be a large enough prey to feed their young. But again, the crow is more agile than either the eagle or a large hawk, and therefore able to outmaneuver the targeted raptor. So it is the same as with smaller attackers, the energy cost of pursuing and attempting to catch the crow is usually not worth the effort.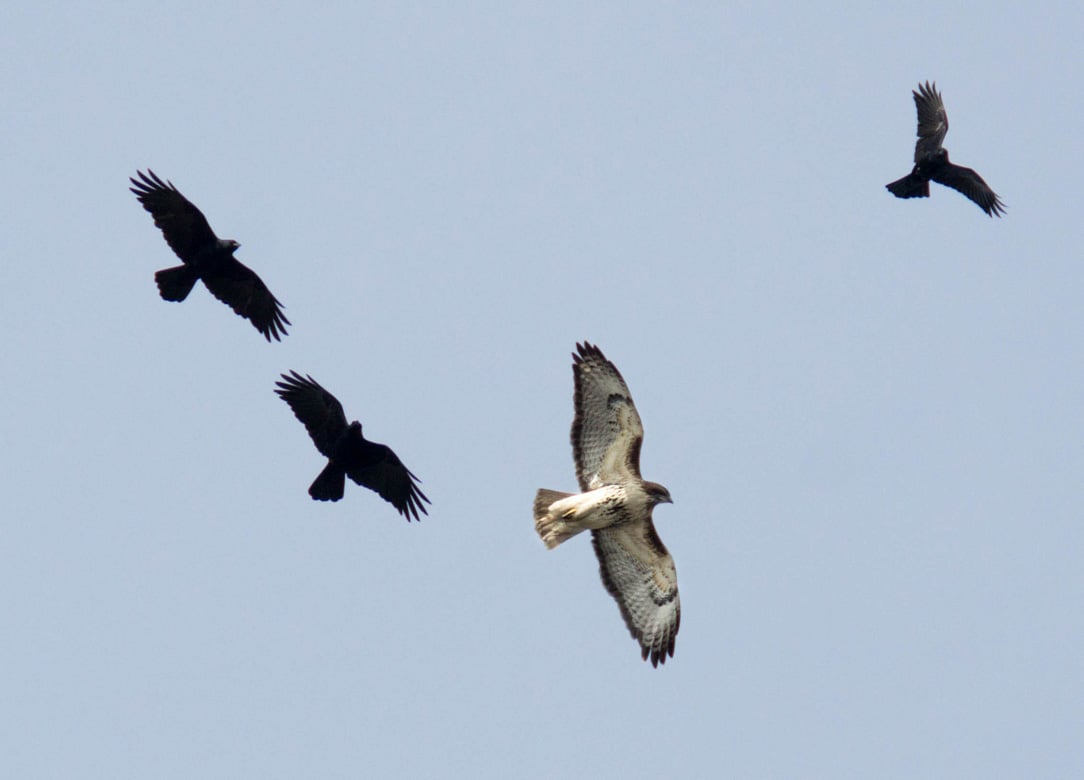 If there is a hawk or eagle nest in an area that is frequented by crows, the question now becomes will the raptor be mobbed by crows, and what will the raptor's response be? According to the Savannah River Ecology Laboratory of the University of Georgia, bird researchers have reported that birds of prey will fiercely protect their nests. Crows seem to know this and keep their distance. It is as though the area immediately around an active hawk or eagle nest becomes a no-fly zone for crows. If, however, the hawk or eagle is not near the nest itself, it seems that crows will harass hawks and eagles, and the raptor will again avoid a confrontation with crows. The fact that attacks by crows seldom or never occurs in the immediate vicinity of the raptor's nest makes researching this difficult, so the question concerning what a pair of hawks or eagles would do if a crow mobbed them near their nest remains unanswered.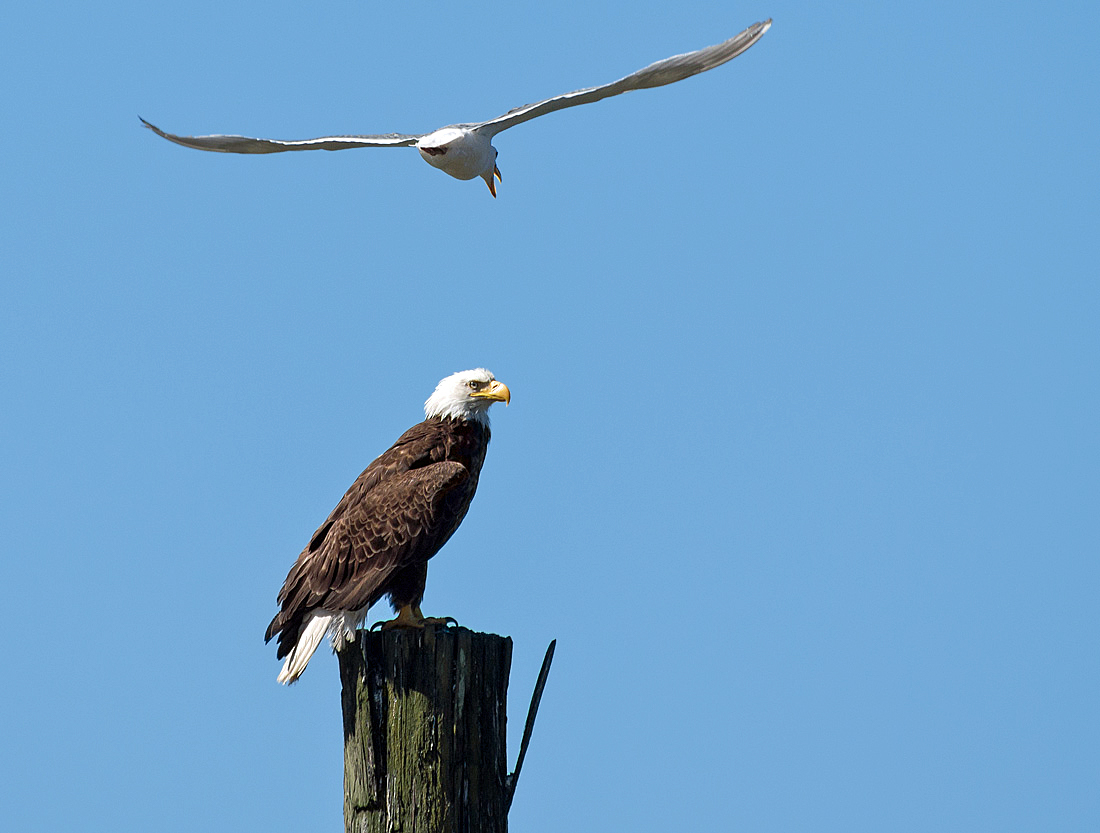 Check out this short Video of an eagle who is perched away from its immediate nest location being mobbed by crows. https://www.youtube.com/watch?v=ppy2iiOt6YU
Photo Credits:
Red-tailed Hawk Mobbed by Crows, by TJ Gehling, Attribution NonCommercial NoDerivitives 2.0 Generic License, https://www.flickr.com/photos/tjgehling/
Peregrine Falcon Mobbing a Blue Heron by C&C Saladin, downloaded with permission granted by the C&C's Ohio Peregrine Page allowing me to use posted Facebook photos in my blogs, https://www.facebook.com/ChadandChrisOhioPeregrinePage?fref=ts
Baltimore Oriole mobbing an American Crow, by Keith, Creative Commons Attribution 2.0 Generic License https://commons.wikimedia.org/wiki/File:Harassment.jpg
Turkey Vulture mobbed by Red-winged Blackbird, by Dori, Creative Commons Attribution-Share Alike 3.0 License, This license allows editing if noted. I have both lightened and sharpened the photo. https://commons.wikimedia.org/wiki/File:Red-winged_blackbird_and_turkey_vulture_4014.jpg
Starlings after chasing a Sharp-shinned Hawk away, by Stan Lupo, Attribution NonCommercial NoDerivitives 2.0 Generic License, https://www.flickr.com/photos/45340210@N05/
American Barn Owl mobbed by Brewer's Blackbird, by Bill Bouton, Creative Commons Attribution-Share Alike 2.0 Generic License, https://commons.wikimedia.org/wiki/File:Tyto_furcata_and_Euphagus_cyanocephalus.jpg
Crows Mobbing a Red-tailed Hawk, by Will Pollard, Attribution-NoDerivs 2.0 Generic License, https://www.flickr.com/photos/billmiky/
Bald Eagle mobbed by Gull, by Ingrid Taylar, Attribution 2.0 Generic License, This license allows editing if noted. I have both lightened and sharpened the photo. https://www.flickr.com/photos/taylar/