Originally published in Points West magazine
Winter 2022
By the Numbers: The Wild West at Ambrose Park
In its early years, Buffalo Bill's Wild West often spent a full season in one place. The Wild West's successful Chicago season in 1893 led William F. Cody and his partner, Nate Salsbury, to spend the 1894 season at Ambrose Park in South Brooklyn, New York. However, expenses were high, and the show lost money.
In a letter Cody wrote to his brother-in-law, Al Goodman, the showman described the 1894 season as "the worst deal I have ever had in my life—for my expenses are $4,000 a day. And I can't reduce them, without closing entirely. You can't possibly appreciate my situation—this is the tightest squeeze of my life. Don't mention it to anyone, but it's close papers this time. But I hope to struggle out of it some way."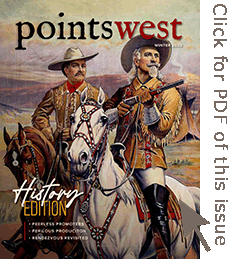 One of the reasons for such high expenses was because of the immense size of the show, held at a site the New York Tribune described as "big enough for a Western metropolis." Feeding the Wild West's army of 700 employees was quite an undertaking. "They eat a lot, that army," the Tribune wrote.
Added to the sheer number was the diversity of the cast and crew, representing nearly a dozen nationalities. The Wild West's kitchen prepared three meals a day, offering what the New York Times called "a bill of fare suited to the tastes of all nations."
The Times offered an accounting, below, of some of the foods consumed by Wild West employees in a given week.

Post 346