Originally published in Points West magazine
Spring 2003
A Gentlemen's Agreement between Samuel Colt and Oliver Winchester?
By Robert N. White
Former Curatorial Assistant, Cody Firearms Museum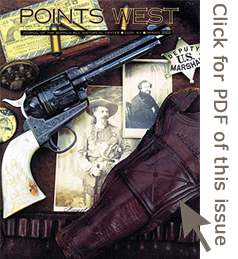 Why did Samuel Colt produce only pistols and Oliver Winchester only rifles? The sacred lore of firearms legend holds that these two giants of the Industrial Revolution, after a tentative foray into each other's territory, sat down and forged a "gentleman's agreement" that there would be no further incursions.
According to the story, both men realized that there was room enough in the growing firearms industry for both to limit themselves to their respective areas of expertise—Colt would stick to the perfection and production of the revolver and Winchester would do likewise with rifles—and both would still reap a handsome profit.
In truth, other factors less to do with honor than with timing, design, legal maneuvering, and political influence decided the course of their enterprises.
The nineteenth century was the age of Social Darwinism and two of the fittest of the survivors were Samuel Colt and Oliver Winchester. Indeed, when it came to who ruled the brutal jungle environment that characterized the business world during this time, both Colt and Winchester were the tigers. Had there been any association between them, there was sure to be more in the way of savage competition than agreement.
Colt patented his first firearm in January 1836 under what was to become known as Colt's Master Patent. Through that patent and a subsequent extension, he was able to ensure that his company would be the exclusive producer of revolving pistols in the United States well into the Civil War.
Colt's Patent Firearms Manufacturing Company was soon producing a large number of improved firearms. These included a well-accepted line of revolving rifles, the manufacture of which predated Winchester's arrival on the scene by more than a quarter of a century. Colt solidified his position as the inventor and manufacturer of revolvers, though, when he filed and won a historic patent infringement lawsuit against the Massachusetts Arms Company in 1851.
By the time of the Civil War, Colt has narrowed his production exclusively to the revolver. He introduced a progressively more advanced series of pistols which would serve both the Union and Confederate armies through the bloody years of the Civil War, and that would later see use by the frontier army and other settlers in the West. Samuel Colt did not live to see this, however, as he died at the youthful age of 48 on January 10, 1862.
Samuel Colt's health was already failing in 1857, when Oliver Winchester gained control of the failed Volcanic Repeating Arms Company from fellow investors. One of Winchester's first moves was to hire Benjamin Tyler Henry as plant superintendent of the newly formed New Haven Arms Company with instructions to develop a cartridge and a rifle. Henry's toggle link and lever action rifles were introduced in 1860. As opposed to handguns, Winchester realized that rifles were best suited for Henry's design, and it was this that led him to plot his company's future course.
Winchester was no less a survivor than Samuel Colt in the ruthless laissez-faire American economic atmosphere. Winchester vigorously defended his company in the courts and the corridors of political influence, and he successfully challenged and halted a hostile takeover of the company led by Henry, his former plant superintendent. This incident led to Winchester's total control of the company, which he quickly reformed as the Winchester Repeating Arms Company in 1865. In terms of longevity, Winchester had more endurance than Colt, living and ruling his company until 1880 when he died at the age of 70.
In 1884, four years after Winchester's death, top officials of the Winchester and Colt companies met to discuss the continuing battle between them over market share. Well after the death of both company founders, an agreement was forged that would bind Colt to revolvers and Winchester to rifles. For the most part, this agreement has lasted throughout the past century and continues to this day.
A gentlemen's agreement alone was not a factor in the separation of these two giants of the American Industrial Revolution and their products. When it came to business, neither Colt nor Winchester was a gentleman. Both were ferocious competitors, with survival and success at any cost as their prime motivators. As much as anything else, the design of the firearms they manufactured shaped the direction and the market of each company.
Post 058