Originally published in Points West in Spring 2009
Conservation: Caring for Your Treasures
By Beverly Perkins
Chief Conservator and Director of the Museum Services Division
Conservation: A Careful Preservation and Protection of Something
Conserving collections in a museum includes three basic activities: analysis, treatment, and preservation. Caring for your treasures at home involves the same activities: knowing your collection and its state of health, hiring a conservator if necessary, and creating a safe environment for your paintings, the crazy quilt, the family Bible, and great grandfather's Civil War letters.
Evaluating that treasure
Examine each item with magnification to see cracks, flaking paint, and lifting quillwork. "Cheater" eyeglasses with the strongest magnification are perfect for hands-free analysis.
Study your objects in good light, and move your head around to see from different angles. Watch for abnormalities in the surface; cracks, bumps, tears, or dirt. Keep written and photographic records of condition, just like museums do. Such records are extremely helpful when the question arises, "Was that dent there before we got the new puppy?"
Think about the materials that make up the object. Is the painting of Uncle Bob you inherited really an oil painting on canvas? It may have been passed on to you as, "the family painting of Uncle Bob," yet it is really a hand-colored photograph on silk. This is important to know because it dictates the object's preferred environment. Paintings are more durable than photographs, for instance, and canvas is able to withstand more light and pollution than silk.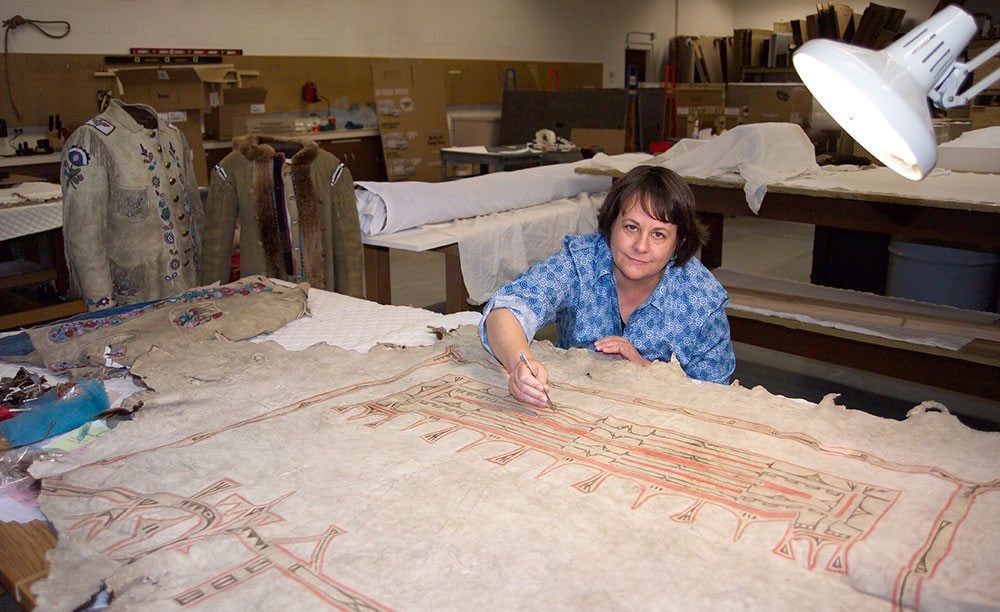 The next step
Let's say you find a tear in the painting, a stain on the quilt, or mold on the photograph. What should you do? The best course of action is to contact a conservator,* most of whom are happy to talk to you about your object and its problems. They will often ask you to photograph the object and its damage, and e-mail the photos with a brief description. This should be sufficient information for the conservator to recommend treatment and estimate costs.
Conservators are bound by a code of ethics from the American Institute for Conservation, which dictates that all treatment information must be shared with the owner, including treatment costs. Both the treatment and cost proposals must be approved by the owner before treatment begins. Should the conservator make a discovery during treatment that would cause her to alter the treatment and/or increase its cost, she must disclose the information to the owner for approval.
When conservators noticed that the same objects were repeatedly returning to the conservation lab for treatment, they realized that it was extremely important to pay attention to the object's environment. Factors such as light, humidity, pollutants, and pests can cause recurring damage if they are not taken under control.
Seeing the light
Light damages most materials, even those we consider extremely strong. Some metal patinas are affected by light, and some colorants in stone may fade due to light exposure. Most of us have witnessed first-hand the affect light can have on materials such as paper, dyes, photographs, and textiles such as silk. Damage can include fading, darkening, and degradation of the fibers in the paper or textile.
High light levels, such as direct sunlight, are harmful as well as long periods of exposure. Decreasing either the intensity of the light or the length of the exposure will reduce damage. Use an ultraviolet filtering plexiglas or glass between the object and the light to moderate light levels. When an object is not on view, it should be stored with minimal light.
It must be something in the air
Fluctuations in relative humidity and temperature can also be very damaging. Most objects in our collections are made of more than one type of material. A painting, for example, can consist of a wooden stretcher, canvas, gesso (plaster of Paris paste), paint, and varnish, all of which respond to changes in humidity at different rates and in different ways. When humidity increases, wood expands, canvas shrinks, and gesso remains dimensionally stable. The distinct movement of each layer also causes stress among the various materials including lifting paint, torn canvas, and cracked wood.
In the winter, then, keep collections away from fireplaces, turn down the heat, and avoid drafts. Do not keep treasures in spaces like damp basements or bathrooms, and store collections out of the reach of insects and rodents.
Leather, hide, and wood all tend to dry out in low humidity environments. "Feeding" the treasure with oils, dressings, and waxes is not advisable since these coatings "become one with the object." As the coating ages, darkens, and becomes sticky, it is no longer easy to remove it from the surface of the object. Unfortunately, the only way to ensure that the treasure does not become stiff and brittle is to keep it in an environment with a stable relative humidity around 50 percent.
High humidity, still air, and dirt combine to form an ideal environment for mold growth. Eliminate dust from objects by brushing it away with a new, synthetic-bristle hardware store paintbrush. Then, with the nozzle close to but not touching the surface, vacuum to remove the loosened dust. In addition, move the air in a room by using a fan or simply propping the door open.
Pollutants in the air affect materials such as metals, photographs, and textiles. Outdoor pollutants such as sea air, car exhaust, sulfur fumes, and smoke are a few that will damage treasures. Indoor pollutants may come from the ozone emitted by copy machines, sulfur in wool carpets, acid vapors given off by oak furniture, and the plasticizers in dry cleaning bags. Even natural rubber products like rubber bands can give off sulfur that will cause metals to tarnish.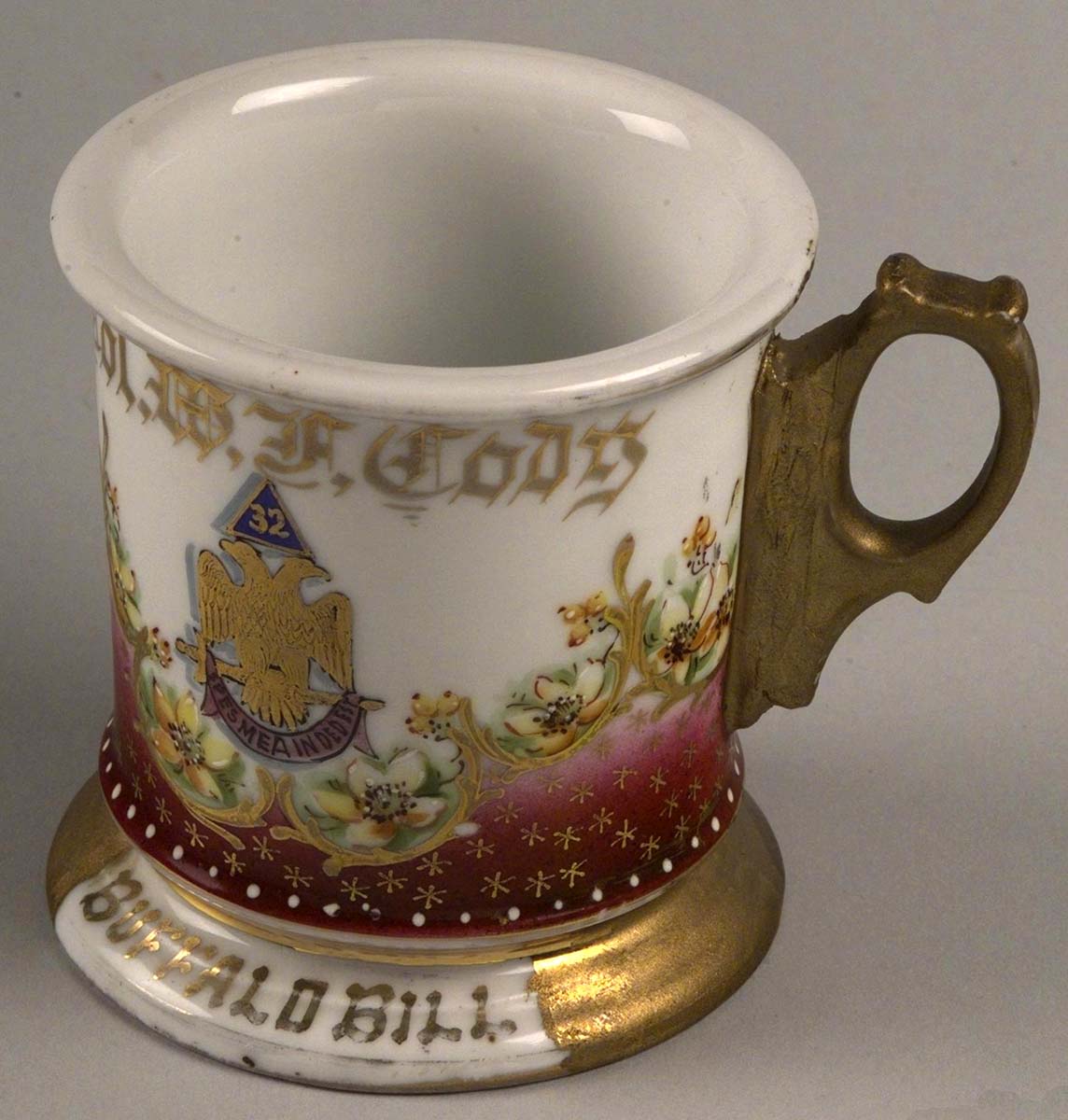 Conservation 911
It is always worthwhile to think about protecting your treasures from the effects of a disaster. Such an event could be as simple as an overflowing tub, or as horrendous as a house fire. Most disasters involve water damage—even fires. A few simple steps can be taken that will help protect your treasures from a flood or from the water from a fireman's hose.
Keep treasures up off the floor. In storage, large treasures such as furniture, trunks, and clocks should be placed up on pallets or two-by-fours. Smaller treasures are best stored in boxes inside cabinets.
Drape stored furniture, boxes, and other treasures with polyethylene sheeting, the clear plastic used to protect furniture during house painting. It can protect from water leaks and even soot from a house fire. Having extra polyethylene sheeting in case of a leak can be extremely useful.
If a disaster affects your treasures, do not despair! Most treasures can be conserved even after extreme damage. Do not throw out any pieces or parts that belong to an object. After the object has dried thoroughly, place each part in a zipped plastic bag and contact a conservator. Breakage, water damage, mold, and almost any other damage are all conditions that can be addressed by these professionals.
Because you have a great deal invested in your treasures in terms of cost, history, and sentimental value, it is wise to adopt a conservation plan early on, and seek the advice of a conservator when necessary. American photography critic Nancy Wynne Newhall (May 9, 1908 – July 7, 1974) once said, "Conservation is humanity caring for the future." When we do, our treasures will last for generations to come.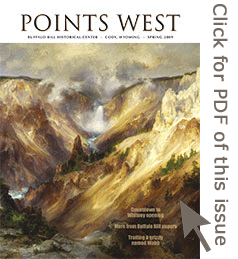 About the author
Beverly Perkins is the conservator at the Center of the West, as well as the Director of the Center's Museum Services Division. Since 2001, she's served as the Western Field Service Officer for the Balboa Art Conservation Center in San Diego, California. She has both a bachelor's and a master's degree in art history along with a master's degree in art conservation. For more than fifteen years, she's consulted on dozens of collections and has expertise in a variety of materials.
With advanced training in disaster mitigation and response for cultural collections, Perkins coordinated volunteer teams sent to aid the cultural collections threatened by hurricanes in the Gulf Coast in 2005. She's also been an adjunct professor of art conservation and has written extensively about situations facing facilities with priceless collections.
*Search for an appropriate conservator at the website of the American Institute for Conservation (AIC) . Brochures pertaining to the care of collections are also available for download.
Post 104