About this time last year, we began construction on an exhibit for a bald eagle. At that time, we had no idea what eagle would live in that exhibit (the housing for an educational raptor must be done and approved by the US Fish & Wildlife Service before you can apply for the permit for the bird that will be in it). Where would it come from? What kind of disability would it have? How old would it be? Male or female? All of that was yet unknown.
It turns out that during a whirlwind trip to Wisconsin and the Raptor Education Group, Inc (REGI), I selected a three-year-old bald eagle who had suffered a fractured wing when hit by a vehicle. The injury resulted in such poor flight that he could never be released back into the wild and needed to be in human care for the rest of his life.
One of the most exciting things about a three-year-old bald eagle is that it doesn't look like a "classic" bald eagle. Many people don't know that it takes somewhere between four and seven years for these iconic birds to obtain a completely white head and tail. Our new bird would be a great example of this little known fact for our visitors. He would also be a great visual aid as we discussed the other cool facts about bald eagles.
In his first "year" with us, our bald eagle, Jade, participated in 176 formal programs in addition to being on exhibit for guests to see if they couldn't make it to one of our formal programs. He was a beautiful visual aid as we talked about bald eagles. He was especially important when we taught guests how to identify the eagles in our area and how to tell the difference between an immature bald eagle and a golden eagle (which are quite similar). During this talk, I would tell guests that if they come back in two or three years Jade will look like the bald eagle they expect to see. Little did I know, we wouldn't have that long with his darker feathers.
Here's a link to an article that guides you through the differences in bald eagles as they age.
Each year, typically over the summer, birds go through a molt – the process of dropping old feathers and growing new ones. This is an important process that replaces damaged feathers that might hinder flight or insulation, two of the most important jobs of feathers. Not every feather is switched out each year. It may be several years before the large wing and tail feathers are molted on an eagle. To our surprise, Jade had only one mostly brown tail feather at the end of his first year with us.
And the change in his head feathers was even more dramatic. . .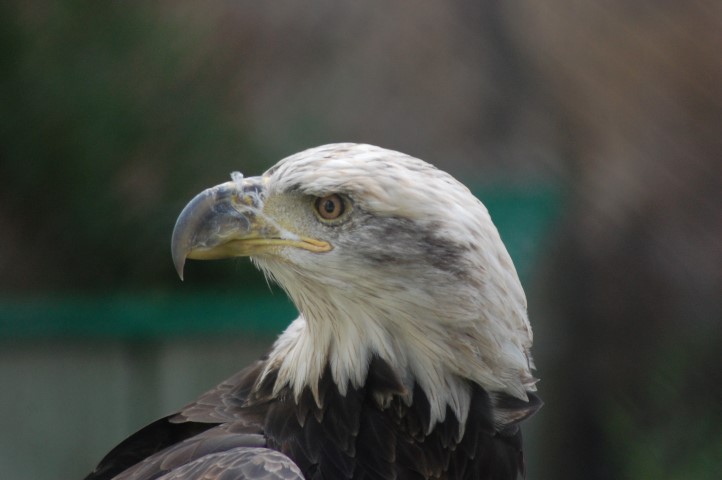 While he still has a lot of growing up to do, a lot of dark to shed, and an entire beak to turn yellow, clearly our "youngster" is growing up quickly. Right before our eyes . . .
Photo Credit:
Adult bald eagle head – By Saffron Blaze – Own work, CC BY-SA 3.0, https://commons.wikimedia.org/w/index.php?curid=18433764