Originally published in Points West magazine in Summer 2007
The Mountain Lion: Phantom in the Mountains
By Philip and Susan McClinton
Cougar. Puma. Catamount. Panther. Mountain Lion. Painter. Screamer. These names conjure up colorful, if not sinister, images of one of the American West's most elusive animals, the American Mountain Lion (Puma concolor).
Cougars are so secretive in their habits that scientists who study the "phantom in the mountains" aren't sure exactly how many actually exist. There are some scientists who believe that mountain lion populations are greater now than in the early 1950s. Today's current estimate of lion populations in the American West tops 30,000.
Once non-existent from Canada and the eastern U.S. except Florida, lion populations are expanding back into midwestern states such as North and South Dakota, Wisconsin, and Nebraska. This repopulation of historical ranges by cougars is probably due, in part, to the governmental change in designation from unregulated predator status to that of game animal. Restrictions on the use of predicides are also thought to play a role in the cats' repatriation of areas where they were once abundant.
Screamers
The world's fourth largest cat, the mountain lion, has a territory that is more extensive than any other mammal in the Americas except humans. Cougars live in many different habitats, from the tip of South America with its vast pampas upwards into Canada's central regions and, historically, from the Atlantic to the Pacific oceans in the U.S. They may occupy swamps, plains, forests, mountains, and deserts, and prefer rough, precipitous terrain with vegetation sufficient for concealing their movements.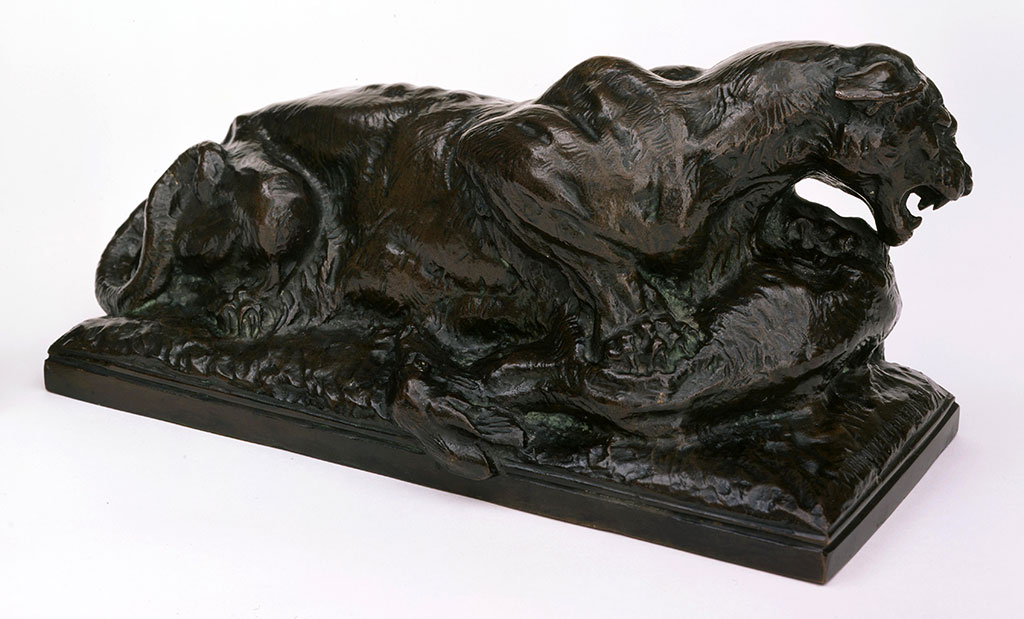 The cougar was respected and at times deified by Native Americans who used the teeth and claws of this most secretive of mammals in ceremonial rites. Euro-Americans abhorred the animal, calling it a devious "screamer," owing to its piercing yowl. Even Theodore Roosevelt, conservation champion of the early twentieth century, took every opportunity to shoot at it, calling it "cowardly," "bloodthirsty," and "a beast of stealth and rapine."
By 1908, however, Roosevelt ordered that predator control of Yellowstone's cougars be halted. Roosevelt's change in perspective toward Yellowstone's predator population was influenced by several factors, including his goal of establishing a wildlife reserve in Yellowstone, his personal interest in hunting, and his increased understanding of the role of predators in an ecosystem.
Sinks, Stables, Sources
In Wyoming, the cougar population has increased dramatically during recent decades from the dwindling populations of 50 years ago. Once locally vanished from many areas, lion populations are described as "robust" in areas of southwestern and northeastern Wyoming and all major mountain ranges within the state. In 2006, Chuck Anderson, Wyoming Game and Fish Department (WGFD) trophy game section biologist commented, "Wyoming's mountain lion populations are the healthiest they've been in decades."
The mountain lion's range within Wyoming is still fairly contiguous, but as more development activity occurs by humans, chances increase for adverse human-mountain lion interactions and ultimately, lion deaths. WGFD's adoption in 2006 of a new management plan for mountain lions calls for managing mountain lion densities statewide by:
mitigating the effects of human encroachment into mountain lion ranges by sustaining lion populations where suitable habitat exists;
Providing hunting and recreation opportunities as tools for managing lion populations;
maintaining a healthy prey base without overburdening the habitat used by prey animals, and finally;
minimizing depredation of livestock and pets by lions, and reducing human injury potential caused by human/ lion interactions.
WGFD officials have stated the new plan enacts a purposeful "adaptive management" application. Sub-populations of lions will be graded as "source" (excess of lions), "stable" (balanced numbers of lions), or "sink" (deficit of lions). Across the state, five mountain lion management units are further divided into hunt areas or regions. Source populations account for nine regions; stable populations occupy seven regions; and one population qualifies as a sink population, while two more regions waver between stable and sink populations.
Managed as a trophy game species since 1974, hunting still provides one of the most effective mountain lion management tools available to the WGFD. A new, structured hunting season will have its basis in mountain lion mortality quotas. With this approach, all hunting activities for lions will be suspended once the mortality quota is reached in a given area. Ultimately, lion populations will be sustained within core habitats by using sound management practices designed to maintain populations at healthy levels for lions and safe levels for humans.
Here Kitty, Kitty
Female lions with kittens are especially vulnerable to hunting pressures because orphaned kittens usually don't survive. Lions can breed any time of the year, so careful monitoring of the sex and age classes is an important component of WGFD's overall management plan for mountain lions. Females usually produce their first young between two and three years of age. Gestation is relatively short, lasting from 82–96 days, typically resulting in the birth of two to four kittens. While they are weaned at from two to three months, the kittens normally remain with the female for 12–18 months before dispersing to establish their own territories.
Male mountain lions are solitary and breed with more than one female during their periods of estrus. The males aggressively defend their territories against other males, and male territories overlay several female territories. Young male lions in particular are vulnerable to population and environmental pressures as they disperse out to form their own territory. Females, on the other hand, allow overlap in their territories by their daughters, aunts, sisters, and grandmothers. They express mutual avoidance when encountering other females within their territories.
Ranges for male lions tend to be larger (60–120 square miles) than females, which are normally only large enough (20–40 square miles) to provide adequate prey for mother and her young. Mountain lion density is dependent on habitat sufficiency (food, water, and shelter) and is relatively low when compared with other mammals, varying from about 10 independent lions per 386 square miles in desert climates to almost 35 independent lions per 386 square miles in more moist climates. Moist climates usually have a more dense prey base, hence denser lion populations.
A Little Bit of This, A Little Bit of That
Lions use many different vertebrates as prey species and are opportunistic hunters. Their diet in Wyoming consists mainly of large ungulates: deer (Odocoileus spp.), elk (Cervus elaphus), bighorn sheep (Ovis canadensis), moose (Alces alces), and pronghorn (Antilocarpus americana). However, smaller mammals are also prey, including beavers (Castor canadensis), porcupines (Erethizon dorsatum), ground squirrels (Spermophilus spp.) and various species of lagomorphs, i.e. rabbits and hares. Lions may prey on domestic livestock, most commonly goats and sheep, as well as horses, cattle, dogs, and cats. They may also scavenge carcasses of fish that have become stranded in shallow waters.
Naturally, the density of a prey population ultimately helps to determine the density and overall health of the lion population. Ungulate populations that are limited by lion predation may recover by the WGFD adjusting mountain lion harvest rates, except when those prey populations are limited by habitat restrictions. By closely monitoring prey species of lions, WGFD can build management guidelines which ensure a healthy mountain lion population.
What's Next?
All across the West, this is the driving question for the successful management of growing mountain lion populations. The stakes are high, and past opinions about the animal have been tempered by emotion, guesswork, and politics rather than scientific facts. This scenario is changing for several reasons, not the least of which is rapid human development in areas where mountain lions are prevalent. Lion populations are rapidly expanding into areas where the cats have been absent for many generations, and many scientists speculate that young transient males account for most of this expansion. Many also believe that it is only a matter of time before female lions follow to establish breeding populations. As lion populations increase in human-developed areas, so do encounters between humans and lions.
Development, road and home building, and increasing human populations in mountain lion habitats have significantly increased human-lion encounters, usually to the disadvantage of both species. Human fatalities are infrequent (21 in the past 115 years across the U.S.), but they are increasing. So the ultimate question for successful mountain lion management is: How do we protect the cats and ourselves at the same time? The question is complicated and deserves serious consideration.
Mountain lion attacks don't fit into any set profile. Some scientists believe human recreation activities like biking or jogging may trigger the lion's predatory response. Others, like mountain lion expert Maurice Hornocker, believe some lions are naturally aggressive or curious, while others are shy and reticent, preferring to stay incognito. Genetics may play a role in lion behavior, and kittens may pattern behavior after their mother, too. Previous interactions with humans may be responsible as well.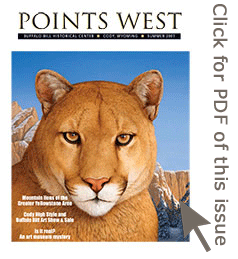 Southern Illinois University's Clay Nielsen, a wildlife ecologist, has begun to map potential lion habitat to assist state wildlife agencies in better predicting where the big cats might colonize. Many state agencies, including WGFD, are currently tracking lions with telemetry (radio collars) to provide a more succinct picture of those areas into which the cats are expanding their territories. For many scientists who study mountain lions, however, even telemetry provides only a fleeting glimpse of the elusive cats. Time tested methods of "observing" lion behavior by examining their droppings and pieces of prey, nurseries, beds, playgrounds, and tracks are still used by many state agencies, including WGFD. The more comprehensive the data compiled, the more effective any management plan is likely to be. For any such plan to be successful, public opinion about the big cats must also be considered.
In the 1960s and 1970s, public opinion about mountain lions began to improve. Hornocker's pioneering research on cougars began to replace lack of knowledge with scientific data. In many western states, that input resulted in the reclassification of the animal as a varmint that could be killed on sight, to an economically viable big game animal protected and managed partially by quotas and seasons. In Wyoming, the recent adoption of a "state-of-the-art" approach to creating the new management plan means that WGFD is using scientific data in its efforts to protect the lions.
Wyoming's new management plan lists sport hunting as one of several methods to be used to reduce human-lion conflicts, a method that a Mountain Lion Foundation study says is not supported by scientific data. Other states, including South Dakota and Oregon, currently use sport hunting of cougars as a means to reduce human-lion conflicts. Chris Papouchis, author of the Mountain Lion Foundation study, compared statistics on human-lion conflicts in Washington, Colorado, Montana, New Mexico, Arizona, Idaho, Nevada, Wyoming, Utah, and Oregon, to those in California where sport hunting had been banned since 1971. In that study, Wyoming ranked last in humans-per-capita attacks, and attacks per square mile of suitable lion habitat.
Papouchis asserts that there is not much current scientific evidence to support controlling problem lion populations by sport hunting. To be sure, WGFD officials acknowledge there is a "lack of scientific evidence to support sport hunting to lower incidents," but also say that Papouchis's study has inconsistencies of its own. In this back-and-forth, Papouchis admits that his study, which does not consider cause and effect of sport hunting, is "…a broad-brush approach." Ultimately, then, sport hunting may indeed be the best option currently available for WGFD to control lions where livestock depredations are a problem.
The Wyoming plan allows for updated mortality quotas every three years to support management objectives and to permit adequate analysis of potential impacts of specific harvest quotas. The plan also allows for a variety of options when dealing with problem lions, from no action to lethal removal. Influence by public opinion on specific issues such as sport hunting will also continue to allow for adjustment of WGFD's management plan.
Appropriate management and conservation of these large carnivores requires a clear understanding of how they respond to such factors as prey availability, landscape composition, and human activities such as recreation, hunting, and direct persecution. Protected areas, including national parks and wildlife preserves, may play an important role in the management and conservation of regional populations of this species. However, relatively little is known about the influence of such protected areas on individual carnivore behavior and demography of local or regional populations, i.e., metapopulation.
Changing attitudes by residents of states where lion populations are plentiful may ultimately alter the way state agencies formulate their lion management plans. In California, voters outlawed hunting mountain lions altogether. In Wyoming, lion hunting will be controlled by several factors including the aforementioned mortality quota system. In a letter to WGFD, The Cougar Fund acknowledges the plan is "a marked improvement over past management" and that it "acknowledges the best available science."
While adverse human-lion interactions generate intense publicity, most of the big cats try to avoid contact, steering clear of human-used trails and other areas during the day. Seeing a lion in the wild is a rare incident, but humans are increasingly arguing for preserving that aesthetic pleasure, however rare it might be. Granted, the fate of future lion populations rests in the hands of state agencies, but that fate will be guided, in part, by how favorably the voting public perceives the plan.
Lions that develop a taste for Labrador retrievers or lamb chops may not fare well, but the vast majority of the lion population never experiences such a drastic interaction with humans. As lion populations increase, so should programs designed to educate the public about lion encounters. We can coexist in the same habitat with the "phantom in the mountains," but we need to be sure that we give lions the room they need and deserve.
---
About the authors
Philip L. McClinton was formerly the Curatorial Assistant for the Draper Natural History Museum. Susan F. McClinton served as the Information and Education Specialist on Grizzly Bears for the Shoshone National Forest in Cody, Wyoming, during the summer of 2005. Each holds an MS degree in biology from Sul Ross State University in Alpine, Texas, and both have keen interests in animal behavior, conservation, and wildlife education—especially in that which takes place in the natural environment. Both McClintons have conducted extensive research on black bears; mountain lions; white-winged, mourning, and Inca doves, and parasite/host interactions in nature. The McClintons have published and presented a number of articles and reports about their work. They are pictured here with a lion specimen in the Draper Museum's Learning Lab.
Post 170