A native of northern California, Michele Farrier now calls Cortez, Colorado home. She received a BA in Studio Art from the University of California-Davis. After twenty years of teaching art to K-12 students in the Teton County School District, she retired to become a full-time artist. Farrier often paints en plein air (in the open air), only putting finishing touches on the artwork back in her studio.
The same year Farrier retired, she received a call from the Buffalo Bill Center of the West informing her she had been accepted into the artist-in-residence program. That was four years ago. Since then, Farrier has returned to participate in the program every summer. This year, the Center hosted Farrier as an artist-in-residence during the week of July 1 through July 6. Farrier uses the works in the gallery for inspiration and as a learning tool to create her rendition of a focused area. Her subject of choice this year – Harvey T. Dunn's W.H.D. Koerner at His Easel.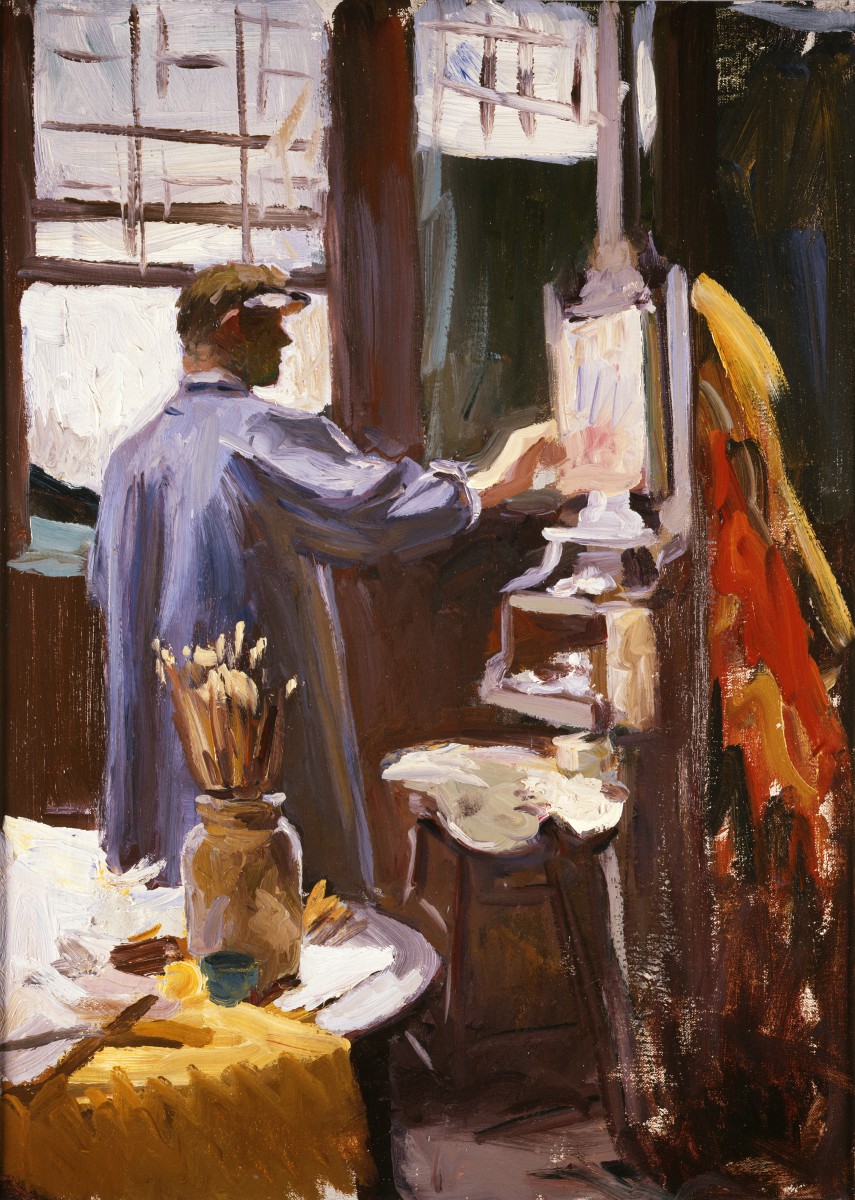 Curatorial Assistant, Nicole Harrison, sat down with Farrier for a brief question and answer session to discuss the artist's experiences with the program and what inspires her.
Question: What inspires you to create art?
Farrier: The opportunity to slow down and observe, to see the light and shadow patterns in everything.
Question: what has been your favorite part of this year's artist-in-residence program?
Farrier: Sharing my passion with new people and being given the incredible opportunity to learn from each interaction is exciting. I love seeing visitors react to using a red lens to view a painting. The red lens helps determine the gray scale of a painting and what the darkest and lightest shade of color is.
Question: What is the most interesting question or experience you have had during this year's program?
Farrier: I spoke with a young student who had just graduated high school. I learned he is currently studying under my mentor in Austin. I asked him what he thought of the painting. To see such a young peer so interested in art and to be able to learn from him was a wonderful experience.
The Buffalo Bill Center of the West is thrilled to have Farrier as a returning artist. Farrier looks forward to many more years as an summer artist-in-residence at the Center. To learn more about Michele Farrier, please visit her website www.michelezfarrier.com.
---
The Center of the West's Artist-in-Residence program is supported in part by an award from the Wyoming Arts Council through funding from the National Endowment for the Arts.