You have questions about Frederic Remington … we have the answers. Here's everything you need to know about Remington in a nutshell.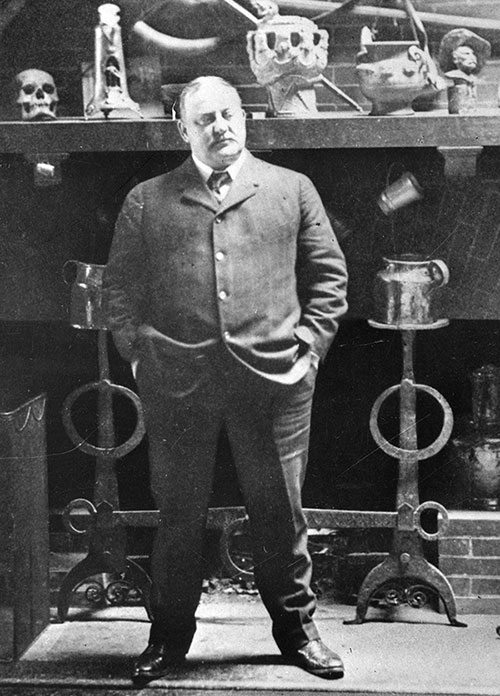 Q: What is Frederic Remington best known for?
A: Frederic Remington is best known for his depictions of the American West, from cowboys and Native Americans to wildlife and landscapes. In addition to creating vibrant paintings, drawings, and sculptures of western subjects, Remington was a gifted and influential writer. His prose as well as his art helped shape the image of the cowboy-hero.
Q: Did Remington travel to the American West?
A: Remington made a total of 16 trips west to gather information, make sketches and notes, photograph, and collect artifacts. He made his first trip west in 1881 to Montana Territory. In subsequent years, he would travel to New Mexico, Arizona, North Dakota and even Mexico and Canada. He traveled to Wyoming on several occasions. One of his paintings, A Post Office in the "Cow Country", Latest News, was inspired by a visit he made to Wyoming in 1897, specifically to Cody. The mountain range in the background depicts the McCullough Peaks, which resides just east of town. His last trip west was in 1908.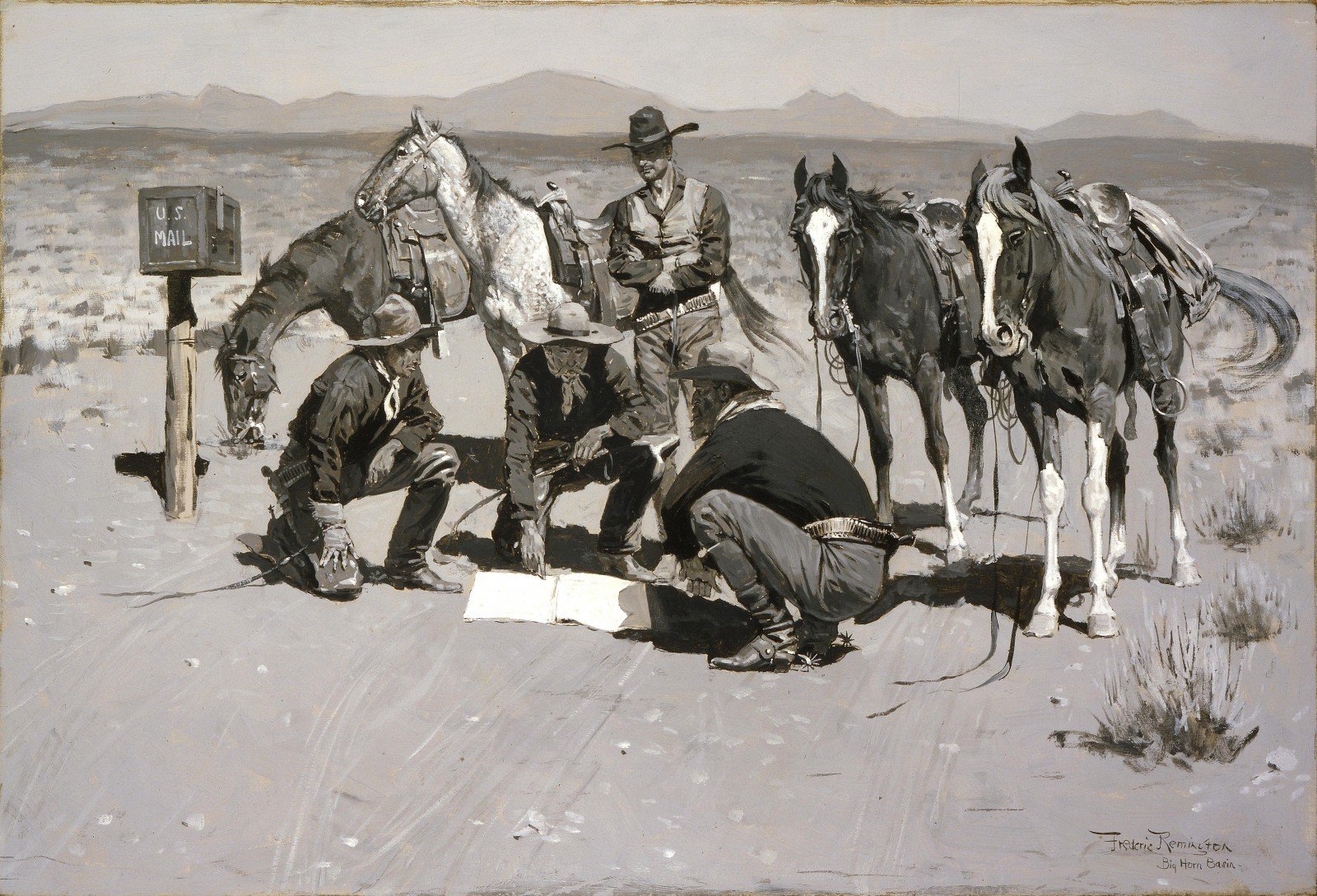 Q: How many works did Remington create?
A: During his short life, Remington created more than 3,000 drawings and paintings, 22 bronze sculptures cast in editions, two novels, and more than 100 magazine articles and stories. Of those 3,000 drawings and paintings, only about half have been located. Interested in learning more about the multitude of his works? Visit the Frederic Remington Catalogue Raisonné. The raisonné is maintained by the Center of the West and lists known original Remington works.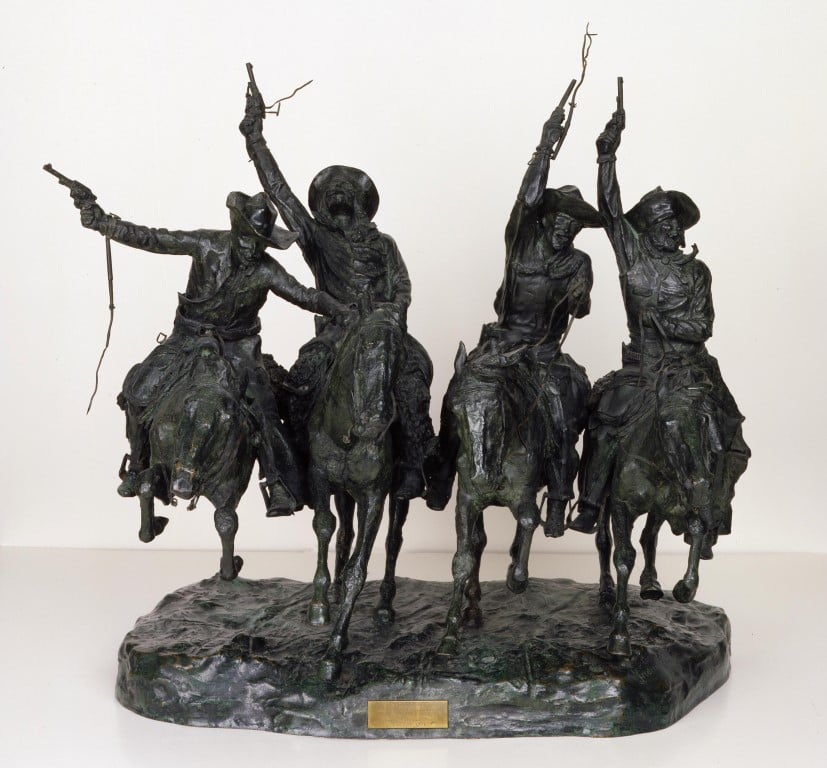 Q: How many Remington works do you have in your collection?
A: The Whitney Western Art Museum has over 150 original paintings, drawings, and sculptures by Remington. We also contain in our holdings the Frederic Remington Studio Collection comprising of over 600 objects Remington collected during his travels. A selection of artifacts is on view in a reconstruction of Remington's New Rochelle, New York studio.
Q: How did you acquire the Remington Studio Collection?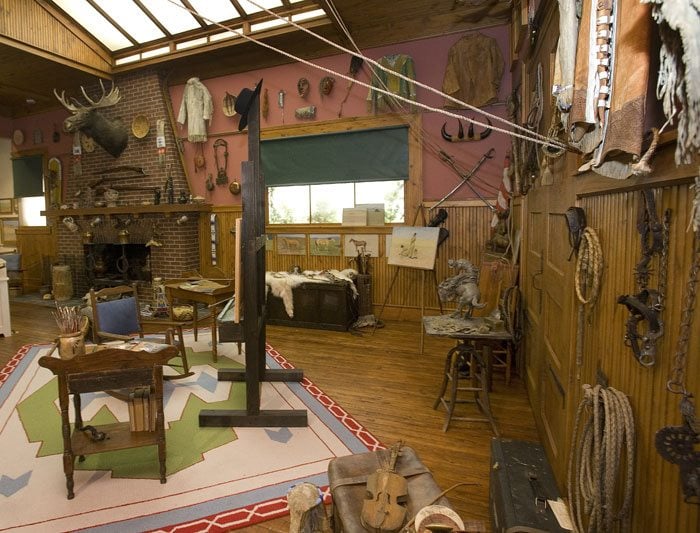 A: The original Frederic Remington Studio Collection once belonged to the Frederic Remington Art Museum in Ogdensburg, New York. They sold the materials to M. Knoedler and Company in the early 1950s. In 1958, the Coe Foundation acquired the Collection from Knoedler and gifted it to the Buffalo Bill Historical Center (now the Buffalo Bill Center of the West). This gift prompted Cornelius Vanderbilt Whitney to fund construction of the Whitney Gallery of Western Art (now the Whitney Western Art Museum). The Collection consists of oil sketches, finished paintings and artifacts Remington used for inspiration and to clothe and equip his models. Our studio installation re-creates Remington's New Rochelle, New York studio, complete with skylights, a brick fireplace, and tall double doors!
Q: Did Remington have any formal training?
A: Very little. As a child, Remington found sketching much more interesting than academics. In 1878, he attended Yale Art School for 3 semesters. In 1886, he enrolled in the Arts Student League in New York to improve his art. While he only stayed 3 months, his drawing and technical skills drastically improved.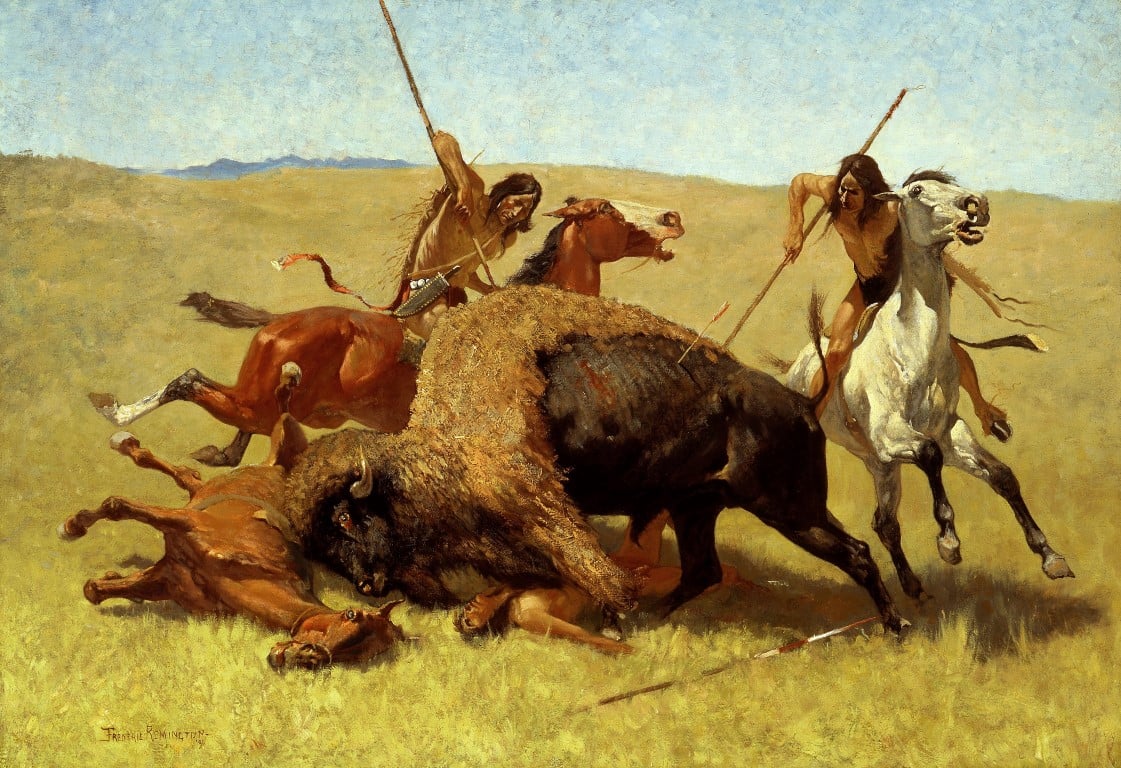 Q: What influenced and inspired Remington's art?
A: Remington was heavily influenced by his father, Seth Pierre Remington, who was a journalist, a thoroughbred racer and a major in the Eleventh Calvary during the Civil War. His father's military service and love of horses made a lasting impression on young Frederic, who was also inspired by the illustrations of the French military artists of his time. All of this led Remington to enter the world of illustration with the intent on being an artist-correspondent for the military.
During his trips to the American West, Remington collected materials and artifacts to use as props to create his paintings and sculptures. He carried notebooks with him and sketched everything. He packed a camera and photographed what he saw so he could use those photographs as notes back in his studio. Many of these props can be found in our Studio Collection.
Q: How did Remington's work evolve throughout his career?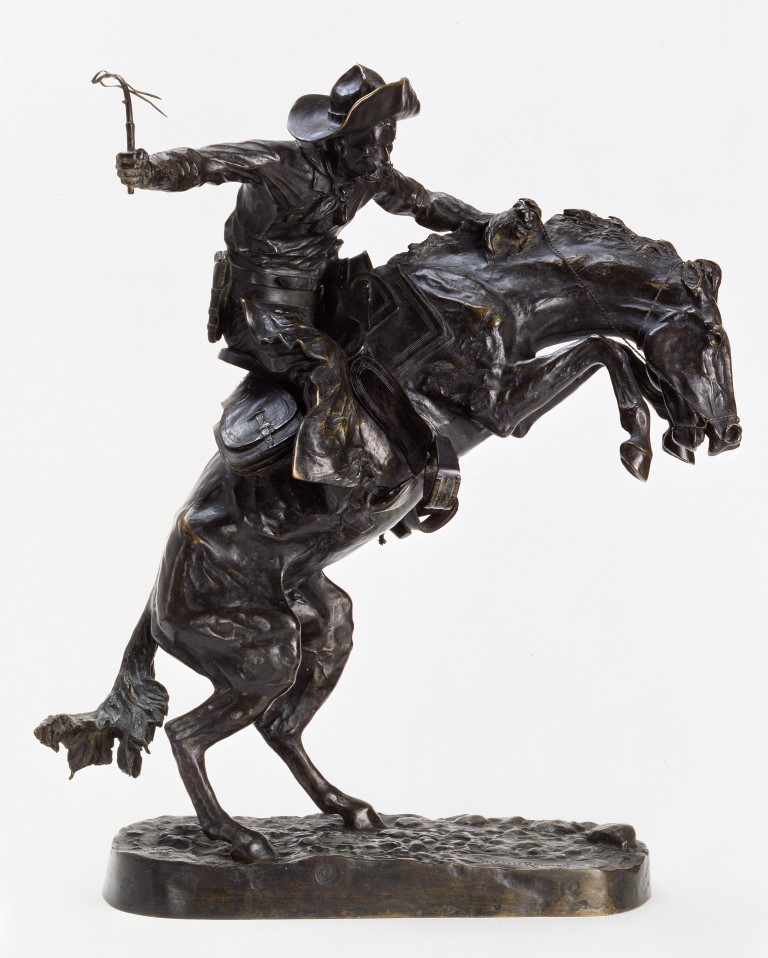 A: In 1887, Theodore Roosevelt commissioned Remington to illustrate his new book Ranch Life and the Hunting Trail. This commission helped launch the young artist's career in illustration. Between the 1880s and 1890s, Remington worked for some the great magazines, such as Harper's Weekly, Century Magazine, and Colliers. By the 1890s, however, Remington's trademark romantic realism was giving way to Impressionism and an earnest desire to abandon illustration for easel painting. Slowly but surely, he abandoned hard-edged narratives for more atmospheric, introspective, and moody scenes. His success in illustration allowed him to venture into painting and sculpture and define his own themes. The year 1895 proved to be a steppingstone in his career. Not only did he create his first sculpture, The Broncho Buster, he also published his first book, Pony Tracks. Later in his career, he experimented with the perception of color, creating his acclaimed night scenes.
Q: Did Remington market his own work?
A: Yes! The artist's first published cowboy image appeared in Harper's Weekly magazine in February 1882. He often mailed his sketches to the magazines in hopes of getting published. In May 1886, he received his first assignment from Harper's, and fulfilled his life-long dream as a military artist-correspondent. He was to follow a cavalry regiment, led by General Miles, in hopes of finding Geronimo. Within two years of this assignment his reputation as an illustrator and expert on the American West was established. In addition, he gained international attention for his artwork and won the silver medal at the 1889 Paris Exposition.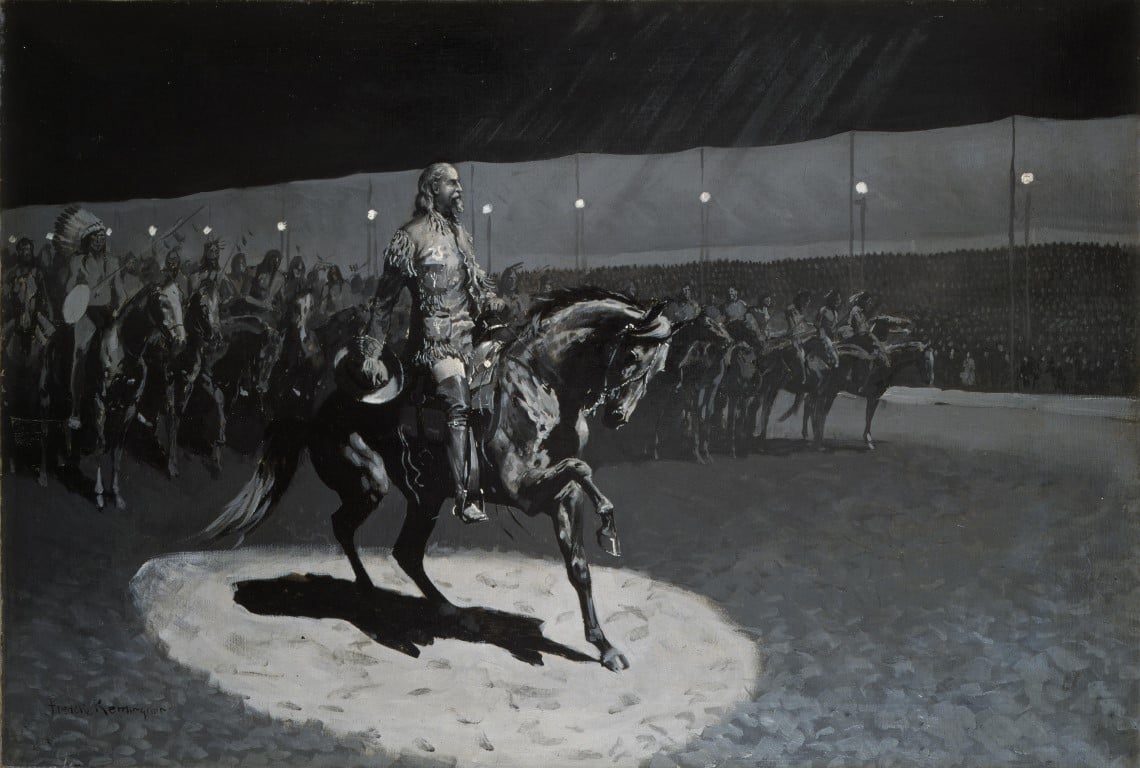 Q: Where did Remington live?
A: Although he traveled throughout the United States, New England was always Remington's home. He was born in Canton, New York in 1861. In 1884, at the age of 23, he moved near Kansas City, Missouri to work a sheep ranch. With his western business ventures unsuccessful, Remington packed his things and headed to Brooklyn, New York in 1885. It wasn't until 1890 when he moved to his New Rochelle home and studio. In 1900 he bought a summer home on Ingleneuk Island, New York. He made his final move in 1908 to Ridgefield, Connecticut, where a year later he died of peritonitis following an emergency appendectomy.
Q: Where can I find out more about Remington?
A: There are several ways to learn more about Frederic Remington. You can stop by our reconstructed studio, visit the online catalogue raisonné and hop on over to the Frederic Remington Art Museum in Ogdensburg, New York.