Our Birds' Stories
Like all the residents of the Draper Museum Raptor Experience, our American Kestrels are in our care because they can no longer survive in the wild. Our male kestrel, Salem, arrived at the Buffalo Bill Center of the West on December 30, 2013. He had been rescued by the folks at Second Chance Wildlife Rehabilitation after he was spotted on the side of a road near Salem, Utah. Not only was he very thin when he was found, he had significant damage to his right eye. After several months of good food and healing, it was determined that Salem would never see with this right eye again and therefore would never be able to survive in the wild.
These small but mighty birds typically only live an average of three to five years in the wild. Although we can never know how old Salem is, we believe he was already an older bird when he was injured. Our best guess is that he is somewhere between 10 and 12 years old now.
We do, however, know the age of our newest bird, a female American Kestrel. Hatching just this year, this female was found at a construction site in the West Valley City area of Salt Lake. She had a collision with something that caused permanent damage near her left elbow. Unfortunately, she will never be able to fly properly and therefore, must rely on human care to survive.
Why Have Two Birds of the Same Species?
The arrival of our new kestrel marks the first time we have ever had two birds of the same species in our program. In the past we have avoided this situation in an effort to highlight the many different raptor species native to the Greater Yellowstone Ecosystem. With the advanced age of Salem, however, we decided to retire him from in-person programs. He will continue to help us provide online programs on social media and Skype in the Classroom, which are less stressful for a small, elderly bird.
Falcons are Popular
Falcon-themed programs, however, are very popular and our audiences love to see these amazing birds up close. Our Peregrine Falcon, Hayabusa, is incredibly popular but doesn't travel well. So, it was time to consider adding another falcon. At the Draper Museum Raptor Experience, we showcase birds that are native to our area. That means there are only four falcon species for us to choose from. While both Prairie Falcons and Merlins are beautiful birds to see, they are much harder to find and often don't adjust as well to a life in captivity as peregrines and kestrels.
Male vs Female
When the folks at Second Chance mentioned they had several young female kestrels that would not be returning to the wild, our team started to discuss the possibility of adding one to our program. There are many benefits to having both a male and female kestrel: 1) They can potentially be housed together, leaving a space open for a future bird; 2) Being a species that our staff and volunteers have worked with for years means everyone already knows the natural history and interesting facts about the new bird. As much as we love learning, sometimes it's nice to do things the easy way; 3) American Kestrels are one of the few raptor species in which the males and females show physical differences. Similar to songbirds and waterfowl, male kestrels are more colorful. While the females have a reddish color with lots of black bars all over their body, males have a blue/gray color on their wings and their tail is mostly solid red with a black bar near the tip. Like the rest of the raptors, American Kestrels do show a size difference between the sexes. Females tend to be about 30% larger than the males. Although that is significant in a bird the size of an eagle, it's not as noticeable in a bird that weighs around four ounces. Having both sexes allows us to show our audiences these differences in person (or via video).
When Can We See The New Kestrel?
Like all animals, our new bird is an individual and there is no way to predict how long it will be until she feels comfortable being in front of an audience. American Kestrels are predators, but they are also small and serve as prey for many other predatory species. This means they have natural instincts to flee uncomfortable or dangerous situations. It will take a while for this new bird to become comfortable working with one person at a time in a controlled environment. Once she is doing well on the glove with one handler, we will slowly start introducing her to new surroundings – outside of her building, inside a different building, then the garden, then our indoor program area. We will also slowly introduce her to more and more people. Just one person to start, then a few, a handful, a small group, etc. She will dictate the speed at which we move forward. If she is uncomfortable with a situation, we will take a step back to where she was comfortable before. The process may take a couple weeks, it may take a few months. We are not in a hurry and we want her to have positive experiences during every step of her training and acclimation to her new life.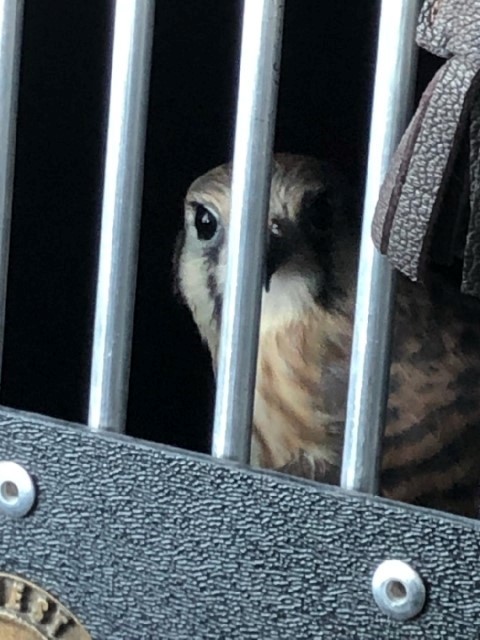 What Does The Future Hold For This New Bird?
Ideally, our new American Kestrel will participate in programs at the Center of the West as well as outreach programs across the state of Wyoming. She will also help us reach audiences across the globe via Skype in the Classroom programs where she will be an online ambassador for her species.
Our goal for all the birds at the Raptor Experience is to lead a happy, healthy life while helping teach our audiences about the importance of each species in their environment and to encourage audience members to consider the effect their actions may have on nature. Each of our birds is given the easiest life possible. Living at the Center of the West means our birds no longer have the threats of starvation, predators, or man-made obstacles such as vehicles, power lines, and barbed wire fences.
With the comfort and safety that her new life provides, this young female could far exceed the average five-year lifespan of an American Kestrel in the wild. In fact, she could live into her teens! What could be better than that?
Learn More About North America's Smallest Falcon
If you'd like to learn more about American Kestrels, here are two of my favorite sources:
https://peregrinefund.org/explore-raptors-species/falcons/american-kestrel