Originally published in Points West magazine
Summer 2019
Favorite Firearms
A number of firearms experts, scholars, enthusiasts, and Buffalo Bill Center of the West staffers are more than a little familiar with the Center's Cody Firearms Museum's (CFM) vast collection. In the summer 2019 issue of Points West magazine, several weighed in on their "Favorite Firearm" as the completely renovated museum was about to reopen.
Unless noted otherwise, all firearms are from the original Winchester Collection, a gift of Olin Corporation, Winchester Arms Collection, 1988.
Danny Michael, CFM Assistant (now Associate) Curator
Burton Machine Rifle, 1988.8.104
"I love this piece," says CFM Associate Curator Danny Michael. "It is a 102-(ish)-year-old piece that looks like it's still from the future, and we hardly know anything about it."
Michael notes that Frank Burton was one of Winchester's engineers, and this gun is attributed to him circa 1916. At a time when every major power used a bolt-action rifle, this gun used an intermediate cartridge and twin, detachable magazines. "Light cartridges and detachable magazines didn't become the norm in the military until the 1960s," Michael adds. "But we don't know why Burton made it, if it was ever tested, or much of anything else. We do know it exists and has been featured in a video game; the documentation just hasn't turned up in the past hundred years."
As assistant curator, Michael handled visitor inquires and oversees CFM-related social media content—all the while researching and writing about the museum's collection. In 2016, he earned a master's degree in public history from the University of Louisville after receiving a bachelor's degree in history from Cedarville University in Ohio. His scholastic work centered in American military history. Before joining the CFM staff, Michael worked at the Frazier History Museum in Louisville, Kentucky, and had previously worked with firearms records at the Bureau of Alcohol, Tobacco, Firearms, and Explosives National Firearms Tracing Center in Martinsburg, West Virginia.
Frances B. Clymer, Director, Park County Library System (now retired)
Blunderbuss, 1986.16.1
"This blunderbuss appeals to me because of its association with two of the great dynasties of eighteenth-century Europe: Louis the XV of France and Catherine the Great of Russia," states Frances B. Clymer, Director (now retired) of the Park County Library System in northwest Wyoming. "Both were important figures in their respective courts. They both loved beautiful things and enjoyed giving and receiving gifts, although I do not know the occasion for the gift of this blunderbuss. When I worked at the Center of the West in the firearms museum, I preferred the artistry of embellished arms over the technical intricacies of more modern weapons."
Clymer served as director of the Park County Library System in Cody from 2005 to spring 2020. Previously, she was a librarian in the Center's McCracken Research Library. Upon first arriving at the Center in the 1980s, she was heavily involved in processing the multitude of firearms and materials of the Winchester Arms Collection.
Phil Spangenberger, Firearms Editor, True West magazine
Buffalo Bill's 1873 Winchester, 1.69.372
"Just knowing its history, the gun that sparks my western soul is Colonel Cody's personal, engraved and gilt finished, pistol-gripped, 1873 Winchester rifle that he carried in many of his shows," writes Phil Spangenberger, Firearms Editor for True West magazine. "Having performed worldwide in many Wild West Shows myself, just looking at that old Winchester conjures up visions of the Colonel sitting tall in the saddle, waiting backstage to gallop into the arena as the announcer says, 'And now ladies and gentlemen… Buffalo Bill!'"
Along with his work at True West, Spangenberger was Black Powder Editor at Guns & Ammo magazine for decades. He's written hundreds of articles on firearms with a special focus on guns and gear of the American frontier. He appears frequently on the History Channel, American Heroes Channel, Discovery, and other cable documentaries, and has performed in Wild West shows worldwide, even producing his own shows throughout the U.S.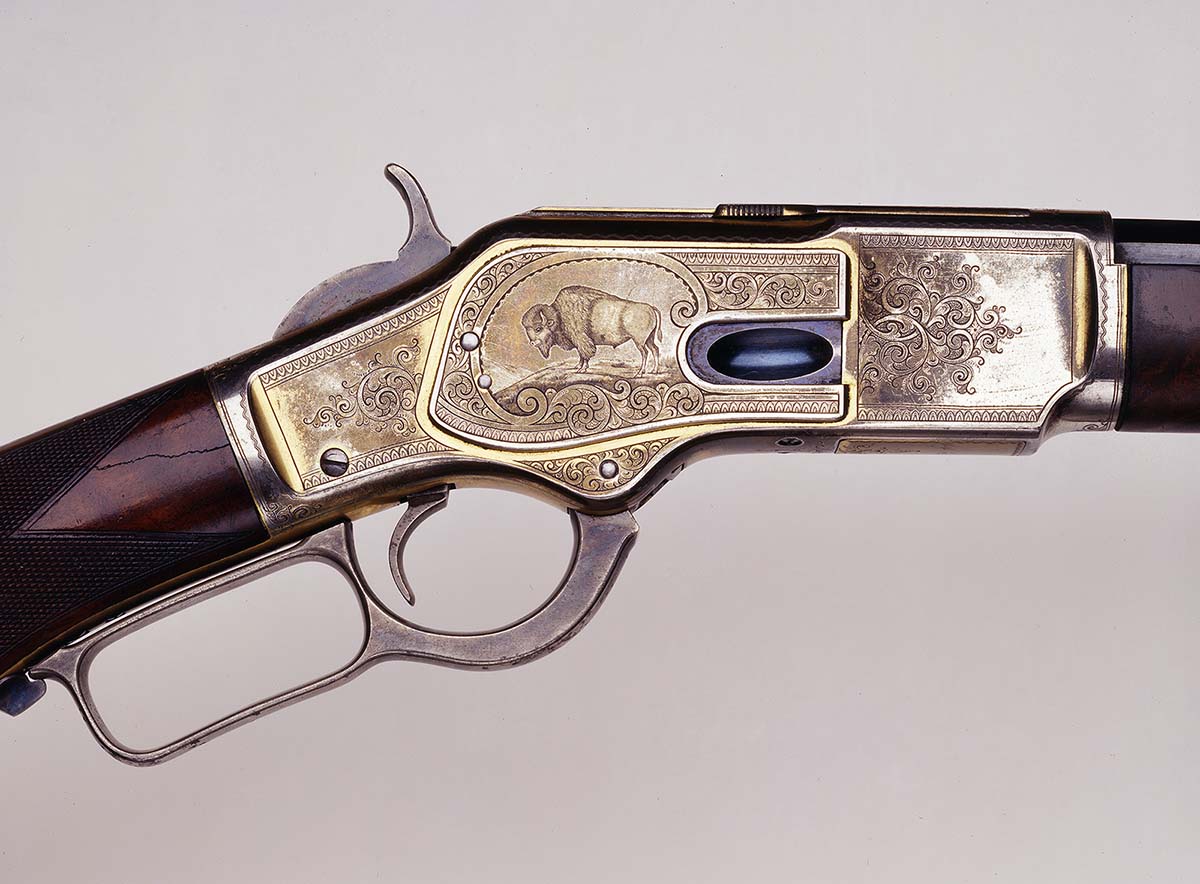 Spangenberger has served as gun coach to numerous Hollywood stars including Charlton Heston, Mel Gibson, Will Smith, Ed Harris, Milla Jovovich, Tom Berenger, Rob Lowe, and others, as well as technical advisor and character actor in films like Hidalgo, Wild Wild West, and the DVD Vengeance Trail.
Dan Brumley, CFM Curatorial Assistant
Kentucky Long Rifle, 1988.8.1044
"The Kentucky Long Rifle was a uniquely American invention," says Dan Brumley, CFM curatorial assistant. "The first firearm designed and made in the Colonies, it addressed issues that were specific to the American frontier. During the American Revolutionary War, General George Washington specifically recruited frontiersmen with Kentucky rifles to help level the battlefield. Without the Kentucky long rifle, the United States of America probably would not exist today—or certainly would not have been born as early as it was. And yes, it is a Kentucky Long Rifle; that argument was settled, honorably, in 1963…but that's another story!"
Since December 2010, Brumley has worked as CFM curatorial assistant. He provides firearms information and/or identification services to those who want to learn more about their gun(s). He is a retired sergeant with more than thirty-three years in law enforcement. During his career, he served as weapons instructor for twenty-four years, department gunsmith/armorer for twenty-one years, and SWAT sniper for nineteen years. Brumley was also part of the adjunct faculty of his local community college for twenty-four years. As a competitive shooter, Brumley has won honors in numerous handgun and rifle contests. He continues to study the history of firearms and the techniques used in their production.
Marguerite House, Points West Editor (now retired)
Colt Texas Paterson pistol, 2015.17.1
"Some of my favorite handguns and long arms in the Cody Firearms Museum are linked to a particular story we created for a Center of the West news release or a piece in Points West," writes Marguerite House. "Denny Levett's Colt Paterson was just such a story, made all the more special for me because I learned all about it from Mr. Levett himself by way of a long phone call in 2016."
Levett (b. 1938) is a California real estate magnate, financier, and part time actor who owns the prestigious Cypress Inn at Carmelby-the-Sea, which he owns with actress Doris Day. He is also an avid collector of all things classic: cars, art, posters, books, toys, Hollywood memorabilia, and firearms.
"Mr. Levett was bright, funny, and so knowledgeable. I didn't know that his Paterson-Colt firearms collection is the largest collection in the world," House adds. "I discovered that when this revolver (named for the New Jersey city where Samuel Colt [1814–1862] produced the model) was adopted by the Texas Rangers, it basically launched Sam Colt's career, even though in 1842 he'd already gone bankrupt with his first foray into manufacturing. When war with Mexico erupted in 1846, he obtained more financing and began to manufacture a new, more powerful revolver in his Hartford, Connecticut, factory. And, as they say, 'the rest is history.'"
After nineteen years on staff, House recently retired from the Center of the West. She spent the last fourteen years in public relations, a tenure that included editing Points West.
Ashley Hlebinsky, Robert W. Woodruff Curator (now Curator Emerita and Senior Firearms Scholar), Cody Firearms Museum
Bank Robbery Thompson Submachine Gun, 1988.8.2609
"This artifact in our museum is one of the few pieces that can be traced to use in a crime," says Ashley Hlebinsky, who has transitioned from her position of firearms curator to Curator Emerita and Senior Firearms Scholar. "This Model 1921 in .45 caliber was used in a bank robbery in New York. According to the story, it jammed, and the perpetrator left it behind. It was recovered by the police and ultimately traded to Winchester for riot guns. It became a part of the Winchester Arms Collection transferred to the Cody Firearms Museum (CFM) in the 1970s."
Hlebinsky finds this gun fascinating because it illustrates the line between the intended use of a firearm versus misuse. "For example, the Thompson was made for the military and ultimately targeted law enforcement agencies," Hlebinsky explains. "However, it's remembered more as a 'Gangster gun' because of its infrequent use in high profile crimes, such as the 1929 St. Valentine's Day Massacre—an image repeated and sensationalized throughout popular culture in movies and television."
Hlebinsky earned a master's degree in American History and Museum Studies from the University of Delaware, where she studied the perception of firearms in culture. She also spent three years researching in the Smithsonian Institution's National Firearms Collection. As firearms curator, Hlebinsky oversaw seven thousand firearms dating back to the 1200s.
Along with serving as project director for the CFM reinstallation, Hlebinsky is president of the Gun Code, LLC, a consulting business through which she serves as a museum advisor, an expert witness on both civil and criminal cases, freelance writer, certified firearms instructor, international lecturer, on-camera historian, and television producer. She recently founded the first association in the United States to promote the academic study of firearms history and material culture and is currently co-curating an exhibition on European embellished sporting arms for the Houston Museum of Natural Sciences.
Hlebinsky can be seen regularly on the Travel Channel's Mysteries at the Museum, Outdoor Channel's Gun Stories with Joe Mantegna, and most recently as co-host of the Discovery Channel series Master of Arms. In 2017, Hlebinsky was awarded the prestigious Grits Gresham Shooting Sports Communicator Award, awarded annually at the Shooting, Hunting, and Outdoor Trade Show (SHOT Show) in Las Vegas.
---
Post 300