If you ask anyone who works at the Center of the West who keeps this place running, they will most likely say the security guards. They safeguard the art, protect the people, and brighten our days.
The guards spend more time than anyone in the galleries, surrounded by one-of-a-kind artifacts and priceless works of art. It begs the question: which works are their favorites? 
Jerry Ludlow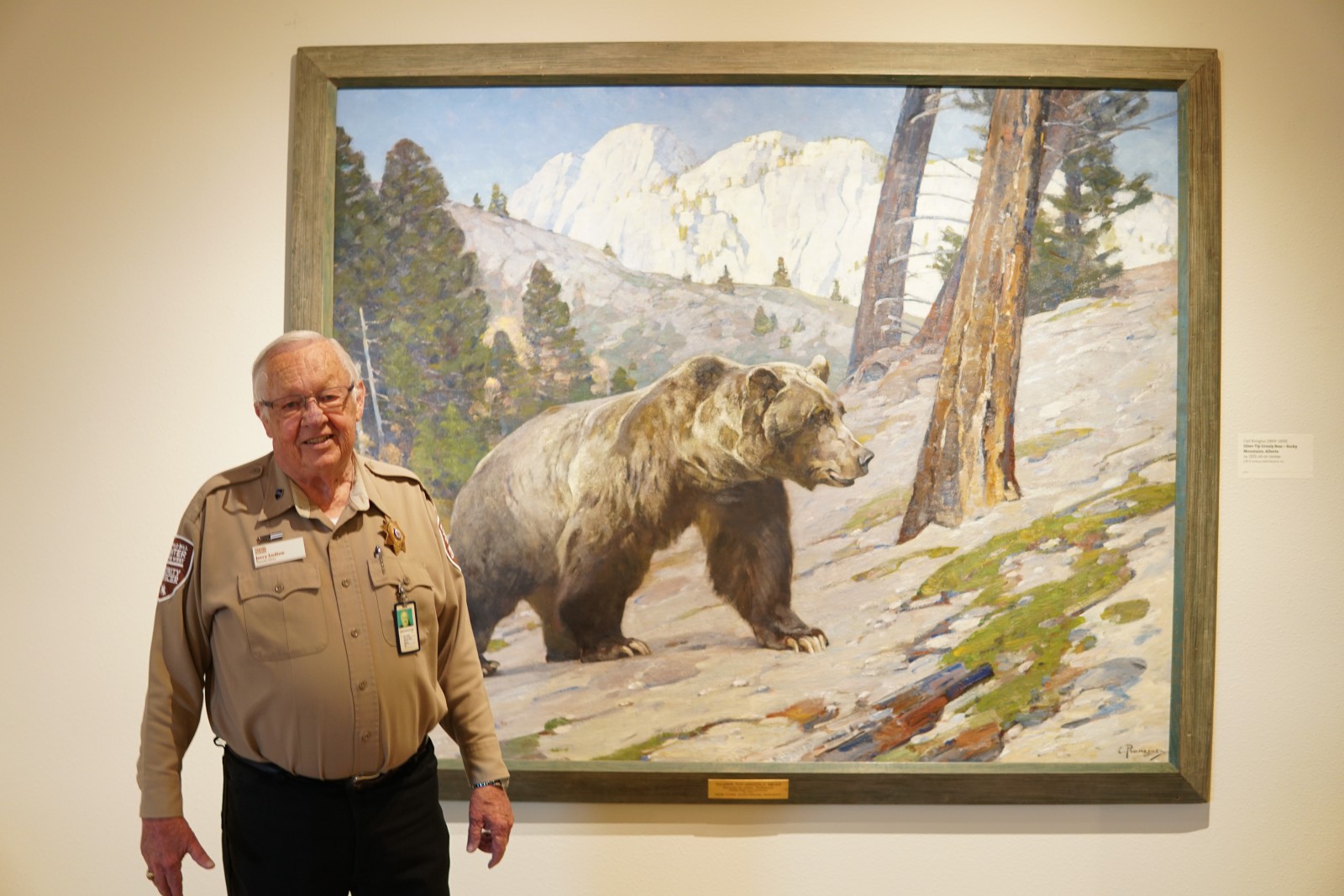 Jerry is the glue that holds the Center together. He has been a security officer at the Center for the last 20 years and has loved every minute of it (he will not admit to that, but we all know it). Before this, he worked for the Salt Lake County Sheriff's office for 25 years, and then security for a company called E-Systems for another 16. He then enjoyed retired life for about two weeks before he got bored of the leisurely lifestyle and got a job at the Center as a gallery guard. He was promoted to his current position after only six months.  
There has always been an air of mystery that surrounds Jerry — and after poking into his background a little more, he had many aspects of his life that many did not know about. In his younger years, his artistic abilities attracted job offers from Walt Disney, Warner Brothers, and many other large animation companies. 
Jerry did not have a specific piece in the Center that he could name as his all-time favorite, but he has always loved the art in the Whitney the most. He was a crime scene artist during his time with the Salt Lake City Sheriff's Department and has also been an accomplished artist his entire life, so he feels a certain connection with this museum.  
With some persuasion, he chose one of his favorite pieces: 'Silver Tip Grizzly Bear – Rocky Mountains, Alberta' by Carl Rungius. He chose this larger-than-life painting because it reminds him of his own personal art style. Regardless, Jerry still insists that he cannot choose one sole favorite. 
Rick Ashley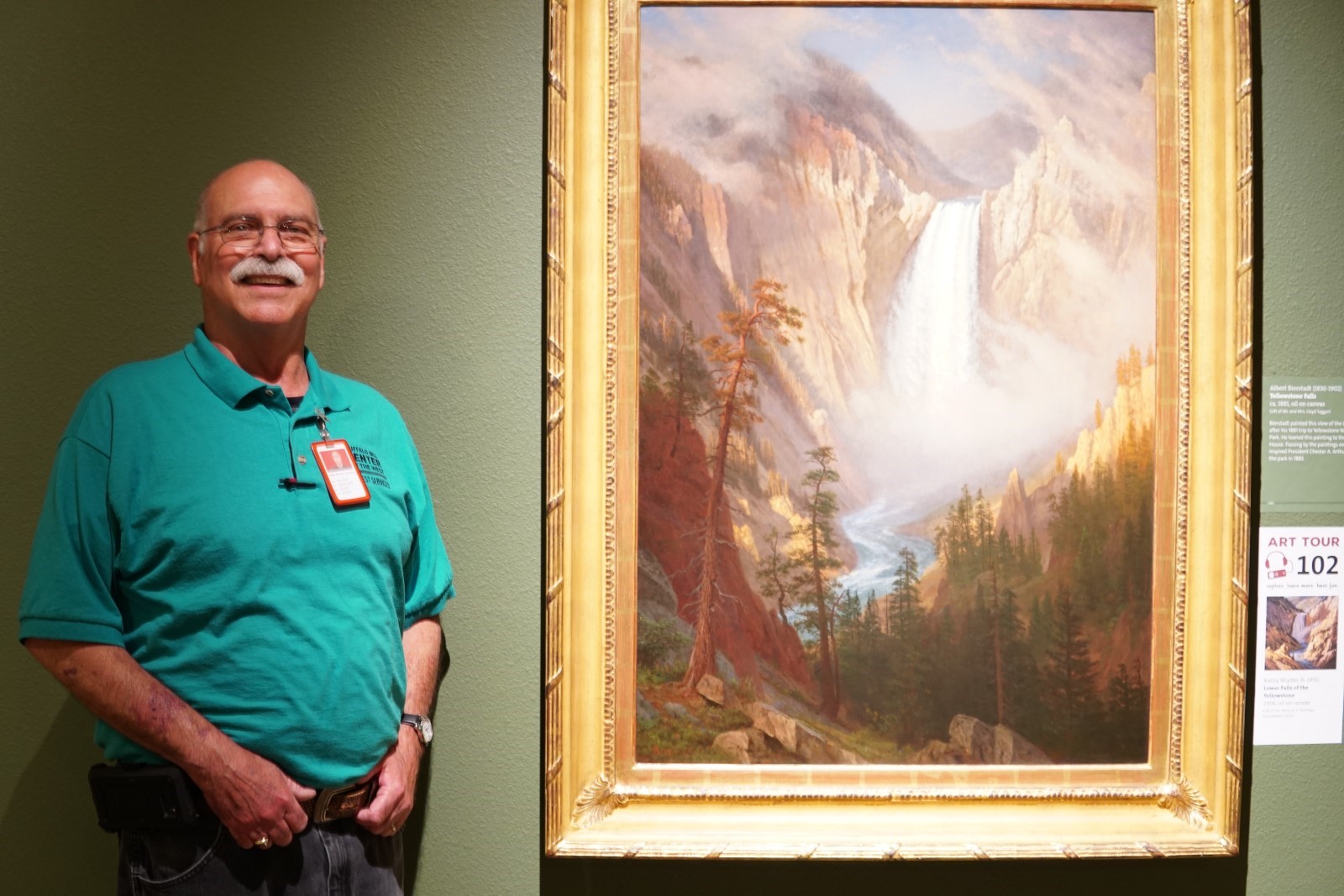 One of the newer faces around the Center, Rick Ashley has an interesting story as well. A background in law enforcement seems to be a trend among our guards. Rick worked for 30+ years as a mounted patrol officer in Atlanta, Georgia, or as he calls it, the modern-day Cavalry. He also worked in other first responder positions. 
 
"I worked every little boy's dream: firefighter, police officer, and EMT," said Ashley.  
Rick retired seven years ago, but after about five years he needed something else to do with his time. He applied here to enjoy the gallery guard position, and he has always been interested in western art and history, so working here is a dream come true. One of his favorite parts about working at the Center is knowing exactly what to say when a visitor asks him a question. 
Ashley's favorite piece, no contest, is Yellowstone Falls by Albert Bierstadt. This painting is hanging in the Whitney Western Art Museum and was even hung in the White House for two years during President Chester A. Arthur's term. The painting, completed in 1881, inspired President Arthur to visit the Park himself in 1883.  Rick has felt drawn to this piece his entire time at the Center, and even has a photo of it as his lock screen on his phone.  
Marisa Sanders
Marisa is one of the younger gallery guards here at the Center, but that does not make her any less wise than our more seasoned guards. Marissa studied photography at Northwest College in Powell, Wyoming, which helps her connect with many of the pieces on display and view them through her own artistic lens. In-between classes at NWC, she needed a job to fill the time, which is when she applied to work at the Center and has stuck with it for the past few years.  
Her favorite work of art on display is in the Whitney Western art Museum. Marissa chose 'Prairie Rattler' by Don Coen. This piece of art is a massive depiction of a rattlesnake ready to strike and is painted in an extremely photorealistic style. He achieved this with acrylic paint and the use of an airbrush in some areas. The artist's goal was for the viewer to notice the beauty of this creature who is typically characterized as dangerous and ugly.
Marisa chose this piece because of the insane realism that was achieved. It reminds her of photography – both what she has studied and what she has taken herself – and it amazes her that someone was able to paint smoothly with acrylic paint, which is notoriously more difficult to blend with than oil paint.  
Barry Turner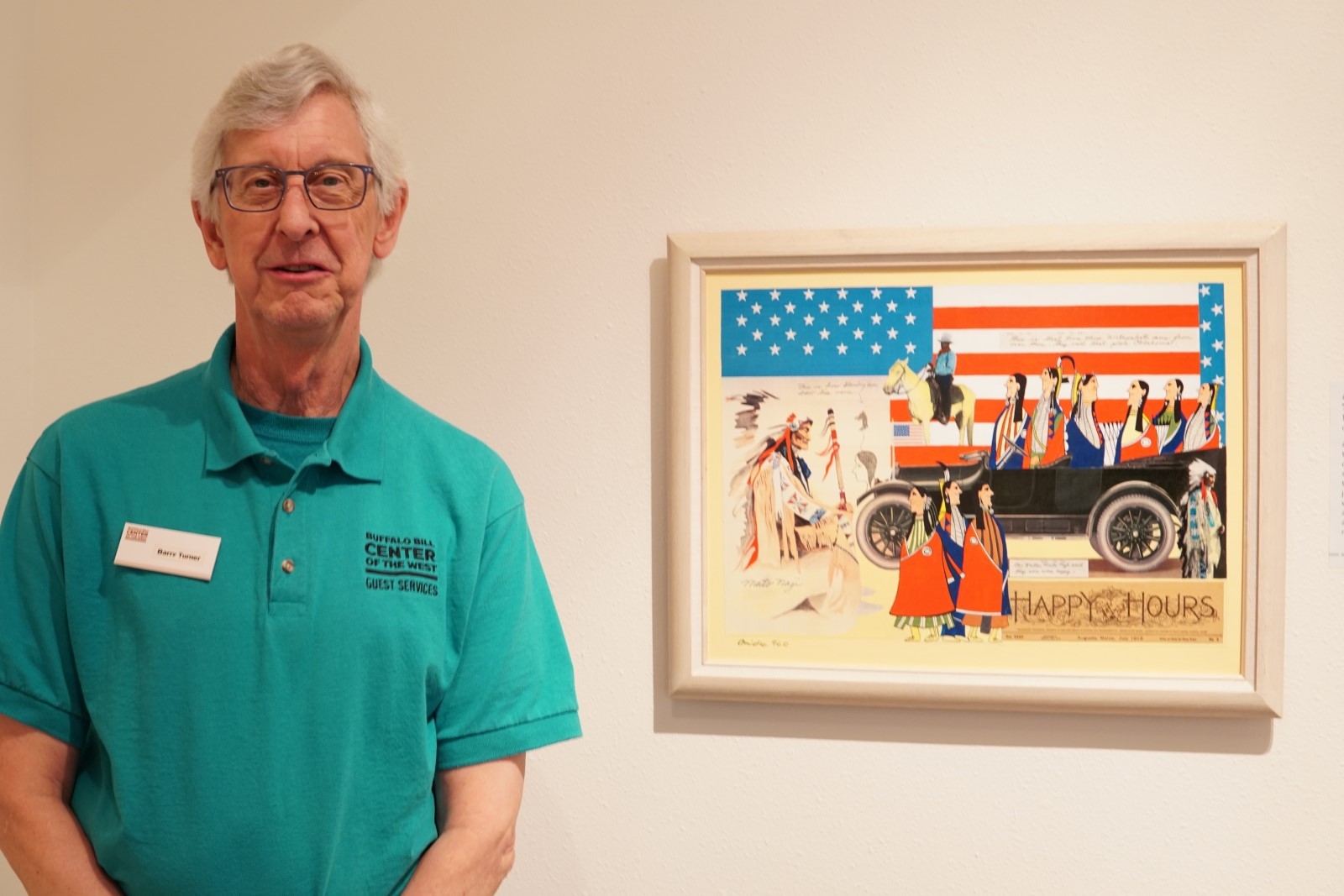 Barry is a returning character here at the Center of the West. He moved to Cody in 2001 for a change of scenery, and soon after found himself in the gallery guard position from 2002-2003. He switched careers and worked as a custodian at Eastside Elementary School until 2017 when he retired and made a grand return to the Center (and everyone is very happy to have him back).  
 
Barry challenged himself to find one of his more "obscure" favorite pieces, and he landed on 'The Visitors from Oklahoma' by Arthur Amiotte that is displayed in the Granger Gallery up in the mezzanine. This piece is acrylic and collage and was completed in 1996. The artist uses photographs and painted images to tell a story of Lakota family history in a colorful and eye-catching manner.  
This is Barry's favorite piece because of the style in which Amiotte painted the faces. The faces are viewed from the profile and are remarkably similar to a Standing Bear Muslin located in the Plains Indian Museum. He likes the smiles on their faces and how they're not too obvious but still give off a warm glow.  
Levi Haugen
Levi is another one of the Center's long-haul gallery guards. He has spent the past 19 years as a ray of light in the Center, brightening the day of every person he meets. His favorite part of his job is interacting with the people, watching the environment evolve over the years, and he appreciates how wheelchair accessible the galleries are. In his free time, he fishes and visits Yellowstone as often as he can.
He had a couple of favorite paintings in the Whitney, one of them being 'The Broken Bow, Father and Son' by Joseph Henry Sharp. This piece of art is depicting a comforting scene of a father-son interaction including many Plains Indian accessories from a mixture of Native cultures that serve to diversify the piece.  
This work stands out to Levi as he is surveying the Gallery because of the illusion of the characters changing positions depending on your perspective. He mentions how it can sometimes look as if the little boy is ducking into the corner.
Sandra Harper
Sandra has been a beloved gallery guard since she volunteered in the McCracken Research Library after her retirement. Before this, she lived many lives as a hotel manager, bookkeeper, factory worker, and in an accountant's office. She now likes to spend her time outside of the museum gardening, knitting, and spending time with her pets, especially her dog Tinkerbell.  
 
Sandra knew exactly what to say when asked about her favorite item in the museum; 'The Battle of Greasy Grass' by Allan Mardon that is displayed prominently in the Whitney. This painting is hung adjacent to another large-scale piece that depicts the battle from the view of the Cavalry, but Sandra prefers this one because it shows the Native perspective. It shows a timeline of the events of the battle and portrays all the prominent characters.  
This painting has a personal story attached to Sandra. The only surviving Cavalry Horse, Comanche, is shown multiple times throughout the piece. Sandra mentions that she has been interested in horses her entire life, and it was always one of her goals to see the taxidermy of Comanche that is displayed at the University of Kansas Natural History Museum. After graduating college, her daughter wanted to pursue a master's degree in museum studies, and she chose KU, where Sandra was finally able to see Comanche. Later, her daughter started a club at the school, and they wanted Comanche to be their mascot, so she got the help of her mom to sew a saddle and bridle onto a stuffed horse for them. Years later, her daughter and her friends walked the graduation stage with Comanche in their arms.
Next time you find yourself visiting the Buffalo Bill Center of the West, keep an eye out for the teal shirts and the white button-ups; they have some of the greatest knowledge and stories you could encounter during your visit.