In the Plains Indian Museum, next to the coolest pairs of sneakers I have ever seen, a unique object sits amongst other colorful artifacts with poignant imagery. This piece differs from the rest by lacking only wheels to make it a functional transportation device. Chief Joseph Skateboard Deck was created in 2017 by Native American artist Steven Paul Judd (Kiowa and Choctaw) and has been on loan to the museum from an anonymous lender since 2019.
A Modern Native Voice
Judd is an artist, filmmaker, director, screenwriter, writer, and visualist based out of Oklahoma. His expert ability to combine Native American visuals into pop culture scenes has garnered him fans around the world. Check out some of his amazing work on his company's website. With more than 79k followers on Instagram, he has found a unique way to introduce a new audience to Native history.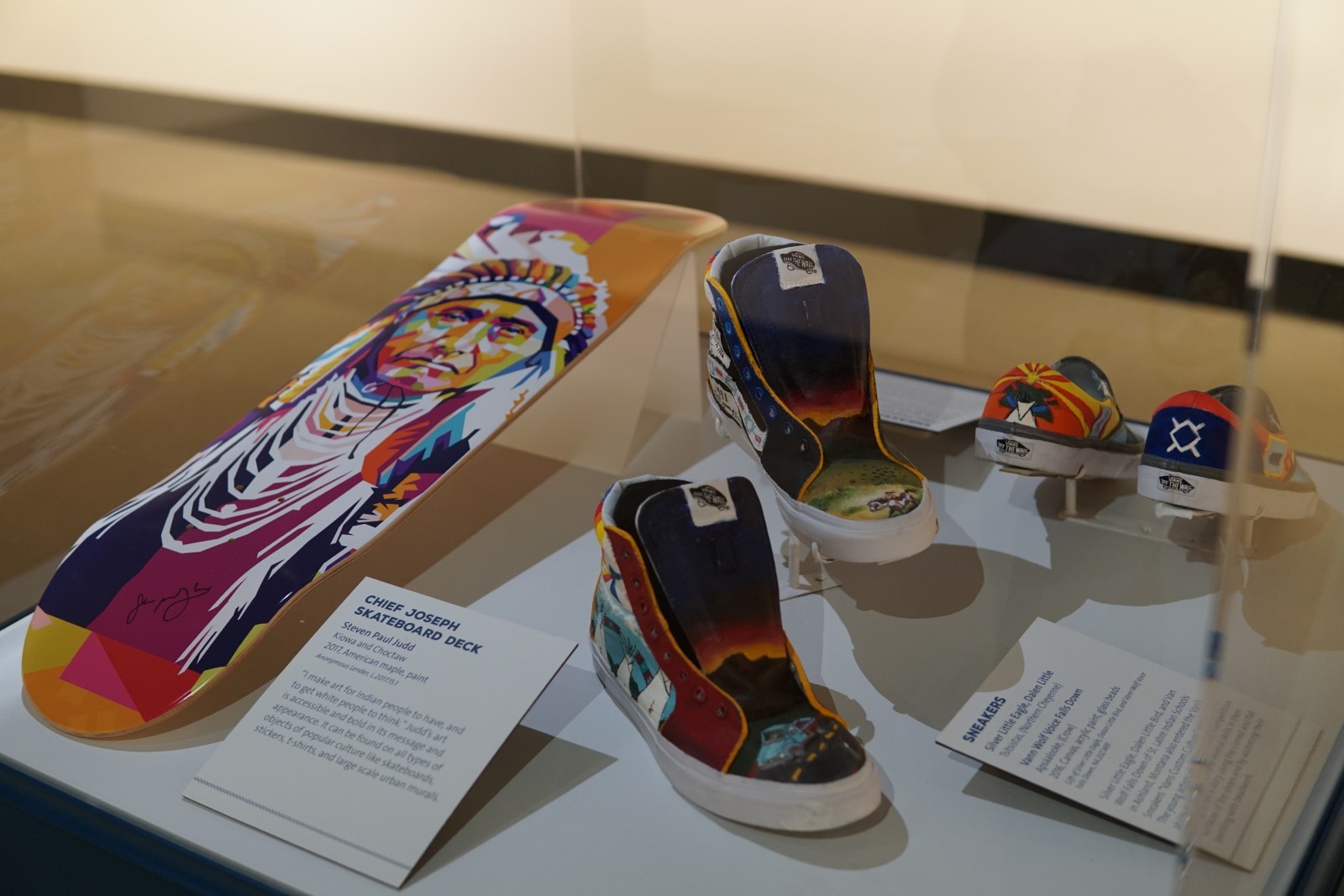 Judd's style draws attention to issues his people face in an approachable way. It shows that Native American culture is not something we should speak about in past tense. It is vibrant and alive as shown by the works of artists like Judd across the country. Judd's work might initially draw a smile but, upon closer examination, understanding of the deeper imagery begins to emerge. That was my own experience with the Chief Joseph Skateboard. Initially drawn in by the collage of colors, I soon found myself studying the history of the Nez Perce leader.
A Noble Chief
If you have ever driven northeast out of Cody towards Billings, you have probably seen signs for the Chief Joseph Scenic Byway. The highway gets its name from the Nez Perce leader, Chief Joseph, who was known for his concern for children, women, and people of age. In 1877, fearing retaliation from the U.S. Army for events surrounding the death of a white band of settlers by a trio of Native warriors, he led his followers on a trek through the Beartooth Mountains in the eastern part of present-day Yellowstone and then north. After eventually being surrounded by U.S. military, they were forced to relocate on a reservation in present-day Oklahoma. He was graceful in his surrender to the U.S. military, seeking peace after an arduous journey.
"Hear me, my chiefs! I am tired. My heart is sick and sad. From where the sun now stands, I will fight no more forever," said Chief Joseph.
His story and the story of his people is one of a tragic end to a beautiful way of life. Gaining an understanding of Chief Joseph brings Judd's piece of extraordinary iconography to life.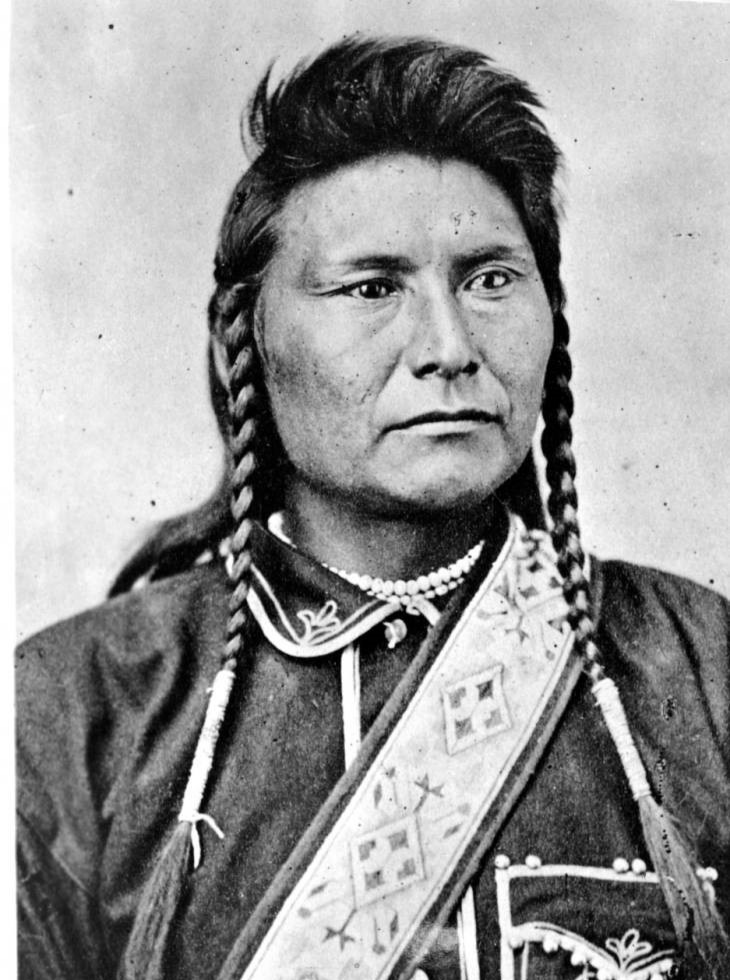 A Unique Canvas
A profusion of color blankets the bottom of the board, making up the face and headdress of Chief Joseph. Being only one of 200 in existence, it would be difficult to find a comparable piece of functional art in another museum. The captivating design is a testament to beautiful, resilient cultures that have weathered storms of oppression to survive. These cultures continue to face major issues today. For example the disappearance or death of thousands of Native women every year. The stories of Native Americans are too often overlooked, that is why artists like Judd are so essential in making sure Native voices are heard. Art speaks in ways that words cannot. It can pierce peoples' hearts and inspire them to be part of the necessary change we need to solve crises.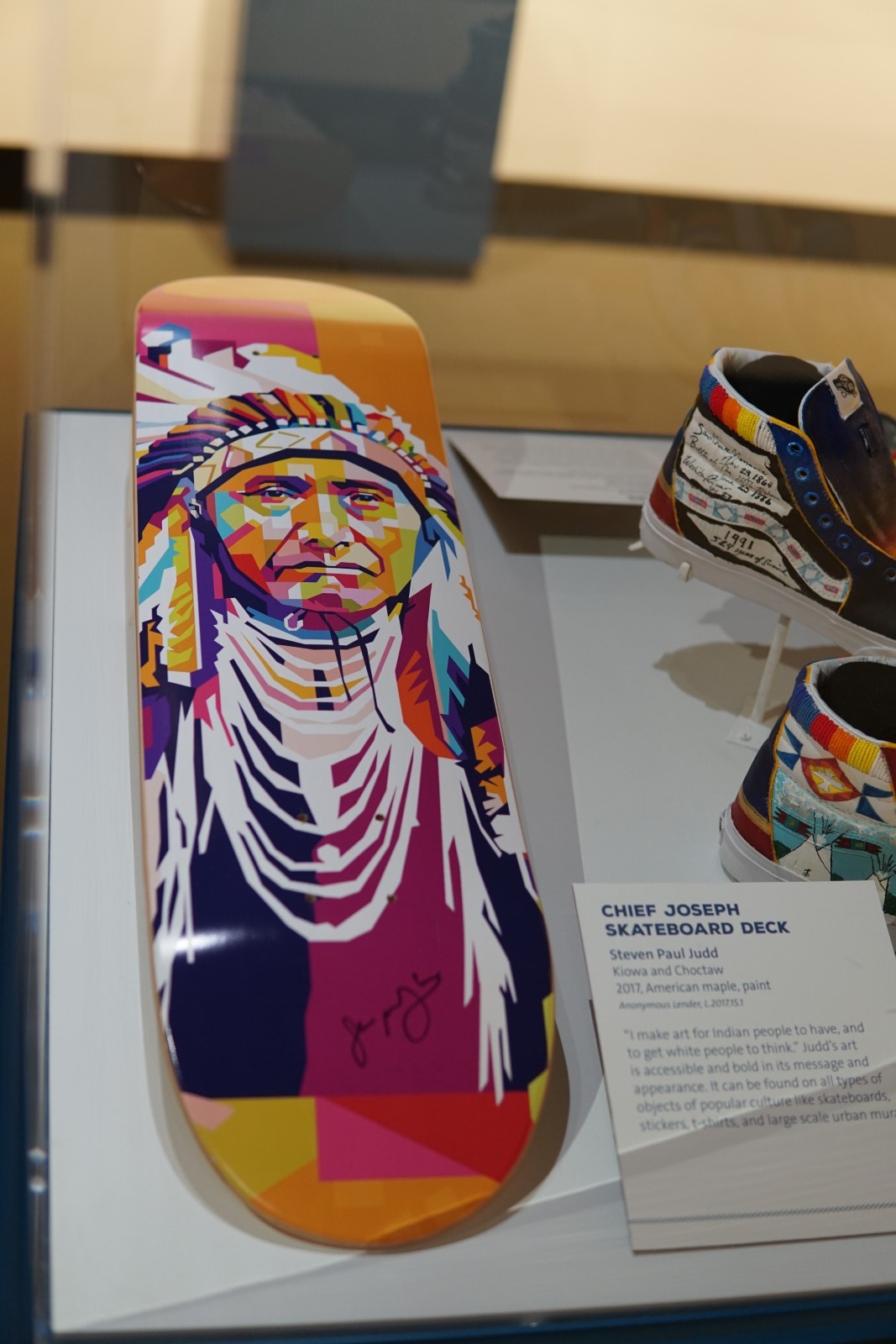 I invite you to come check out Judd's piece and other pieces of modern Plains Indian art on the lower level of the Plains Indian Museum. I hope the pieces inspire reflection and help you develop an appreciation for Native contemporary artists like Steven Paul Judd.