Originally published in Points West magazine
Spring 2020
Good Enough to Eat: "Bowl of the Wife of Kit Carson" Chicken Soup
Adapted from The Fort Restaurant Cookbook
By Holly Arnold Kinney
Photo by Lois Ellen Frank
In the spring of 1961, two years before opening The Fort restaurant near Denver, my family and I took a road trip to Mexico. When we reached Durango, some 600 miles south of the border, we tried a local soup. It was a spicy broth of chicken made with chipotle, a smoked chili pepper that gave the soup a distinctive bite and delicious smokiness.
Caldo Tlalpeño is the soup's proper name, but no one at our restaurant could pronounce that, or knew what it meant. Despite its innate deliciousness, the soup did not sell. One day Leona Wood, the septuagenarian who ran our gift shop / trade room on weekends, told us that she remembered "my grandmother serving us this dish!" She was the last granddaughter of frontiersman Kit Carson, and with a little genealogical figuring, we dubbed the soup "Bowl of the Wife of Kit Carson."
Ingredients
2 boneless, skinless chicken breasts (about 2 pounds)
4 to 6 cups chicken broth
1/4 tsp dried Mexican leaf oregano, crumbled
1 cup cooked rice
1 cup cooked, dried garbanzo beans, or canned garbanzos, rinsed and well drained
1 minced chipotle chili (canned), packed in adobo
4 to 6 oz. diced Monterey Jack or Havarti cheese
1 to 2 ripe avocados, peeled, pitted, and sliced
4 to 6 sprigs fresh cilantro (optional)
1 fresh lime, cut into 4 to 6 wedges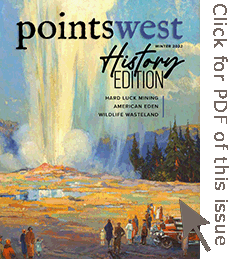 Method:
Place the chicken breasts and broth in a large saucepan. Bring to a boil over medium-high heat, skimming off and discarding any foam that rises to the top. Turn off the heat, cover, and allow the chicken to poach gently for 12 minutes. Remove the chicken from the pot and cut into strips, about 1.5 inches long. Return the chicken strips to the broth and add the oregano, rice, garbanzos, and chipotle.
Divide the cheese among 4 to 6 deep soup bowls. Return the soup to a boil, then ladle it into the bowls. Garnish each portion with avocado slices, cilantro (optional), and lime wedge. Serve with hot tortillas.
Post 343