When:
September 20, 2014 @ 6:00 pm – 11:59 pm
2014-09-20T18:00:00-06:00
2014-09-20T23:59:00-06:00
Where:
Buffalo Bill Center of the West
720 Sheridan Avenue
Cody, WY 82414
USA

Cost:
Contact us for information
Contact:
Rebecca Taggart
307-578-4025
Annual Patrons Ball
Thank you to all who supported the Buffalo Bill Center of the West by attending our 38th Annual Patrons Ball on September 20, 2014. This is our major fundraising event of the year—and the premier gala of the Rocky Mountain region. All proceeds benefit the programs and public activities of the Center. Our guests enjoyed the music of the Denny Leroux Orchestra and fine dining prepared by Chef Ryan Boehme and Bravo Catering. To find out more about Patrons Ball ll 307-578-4008 or e-mail patronsball@centerofthewest.org. Patrons Ball is the culmination of Rendezvous Royale, a weeklong celebration of the arts in Cody. For general information, visit the Rendezvous Royale website.
---
Car Raffle:
UPDATE, September 20, 2014: We've drawn for our 2014 raffle car. Congratulations to our winner, Michael from Wellington, Florida, who had ticket #1343. A heartfelt thank you to everyone who purchased tickets for this year's successful fundraiser.
This annual raffle supports the programs and activities of the Buffalo Bill Center of the West in the process! This year's car was a 1970 Ford Mustang Mach 1. Click here to find out more about the car's features.
All proceeds benefit the Buffalo Bill Center of the West. Need not be present to win. Any applicable taxes are the responsibility of the winner. Void where prohibited by law. Must be 18 or older to enter. Car must be collected within 30 days of drawing. Raffle tickets are not tax deductible.
---
Thank you to our 2014 Sponsors!
'Spirit of the American West' sponsors: Chevron and Marathon Oil Corporation.
'Scout' sponsor: University of Wyoming; Hirtle, Callaghan & Co. Inc. 'Buffalo Bill' sponsors: Candace Alexander McNair; Gordon Barrows; Margot Wilkinson; Fran & Lenox Baker; Carol McMurry & Pat Spieles; Jim & Ginger Dager; J.D. and Elizabeth Radakovich; Groathouse Construction 'Pahaska' sponsor: Bill & Robin Weiss 'Annie Oakley' sponsor: Rusty & Deborah Rokita; J.P. Morgan; Sierra Trading Post 'Stagecoach' sponsor: Mr. John O. Housel Underwriting and sponsorship opportunities for this annual event are always available: click here for Sponsorship Opportunities. E-mail Gina Schneider or call her at 307-578-4030 with any questions.
---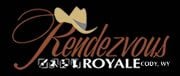 Patrons Ball is the finale to Rendezvous Royale, a week of the best of absolutely everything western in Cody, Wyoming! Join us for the excitement of a nationally recognized art show and a spirited auction of the best contemporary western art, and the best in western furniture and fashion with Cody High Style. Visit the Rendezvous Royale Web site for more information.
---
For information on all events, please visit our Events page.