When:
September 23, 2017 @ 6:00 pm – 11:59 pm
2017-09-23T18:00:00-06:00
2017-09-23T23:59:00-06:00
Where:
Buffalo Bill Center of the West
720 Sheridan Avenue
Cody, WY 82414
USA

Cost:
Fundraiser: $350 per person
Contact:
Rebecca Taggart
307-578-4025
41st Annual Patrons Ball
September 23, 2017
Begins at 6 p.m.
The Buffalo Bill Center of the West presents its annual fundraising gala, Patrons Ball. This black-tie event is our major fundraising extravaganza of the year—and the premier gala of the Rocky Mountain region. Enjoy cocktails, a gourmet dinner, dancing, a silent auction, and raffles.
All proceeds benefit the programs and public activities of the Center of the West. To find out more about Patrons Ball ll 307-578-4008 or e-mail [email protected]. Patrons Ball is the culmination of Rendezvous Royale, a weeklong celebration of the arts in Cody, which also includes the Buffalo Bill Art Show and By Western Hands. For general information, visit the Rendezvous Royale website.
Check out all of the great events and register by going to the Rendezvous Royale website.
A Special Thank you to Rene Gordon from Renaegade Photography for all of the great candid photos! If you have any questions, please feel free to contact her at (307) 250-1628
---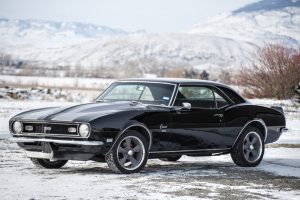 We have winners for 2017 raffles!
The 1968 Chevy Camaro is ticket number 14318 from Baker, LA. The winner of the Kentucky Flintlock Rifle is ticket number 988998 from Pocatello, ID.
1968 Chevrolet Camaro:
Extensive restoration
Tuxedo black with jaguar silver racing stripes
Hot tanked and machined 454 big block
Rebuilt Muncie 4-speed manual transmission
17-inch rocket wheels with new Goodyear tires
Black and white houndstooth interior
Tickets for the car raffle were $20 each or 6 for $100.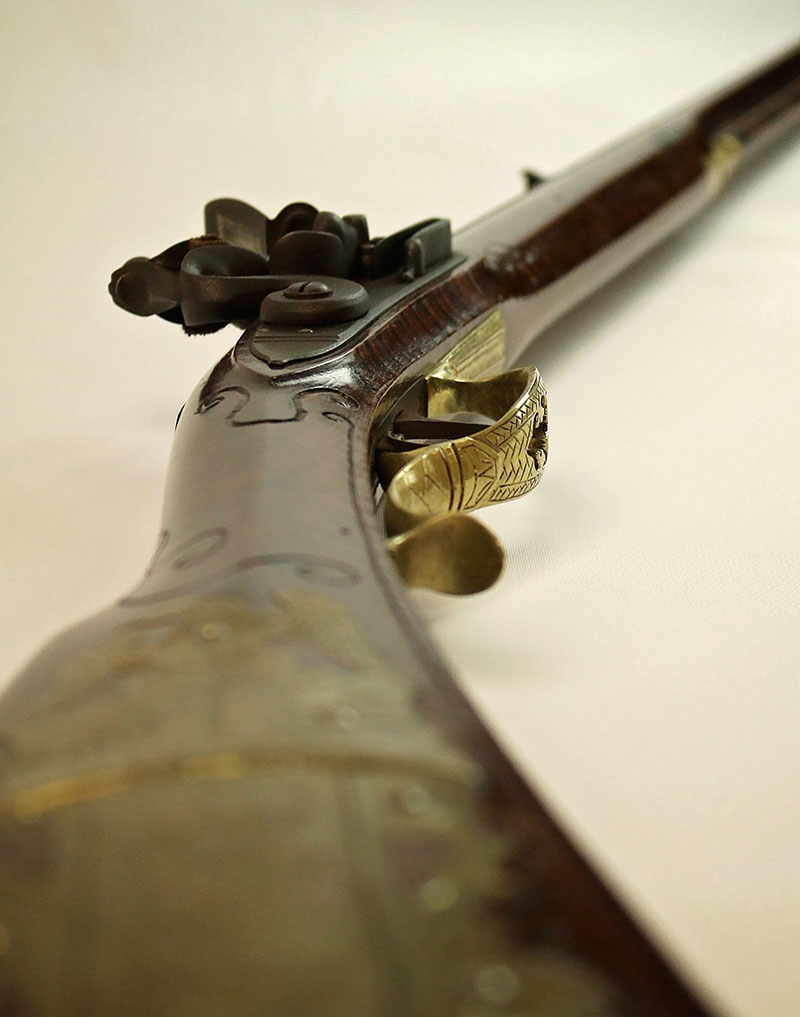 1995 Kentucky Flintlock .45 Rifle:
This year, in addition to our raffle car, the Buffalo Bill Center of the West has added this beautiful rifle to our roster of raffle prizes. It's a Kentucky Flintlock .45 rifle, made in 1995 by Greg S. Murry. The lucky winner of the raffle also receives, along with the rifle, a suede case, powder horn, and charging horn.
Tickets for the rifle raffle were $10 each or 6 for $50.
Raffle drawings take place at our annual Patrons Ball the fourth Saturday of September each year. Need not be present to win. Click here for all Raffle Rules.
---
Sponsorship Opportunities:
Underwriting and sponsorship opportunities for this annual event are always available: E-mail Rebecca Taggart or call her at 307-578-4025 for more information. 2017 Patrons Ball Sponsorship Opportunities
Thank you to our 2017 Sponsors:
Scout Sponsors:
Naoma Tate and the Family of Hal Tate
Fran & Lenox Baker
Roy & Caryl Cline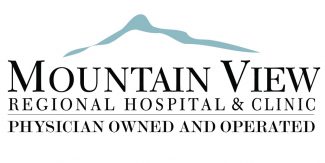 Buffalo Bill Sponsors:
David & Niina Barrows in the Memory of Gordon Barrows
Jim & Ginger Dager
Mary Anne & Bill Dingus
Fred & Linda Dowd
Margaret & William Frère
David & Cynthia Hayes
Larry & Susan Patrick and Big Horn Radio Network
Merlin Ranch, Mark & Jennie Gordon
Candace Alexander McNair
Carol McMurry & Pat Spieles
Bill & Lisa Wirthlin
Pahaska Sponsors:
Dine Dellenback
Dick & Maggie Scarlett
Stokely Hospitality Enterprises
Annie Oakley Sponsors:
Cloud Peak Energy
Groathouse Construction
Rusty & Deborah Rokita
Stagecoach Sponsor:
E-mail Rebecca Taggart or call her at 307-578-4025 with any questions.
---
Silent Auction:
Each year we receive wonderful silent auction items from various donors.  Please note these items will be available for purchase the week of Rendezvous Royale.
Should you wish to donate items to the silent action, please download the Patrons Ball Donation Form and return it o Rebecca Taggart (307) 578-4025 [email protected].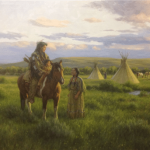 The Family by Robert Duncan
Donated by Rip & Susan McIntosh
---
Special Thank You:
A special thank you goes out to the Patrons Ball Committee, without whom we could not organize this gala.
---
Patrons Ball is the finale to Rendezvous Royale, a week of the best of absolutely everything western in Cody, Wyoming! Join us for the excitement of a nationally recognized art show and a spirited auction of the best contemporary western art, and many other events. Visit the Rendezvous Royale Web site for more information.
---
For information on all events, please visit our Events page.