Family activities at the Center of the West
At the Buffalo Bill Center of the West we know how to have fun with a variety of family programs! For more information on future family-friendly programs and activities, e-mail Emily Buckles or call her at 307-578-4110.
Looking for fun and educational activities you can do from home? Come explore the alpine habitat of the Greater Yellowstone Ecosystem using this new and engaging interactive! Learn about this special habitat and the amazing animals that live there with 360 photos, immersive videos, activities and content. This resource is perfect for students, teachers, and families! And, teachers—all content is standards and inquiry based with built in assessment tools.
Educator Megan Smith recently took viewers on the 360 Adventure through a Live Skype in the Classroom event! Click here to watch the video and explore with Megan.
---
Family Fun Days
Family Fun Days, supported in part through a generous grant from the R. Harold Burton Foundation, generally take place in October, November, and January.
Hootin' Howlin' Halloween: Friday, October 30
We're planning a modified version of this popular Halloween Family Fun Day this year, with the health and safety of all participants in mind. Cost is $2 per person, with online registration and further details coming soon!
Family Fun Days are supported in part by the R. Harold Burton Foundation.
---
Summer Workshops and Camps
Summer usually brings camps and workshops for youth—everything from art day camps to overnight field trips. This past summer we did some virtual workshops instead.
Winter Workshops
The cure for cabin fever for the kids during the winter! Our art-themed workshops generally take place in February and March. Next winter we will post them here.
Educational programs are made possible in part through a generous grant from the R. Harold Burton Foundation.
---
Looking for some fun arts and crafts projects for the kids?
Check out these step-by-step instructions of several projects and share these activities with your family.
---
Take a look at some past activities:
We've had a ton of fun at our summer family fun days. Click here to visit our Family Fun Day photo album on Facebook.
At one Family Fun Day, we enjoyed family activities all about food! Attendees learned Dutch oven cooking basics from "Cookie" Ron Reed, took turns at the hand crank to make ice cream, learned the art of cake decorating, and planned out a menu for Buffalo Bill's Wild West. Some of our guests even shared their favorite family recipes: CLICK HERE to download our "Tasty Traditions Family Recipes" booklet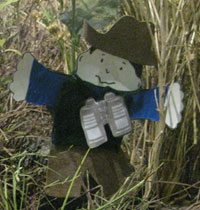 At another of our Family Fun Fridays, Where's Stanley at the Museum? kids had a great time with an activity that combined elements of the well-known book series Where's Waldo and Flat Stanley.
CLICK HERE to check out some of stories and pictures they created, and download an activity to do yourself!
---
For more information on our family programs, e-mail Emily Buckles or call 307-578-4110.
To find out about other upcoming events at the Buffalo Bill Center of the West, click here.