Family activities at the Center of the West
At the Buffalo Bill Center of the West we know how to have fun with a variety of family programs! For more information on future family-friendly programs and activities, e-mail Emily Buckles or call her at 307-578-4110.
While visiting the Center, families with children can enjoy a break from the indoor galleries at our garden play area! Have the kids expend some of that excess energy on this western-themed playground, built with community volunteer help in 2016.
Family Fun Days
Don't miss our Family Fun Days through the fall and winter—October, November, and January. Supported in part by the R. Harold Burton Foundation, Family Fun Days are free for Center of the West members and just $10 for non-member families.
Check out these upcoming workshops and classes for kids
---
Summer Workshops and Camps
Summer brings camps and workshops to the Center—everything from art day camps to overnight field trips. We'll post details about our 2019 offerings in the spring!
Educational programs are made possible in part through a generous grant from the Harold R. Burton Foundation, and an award from the Wyoming Arts Council through funding from the National Endowment for the Arts.
---
Looking for some fun arts and crafts projects for the kids?
Check out these step-by-step instructions of several projects and share these activities with your family.
---
Take a look at some past activities:
We've had a ton of fun at our summer family fun days. Click here to visit our Family Fun Day photo album on Facebook.
At one Family Fun Day, we enjoyed family activities all about food! Attendees learned Dutch oven cooking basics from "Cookie" Ron Reed, took turns at the hand crank to make ice cream, learned the art of cake decorating, and planned out a menu for Buffalo Bill's Wild West. Some of our guests even shared their favorite family recipes: CLICK HERE to download our "Tasty Traditions Family Recipes" booklet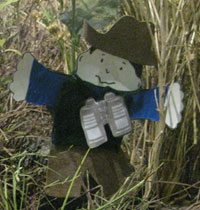 At another of our Family Fun Fridays, Where's Stanley at the Museum? kids had a great time with an activity that combined elements of the well-known book series Where's Waldo and Flat Stanley.
CLICK HERE to check out some of stories and pictures they created, and download an activity to do yourself!
---
For more information on our family programs, e-mail Emily Buckles or call 307-578-4110.
To find out about other upcoming events at the Buffalo Bill Center of the West, click here.