Teacher and Student Resources
The Buffalo Bill Center of the West offers these many resources for teachers and students, including tour maps, Skype in the Classroom lessons, and our Education Opportunities Guide.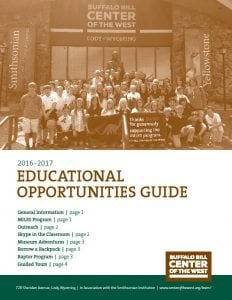 Educational Opportunities Guide
Click here for our downloadable Educational Opportunities Guide
and find out more about the educational opportunities you can find with the Buffalo Bill Center of the West.
Self-guided Tour Maps
The following self-guided tour maps are available for students and teachers to print and use in the museums of the Center:
Borrow a Backpack
Consider checking out one of our new backpacks while at the Center! This new resource will enhance your self-guided field trip experience through hands-on learning. Click here to find out more. Call 307-578-4028 today to reserve a backpack and other materials for your field trip.
Teacher Guides for our Guided Tours
The following guides are available for teachers to print. Each guide contains objectives, standards, pre- and post-visit activities, and a resource list.
Skype in the Classroom
The Buffalo Bill Center of the West is part of Skype in the Classroom. You can visit the Center virtually by signing up for one of our participatory lessons. Click here to find out more about this program and schedule a Skype lesson with us!
Lending Materials
The Buffalo Bill Center of the West also offers outreach trunks, learning kits, and DVDs on a variety of subjects, including western art, history, culture, Yellowstone natural history, and more. Click here to find out the details and submit a request online.
Center of the West Online Collections
Visit our new Online Collections database, where you and your class can browse our artifact collection and create your own "Virtual Exhibits."
Online Games and Interactives
Don't miss our new online games and interactives—as fun as they are educational.
Greater Yellowstone Sights and Sounds
Click here for short video clips, perfect for illustrating a school project.
Wyoming and Montana State Standards
All of our school services meet Wyoming and Montana state standards. Please click on a link below to view your state's standard correlation chart.