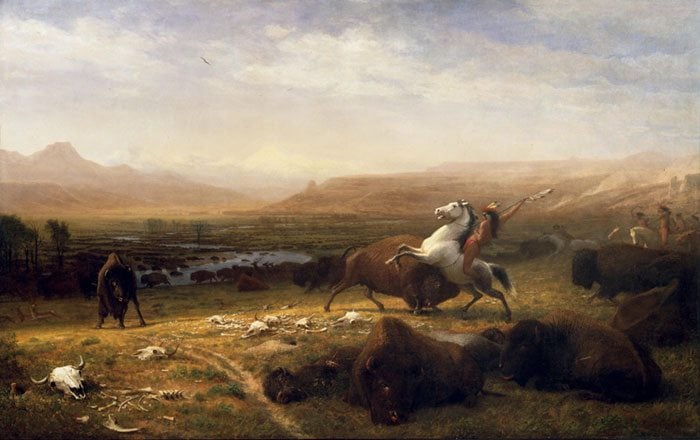 Editor's Note, April 14, 2014: These exhibitions in Georgia have now closed.
From November 3, 2013 – April 13, 2014, the Buffalo Bill Center of the West in Cody, Wyoming, shared its extraordinary collection with museums in Georgia. Go West! Art of the American Frontier from the Buffalo Bill Center of the West at the High Museum of Art in Atlanta featured artwork from the Center of the West's Whitney Western Art Museum, as well as objects drawn from the collections of the Center's other four museums. An exhibition of contemporary art ran concurrently at the Booth Western Art Museum in nearby Cartersville.
The larger exhibition of the two exhibitions, Go West! included a century of art—1830 to 1930—from the American West. Highlighting the role of visual images in defining the idea of the frontier in the nineteenth and early twentieth centuries, the exhibition featured more than 250 works of art and artifacts including paintings, drawings, sculpture, photographs, posters, frontier firearms, and objects from Native American cultures drawn from the Center of the West's unparalleled collections.
Together the objects in Go West! showcased the exploration and settlement of the American West, and highlighted the ways visual images and stories of explorers and legendary western celebrities like William F. "Buffalo Bill" Cody continue to inform American identity and character today.
"The art from this time period was instrumental in shaping our perceptions of the American West," says Mindy N. Besaw, Curator of the Whitney Museum at the Center of the West and co-curator of Go West! "For example," Besaw continues, "whether visitors to Yellowstone Falls realize it or not, their view of the panorama was informed and shaped by nineteenth-century images such as that by noted western artist Thomas Moran."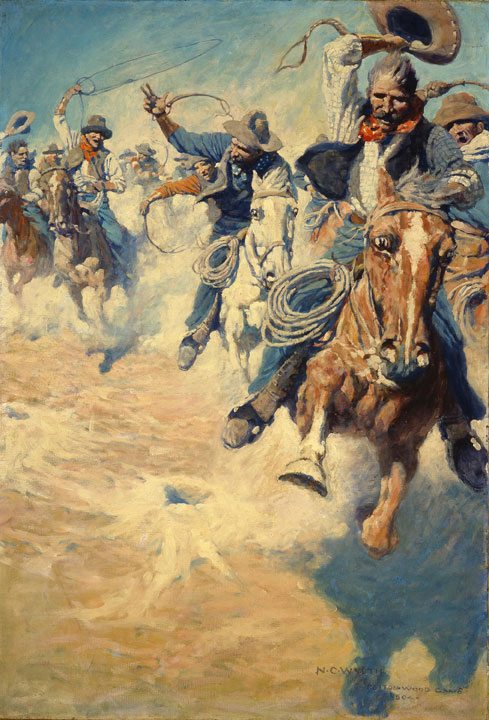 Highlights of Go West! included artwork created for Buffalo Bill and his Wild West; majestic landscape paintings of the American West by the likes of Moran and Albert Bierstadt; two and three-dimensional works by cowboy artists Frederic Remington and Charles Russell; frontier firearms and promotional ads about them; Plains Indian objects; and large plate photographs by survey photographers such as William Henry Jackson.
Go West! demonstrated how, by the early twentieth century, these early representations and objects gave way to widespread perceptions of the West—and America's growing romance with it. The High's Stephanie Mayer Heydt, co-curator of the exhibition, adds, "The exhibition strives to thoughtfully present visual representations from this period from multiple cultural vantage points. Stories of the West not only continue to permeate American culture today, but also influence our contemporary values of opportunity and innovation." An illustrated catalogue published by the High in association with Yale University Press accompanies the exhibition.
The second exhibition, at the Booth Western Art Museum in Cartersville, was drawn from the Whitney Museum's contemporary collection. Today's West: Contemporary Art from the Buffalo Bill Center of the West explores the artistic developments that have occurred in western art over the past 50 years and continue to evolve. Today's West! included 60 contemporary masterworks in a variety of media, and shows that the West—real and imagined—still provides powerful stimuli for new generations of artists.
Represented in Today's West! were artists tied to the Institute of American Indian Arts including Fritz Scholder, T.C. Cannon, Allan Houser, Earl Biss, David Bradley, and Kevin Red Star; Cowboy Artists of America members such as Joe Beeler, T.D. Kelsey, Robert Lougheed, James Reynolds, and Robert Scriver; important living women artists like Donna Howell-Sickles, Kathy Wipfler, Juane Quick-to-See Smith, Anne Coe, Linda Raynolds, and Carrie Ballantyne.
Today's West also included work by artists who push the envelope of the western art genre with abstract form, social commentary, photo realism, new materials, and borrowing from earlier artists or pop culture. These include Tom Palmore, Paul Pletka, Thom Ross, Bill Schenck, and Theodore Waddell.
Go West! and Today's West! closed at their Georgia venues on April 13, 2014.
Go West! was co-organized by the High Museum of Art and the Buffalo Bill Center of the West, and was made possible by the Arthur M. Blank Family Foundation; the James M. Cox Foundation, a Patron of the High Museum of Art; the Fraser-Parker Foundation and the Isobel Anne Fraser-Nancy Fraser Parker Exhibition Endowment; the Imlay Foundation, Inc.; and the Terra Foundation for American Art. Today's West was made possible in part by a generous gift from Candace Alexander McNair, the Ron and Lisa Brill Charitable Trust, and official media partner GPB.
Images:
Albert Bierstadt (American, born Germany, 1830 – 1902). The Last of the Buffalo, ca. 1888. Oil on canvas, 60.25 x 96.5 inches. Gertrude Vanderbilt Whitney Trust Fund Purchase. 2.60
Frederic Remington (American, 1861 – 1909). The Broncho Buster, 1895. Bronze, 23.275 inches high. Gift of G.J. Guthrie Nicholson Jr. and son in memory of their father/grandfather G.J. Guthrie Nicholson, rancher at Four Bear, Meeteetse, Wyoming. 7.74
N.C. Wyeth (1882 – 1945). The Wild Spectacular Race for Dinner, 1904 – 1905. Oil on canvas, 38.135 x 26 inches. Gift of John M. Schiff. 44.83
Earl Biss (1947 – 1998). General Custer in Blue and Green, 1996. Oil on canvas; 39 x 30 inches. Gift of Mr. and Mrs. Charles B. Israel of Aspen, Colorado. 18.00
Tom Palmore (b. 1945). Where Elegance Meets Fear, 1996. Oil on canvas, 46 x 46 inches. Gift of Edward R. Bazinet Foundation. 22.96
Contact: Mindy Besaw, or 307-578-4053.