Originally published in Points West magazine
Spring 2018
Good news and bad news, Russell or Heikka?
By Peter Hassrick, PhD
The Buffalo Bill Center of the West's Whitney Western Art Museum holds, among its many national treasures, a remarkable and sizeable collection of works by the celebrated Montana artist Charles M. Russell. In its early iterations, what was then named the Whitney Gallery of Western Art (opened 1959) had an entire wing devoted to the productions of Russell's creative genius with more than a hundred works on display at any one time.
There was one special piece, though, that always remained sequestered in the vaults: an incredibly important painted wax model of a cowboy on a bucking horse. Known as Bronc on a Frosty Morn [Fig. 1], it is perhaps the largest and one of the earliest of Russell's single-figure waxes and, although never cast in bronze during his lifetime, represented the artist at a most vigorous and individual stage in his creative life.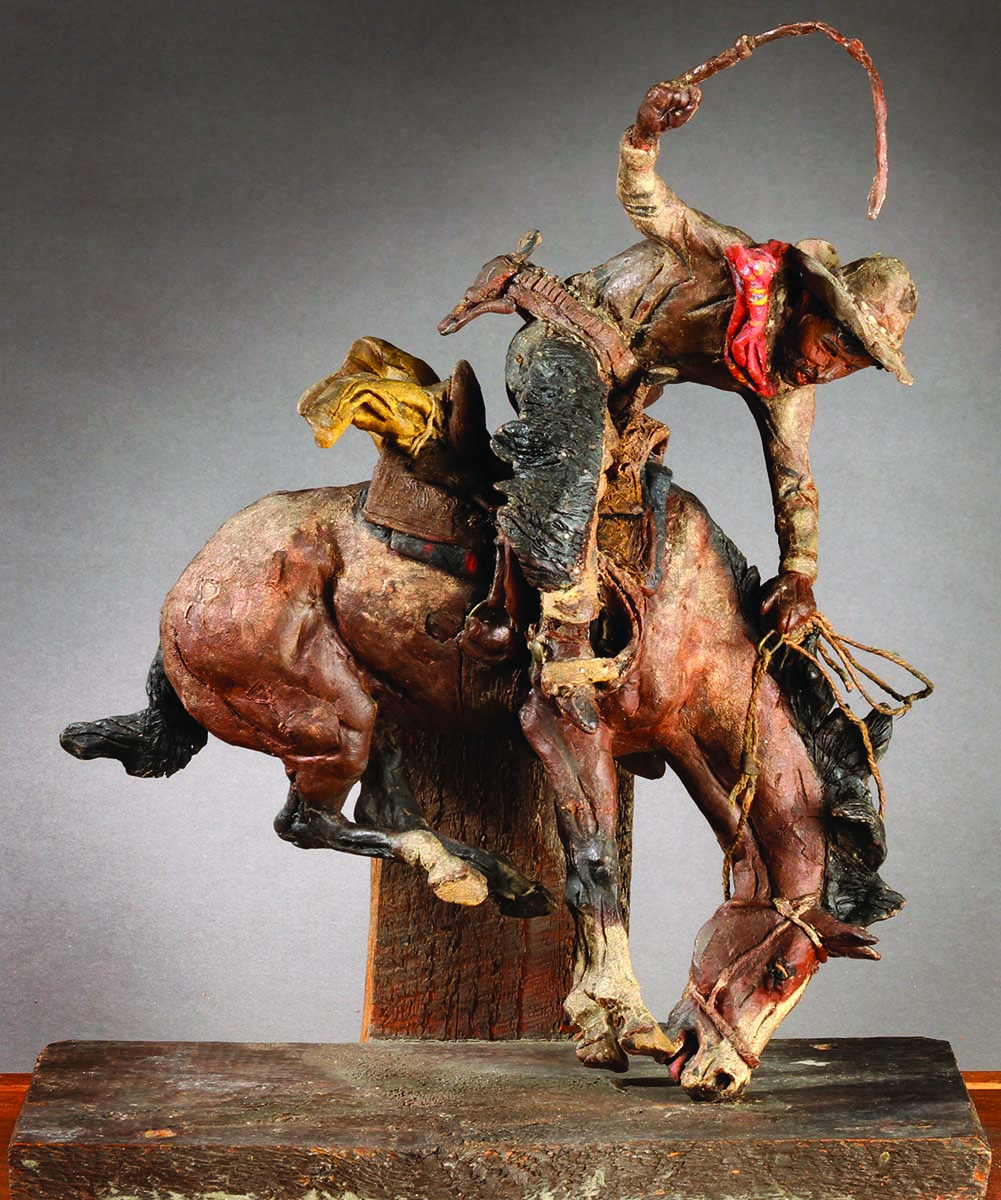 Casting for a Russell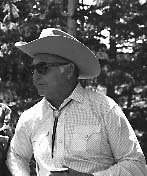 Between 1959 and 1985, one of the museum's most distinguished, devoted, and generous trustees, William E. Weiss Jr. [Fig. 2], gave the Whitney Gallery a substantial number of Russell artworks. Many of the pieces had been placed on loan since the gallery's inception in 1959 and were donated a few at a time throughout the ensuing years. Weiss's early gifts were composed of mostly oil paintings and watercolors that had once belonged to a prominent banker from Butte, Montana, one Andrew "Andy" Jackson Davis Sr. and his family. Davis had acquired a collection of forty-seven Russell works to decorate his home. Eventually, the pieces were passed down to his son, Andrew Jackson Davis Jr., also of Butte, whose widow sold them in 1956 to M. Knoedler & Co., a commercial gallery in New York City. Weiss purchased the entire Davis collection in 1959.
One piece from that collection stood out: the wax model of the Bronc on a Frosty Morn. It had probably been purchased directly from the artist by Andy Davis prior to 1909. Weiss donated the polychromed sculpture to the museum in 1968, and then-director Dr. Harold McCracken accepted it as an original Russell work. There was no question about McCracken's credentials as a student of Russell and his waxes. By the date of the Weiss gift, McCracken had written two important books on the artist, one of which was a 1957 catalogue of the Homer E. Britzman collection which contained more than a hundred Russell waxes acquired from the estate of Nancy Russell, the artist's widow.
There was an additional premium with the donation of Bronc on a Frosty Morn: Weiss and McCracken decided that three bronze castings should be made of the work before it came into the museum's possession. One casting would be retained by Weiss; one would become part of the Whitney Gallery's collection [Fig. 3], and the third would be sold publicly to generate funds for acquisitions of art by the museum. That third bronze was marketed by the Kennedy Galleries in New York as a signed, posthumous casting.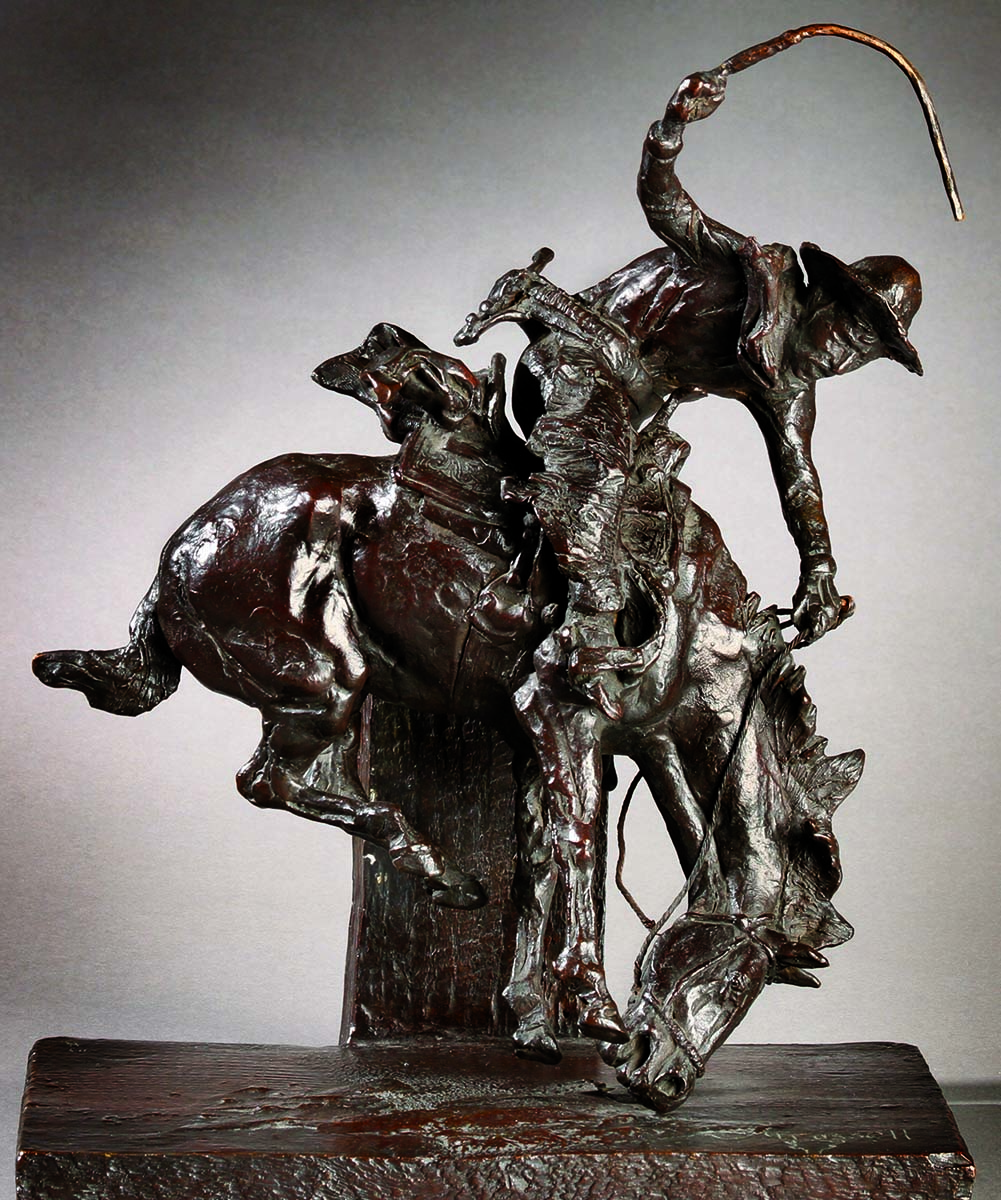 The original wax figure is mounted on a wooden upright support which is attached to a wooden base—and it is unsigned. The bronzes, cast by Roman Bronze Works in New York, however, were signed "CM Russell" and inscribed with his buffalo skull monogram on the base. All parties involved in the project were so convinced of the Russell authorship that it seemed not to matter that they were authorizing an ersatz signature to be placed on the bronze versions.
Then, something strange occurred. The esteemed Russell authority, Frederic G. Renner, asserted that while the wax bronco was well-executed, it was not Russell's work. Instead, Renner insisted in the late 1960s that the wax should be attributed to a far less heralded and capable Montana sculptor, an artist forty-six years Russell's junior, Earle E. Heikka. The records of the museum were accordingly altered, and the work disappeared into the institution's vaults.
There are at least two perplexing aspects about Renner's recommendation and the museum's decision to change the object record. First, the Davis family had originally hired Renner in 1956 to assess their Russell collection. He personally inspected the wax and listed it by title in a document labeled Works of Art by Charles M. Russell: Catalogue of the Mrs. Andrew Davis Collection under the category of "Models." Why he would change his mind a dozen years later is confounding. And, why McCracken—who had accepted the wax as an original Russell sculpture in 1968—would accede to such a revision is equally mystifying.
Heikka or Russell?
Nonetheless, when I became museum director (and temporary Whitney Gallery curator) in 1976, I foolishly disregarded the piece. Not being especially interested in Heikka's work, I ignored it in any reviews I undertook of the art collections. The standard Heikka source book, Vivian A. Paladin's E.E. Heikka: Sculptor of the American West, 1990, listed the wax and bronze versions of Bronc on a Frosty Morn as Heikka works. When the eminent Russell scholar Rick Stewart published his definitive treatise, Charles M. Russell: Sculptor, in 1994, he knew the piece had once existed since it appeared in a 1909 photograph of a Russell exhibit in Butte—and Heikka was not born until the next year [Fig.4]. But neither Stewart nor I put two and two together, and he had no idea where the wax sculpture's home might be.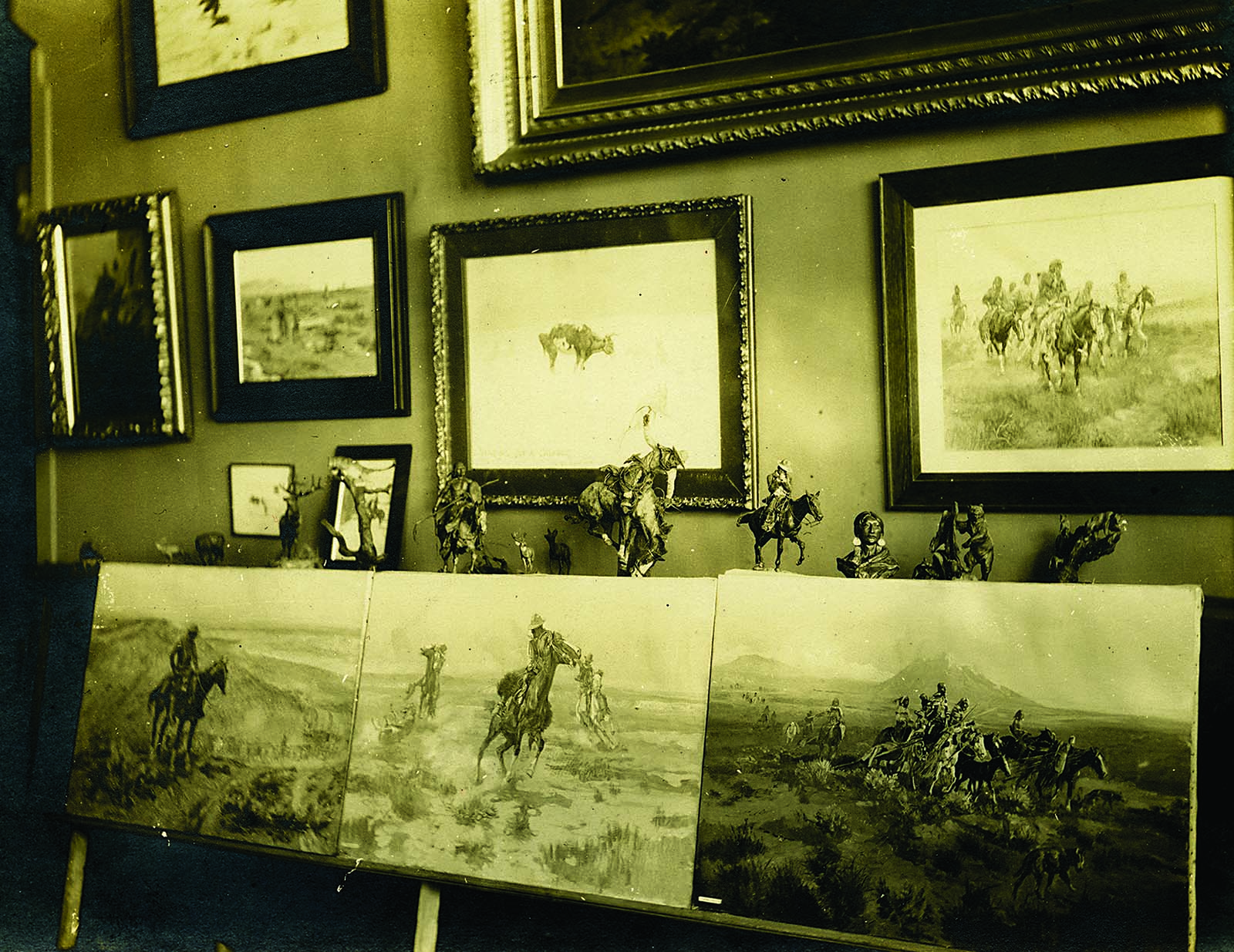 In 2005, the Whitney curator, Dr. Sarah Boehme, took time to review the wax with Russell authority Dr. Brian Dippie. They concluded that it was in fact a Russell work, but somehow the record was not changed as a result. Russell's best wax sculpture thus remained in the vaults and out of the public eye. It was not until 2016, when I received a call from an American art dealer, David DeFrancesca, that the matter captured my attention sufficiently to take a careful look. DeFrancesca had uncovered the third bronze casting of Bronc on a Frosty Morn and wondered why the museum was listing the companion works as Heikka sculptures. He produced a copy of the Butte exhibit photo, and he and I visited the vault to make a careful review. There was instantly no question for either of us that what we were looking at was an original Russell wax. It was a revelation to me, for sure. Weiss and McCracken had been right all along!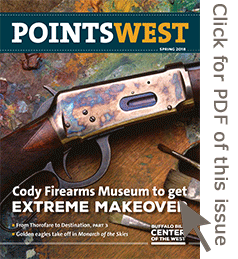 As McCracken and Weiss no doubt understood, Russell's painted waxes have special significance. First, they present Russell—an inveterate modeler of wax throughout his career—at the primary stage of creation as a sculptor. What one sees is the immediate, inventive gesture of the artist.
Secondly, by painting his sculptures, Russell introduced a time-honored practice that was relatively novel among sculptors of his day. In these works, we discover Russell as a witness of and a chromatic respondent to the full range of details that his world had to offer. The rich scarlet kerchief around the neck of the temporarily aloft cowboy is visually tied back to his horse with a few red highlights in the saddle blanket [Fig. 1]. The creamy white stockings on the horse's lower legs as they plunge toward the earth mirror the color of the rider's hat that at any moment may be sent skyward. And, with its opacity, the ochre-colored oilskin slicker that flaps behind the saddle hints at its own readiness to shelter the bronc's vanquisher on days when rain brings them both to a quiescent halt, hunkered down together against a storm.
Signature broncs
In 1982, the I.B. Bloxom family of Virginia offered the museum a painted plaster cast of the Heikka sculpture Cowboy on a Bucking Horse [Fig. 5]. Since we had so few examples of his work, we accepted the gift. We moved it to the vaults beside Bronc on a Frosty Morn. At that moment, had we taken the time to review the works side-by-side, we would no doubt have concluded the true authorship of the latter. Although quite rare, and about the same size as the Russell wax, Heikka's Cowboy on a Bucking Horse, with its muted colors, stiffly frozen, awkward form, and smoothly textured surfaces, lacks much of the visual excitement of its Russell counterpart. Missing is a real sense of action—of kinetic force and vitality of handling.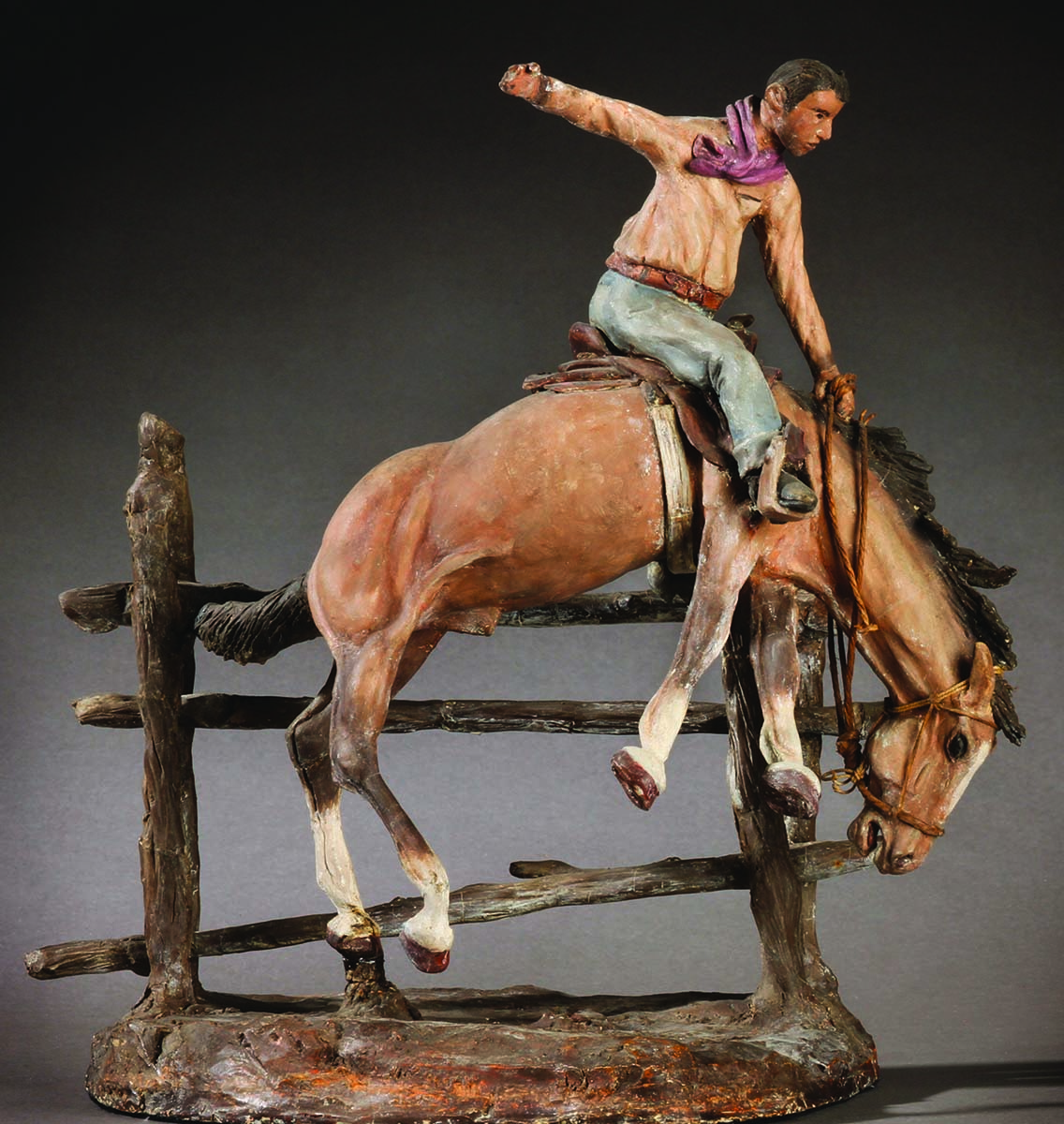 Comparing Russell's works in other media in which he used a composition similar to Bronc on a Frosty Morn—such as a watercolor Bucking Bronco at the Eiteljorg Museum in Indianapolis—suggests that the sculpture may have been created in 1899. Recent XRF (X-ray Fluorescence) spectroscopy readings on the Heikka and Russell pieces also help to date the Russell wax. Its lead white highlights would indicate production some time before the turn of the last century. On the other hand, the Heikka plaster, dating from the early 1930s, reveals zinc white highlights—and zinc was not commonly used by artists until the 1920s and after.
For Russell, the bucking horse in any medium was a signature image. From his earliest paintings in the mid-1880s, he incorporated the theme into the forefront of many of his compositions. His 1915 watercolor, Bronco Buster [Fig. 6]—which Weiss donated in 1972—is an example of his mature treatment of the subject. We also know that Russell explored the bucking horse and rider as protagonists in early sculptures. A photograph, dated around 1897, pictures the artist showing off a wax sculpture of a bucking bronco quite similar to Bronc on a Frosty Morn [Fig. 7]. This sculptural duo suggests that Russell enjoyed articulating the contest between man and horse in three dimensions rather early in his career.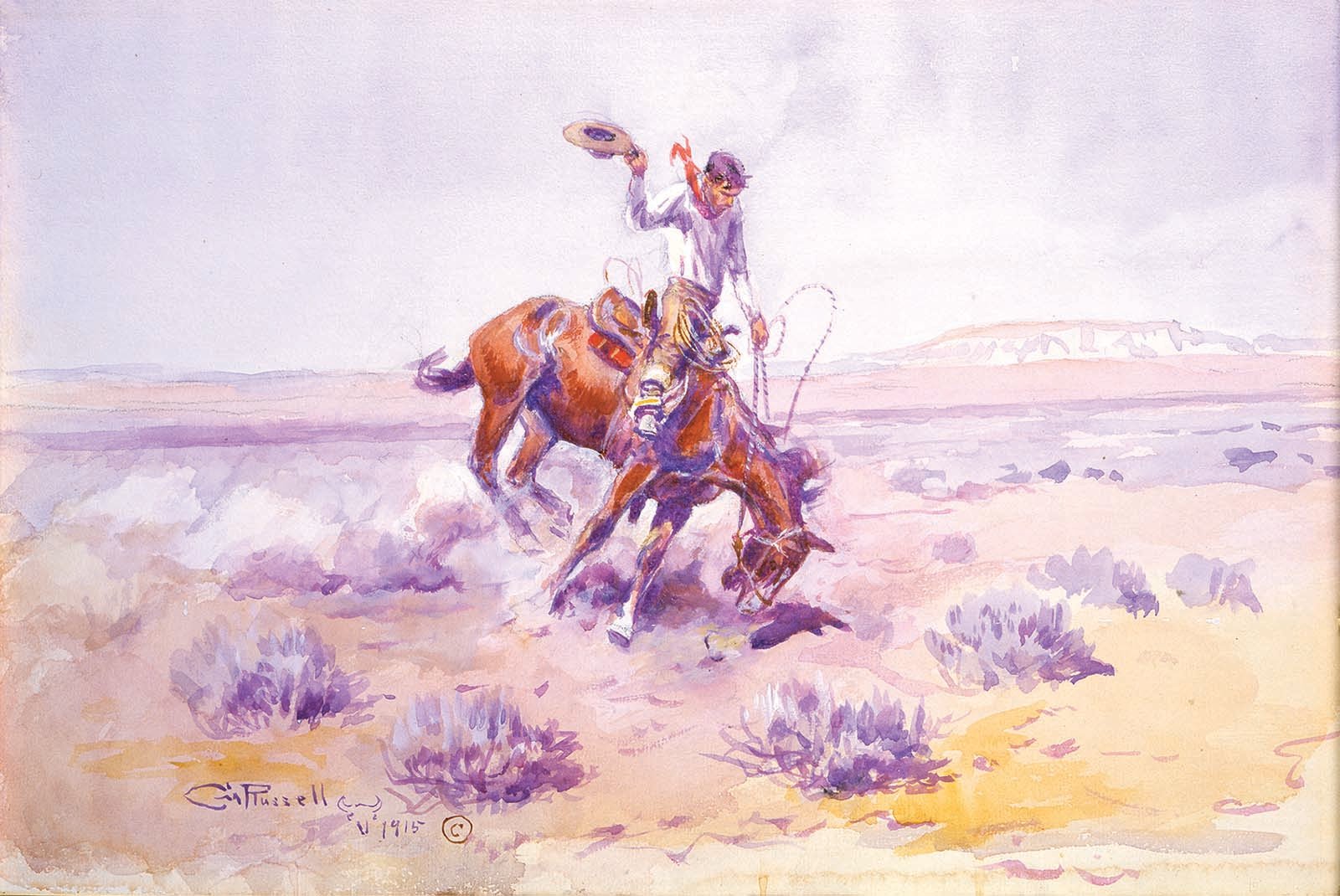 Today, the Whitney Western Art Museum holds a collection of fifty-nine Russell wax models including Bronc on a Frosty Morn. Apart from that one, all were donated in 1960 by Charles Jones, president of Richfield Oil of California, and Dr. Armand Hammer, chairman of Occidental Petroleum and founder of the Hammer Galleries in New York. Those waxes came from the estate of Russell's widow, Nancy, and had been lovingly displayed in her Pasadena home after Charlie died. The best of the lot was a painted wax titled On Neenah [Fig. 8], a self-portrait of the artist on one of his favorite horses that also appeared in the photograph of the 1909 Butte exhibition.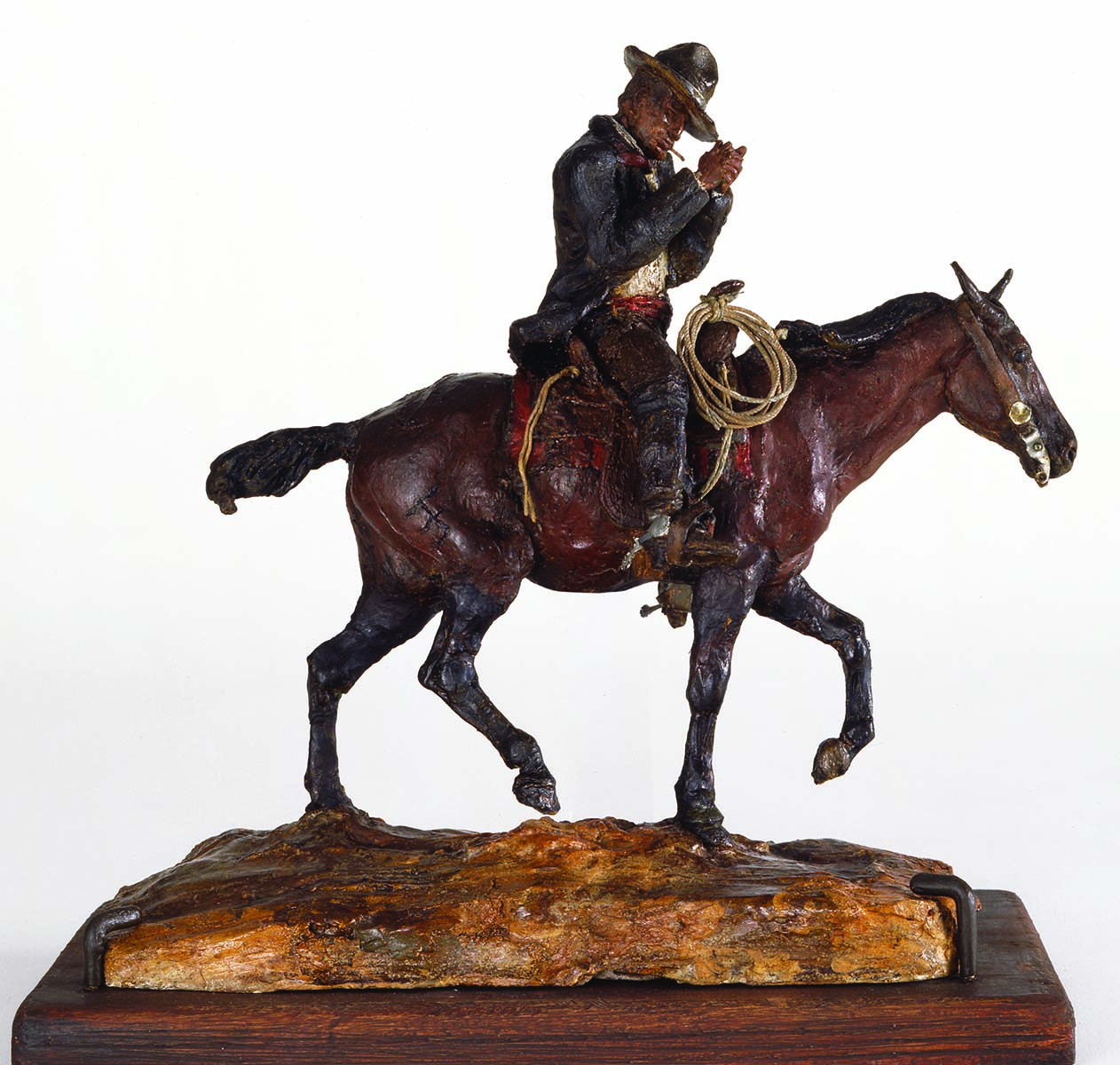 More dilemmas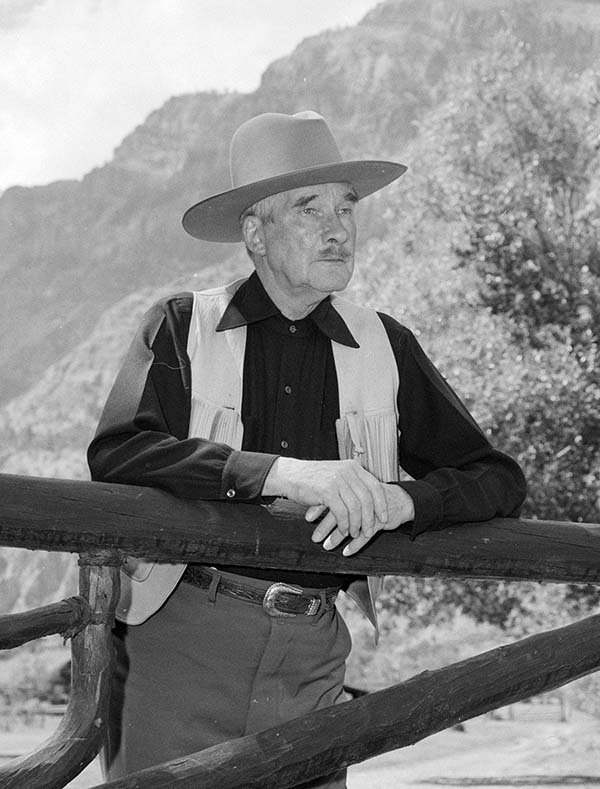 Besides Weiss, many other early museum trustees were generous with their gifts of collections. Larry Larom, a founding member of the museum's governing body, the Buffalo Bill Memorial Association, was a pioneer dude rancher [Fig. 9]. His beautiful Valley Ranch was festooned with an array of western art and artifacts. At his demise in 1973, he donated countless fine Plains Indian artifacts to the institution's first iteration of a Plains Indian Museum. Larom also made a gift in his will of an oil painting, Cowboys Roping a Steer, attributed to Charles Russell [Fig. 10], that had no doubt once decorated one of Larom's many guest cabins and service buildings on the ranch.
Although the Larom painting is clearly signed, monogramed, and dated, "CM Russell [skull] 1903," the work's underlying drawing is awkward, its coloration garish, and the signature labored. Besides myself, other museum staff have questioned the attribution of the work over the years, including Dr. Boehme, between 1988 and 2008. Recent x-rays and scans of the painting reveal no underlying signature of the real artist. Even so, the painting is now formally re-attributed to Russell's some-time friend and imitator, the Great Falls artist Olaf Seltzer. Learning the artist's identity was all the easier since research reveals that the composition and drawing in Cowboys Roping a Steer are replicated with surprising exactitude in a known Seltzer watercolor, Laying a Trap [Fig. 11], now in a private collection. The re-attribution has thus far been buoyed only by connoisseurship. Perhaps science may assist once the painting undergoes conservation later this year.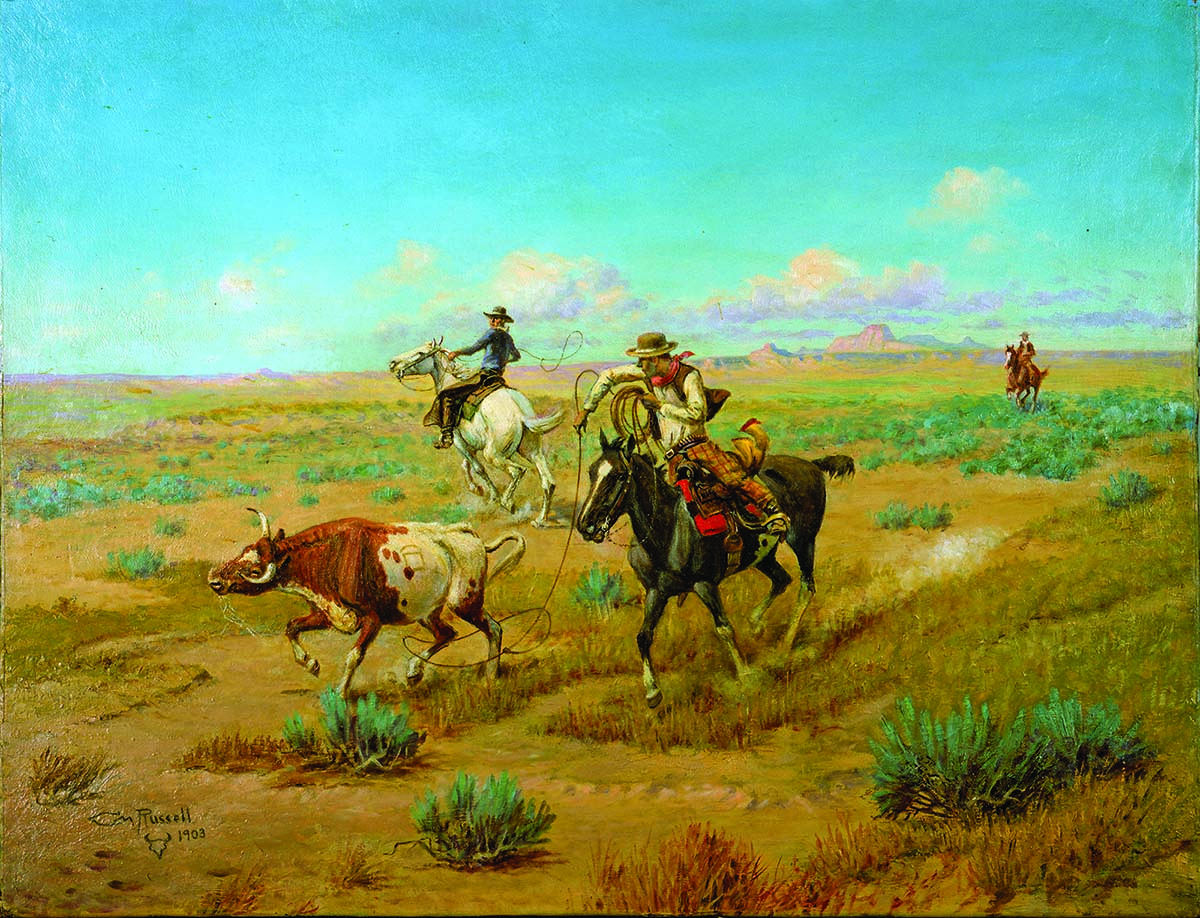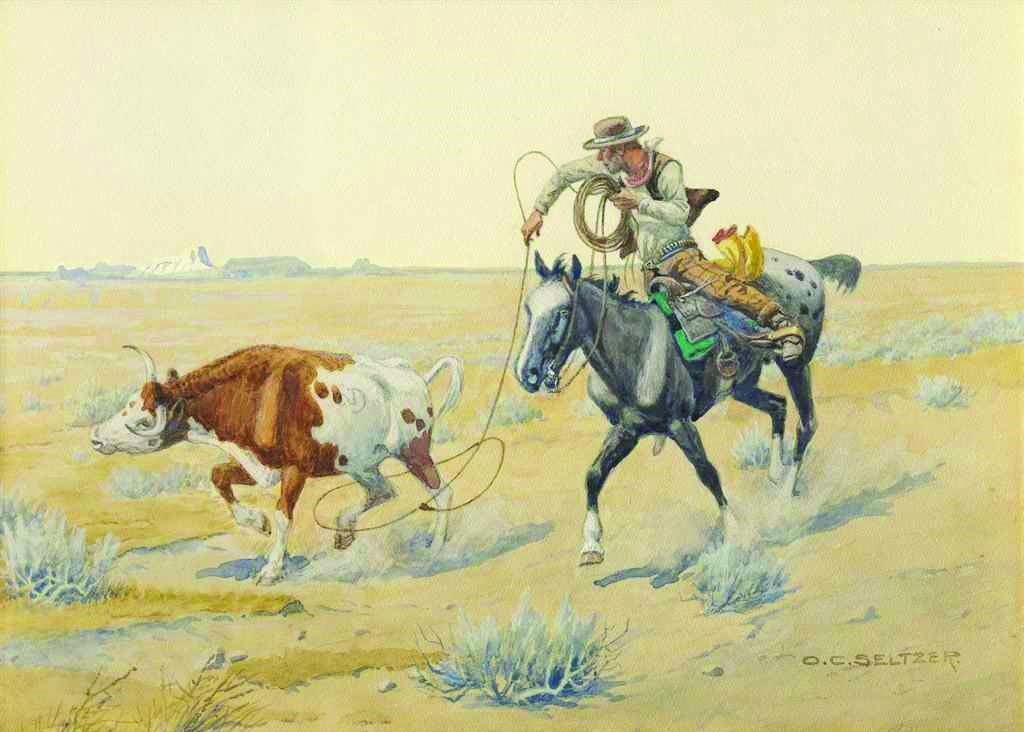 Intersections
So, this story is a good news/bad news tale. The museum only owns one other Seltzer work, a large and important Indian scene titled Watching for White Man's Boats that came into the museum's possession in 1975 through a "sweetheart sale" from the personal collection of the revered western art dealer Jack Bartfield of New York. Consequently, while the museum thus lost a Russell painting in the re-attribution of Cowboys Roping a Steer, it gained a second, perfectly good Seltzer cowboy scene in the bargain.
Once the fraudulent signature is removed by conservators, the newly recovered example of Seltzer's best creative efforts may be exhibited. Perhaps it can be displayed next to a Russell work of a similar subject and date to demonstrate to visitors the difference in the artists' styles and execution. A perfect comparison would be a 1904 Russell watercolor titled Cowboys from the Bar Triangle [Fig. 12] that came from the Davis collection and that Weiss donated in 1972.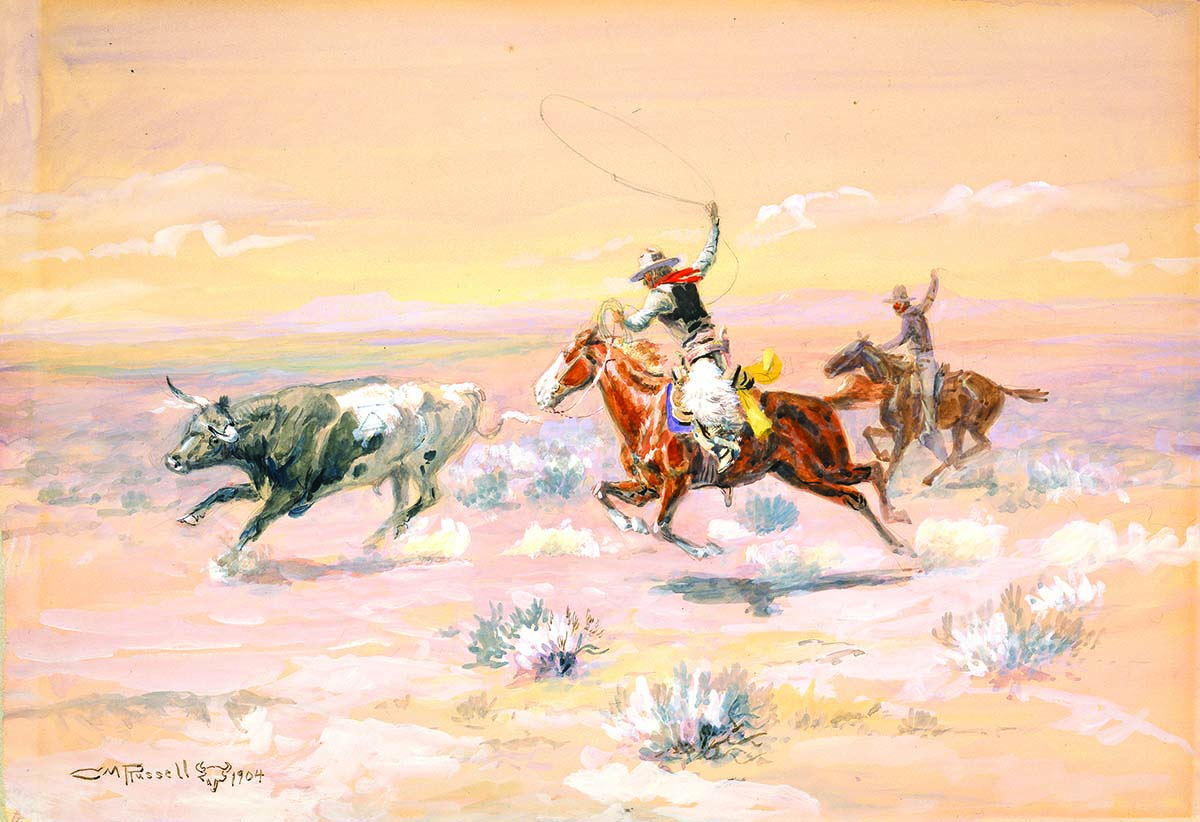 This brief recounting of the modern Russell-Heikka-Seltzer intersections reveals the variant styles and techniques of three of Montana's pioneering western artists and their uniquely individual contributions to the canon of western American art. As far as we know, none of this triumvirate were involved in the machinations, misattributions, and alterations of the works discussed above. They have merely become helpless victims of history. But, fortunately, the works have remained essentially intact, and once their histories are straightened out, they can be more fully appreciated by today's audiences.
---
About the author
Peter Hassrick was Director Emeritus and Senior Scholar for the Center of the West. A prolific writer and speaker, he was honored by the University of Wyoming with an honorary doctorate degree in 2017. He served as guest curator of numerous exhibits nationally and internationally. He was a former twenty-year Executive Director of the Center of the West and served tenures directing the Denver Art Museum's Petrie Institute of Western American Art, the University of Oklahoma's Charles M. Russell Center for the Study of Art of the American West, and the Georgia O'Keeffe Museum, as well as worked as collections curator at the Amon Carter Museum. Hassrick passed away in 2019.
Post 294